Move over Frank Zappa - there's another rock n roll hologram tour coming this year ... its been announced that holograms of Roy Orbison and Buddy Holly are going on tour together. The Rock 'N' Roll Dream Tour, which (according to Rolling Stone) will run through North America and Europe at the same time because holograms can be wherever they want whenever they want.
The singers though WILL be accompanied by a live backing band.
So far - we only have seen UK dates tough - see below ...
In a statement, Roy Orbison Jr said:
My father's music meant the world to not just us Orbison's but to millions of fans worldwide. Being able to reopen his legendary songbook and again hear his voice bounce off great concert hall walls is both a transcendent and cathartic experience. Dad jammed with Buddy in Lubbock Texas and helped change music history by turning Buddy on to Norman Petty Studios; Buddy later returned the favor by recording two of Dad's songs on his first Cricket's album. How beyond cool and special that these two great friends, now get to tour the world together.
And Buddy Holly's wife Maria Elena said:
Buddy and Roy were Texans who shared a mutual respect and admiration for each other's creative musical genius and brilliant songwriting abilities. I am proud to work with a company like BASE Hologram. Their long-time fans and a new generation of fans will now have the opportunity to see these great legends perform together in a unique setting, showcasing two of the finest, most influential, and beloved artists in music history.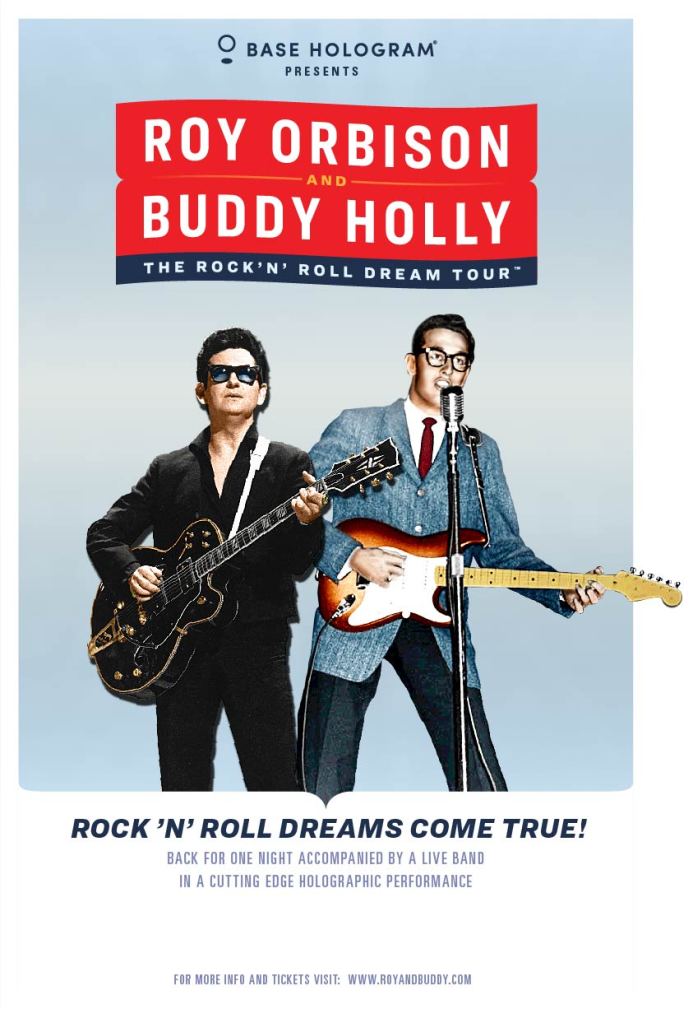 2019 Tour Dates Announced So Far:
Tickets on Sale Starting March 29
October 7 - 3 Arena - Dublin, Ireland
October 8 - Waterfront Hall - Belfast, United Kingdom
October 10 - Utilita Arena - Newcastle, United Kingdom
October 11 - O2 Apollo - Manchester, United Kingdom
October 12 - M&S Bank Arena - Liverpool, United Kingdom
October 13 - First Direct Arena - Leeds, United Kingdom
October 14 - Bonus Arena - Hull, United Kingdom
October 16 - Sec Armadillo - Glasgow, United Kingdom
October 17 - Resorts World Arena - Birmingham, United Kingdom
October 18 - Bournemouth International Centre - Windsor Hall - Bournemouth, United Kingdom
October 21 - Royal Concert Hall - Nottingham, United Kingdom
October 22 - Brighton Centre - Brighton, United Kingdom
October 23 - Motorpoint Arena - Cardiff, United Kingdom
October 24 - Hammersmith Apollo - London, United Kingdom