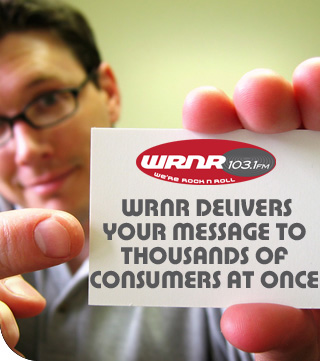 LET WRNR WORK FOR YOU
In a single week, radio reaches more than 228 million Americans. That's 94 percent of everyone age 12 and older, according to Neilson. So no matter what types of prospects you want to reach, radio advertising will help you do it. Plus, radio is mobile. Eighty percent of adults listen to radio in their cars, and a quarter of the population also listens while at work.
SO MANY OPTIONS! WRNR's Social Media outlets are another way WRNR is reaching your potential customers. With streaming, we reach additional local and even national audiences. What's more, if our online listeners like what they hear in your streaming radio spot, they're just one click away from your website.
WRNR provides an ideal advertising campaigns for small and big businesses alike. Contact WRNR's sales team through
marketing@wrnr.com or call 410-626-0103 and let WRNR go to work for your business. With interactive and creative promotions, commercials, and on site appearances, WRNR knows how to help you get the exposure neccessary to make your business successful.