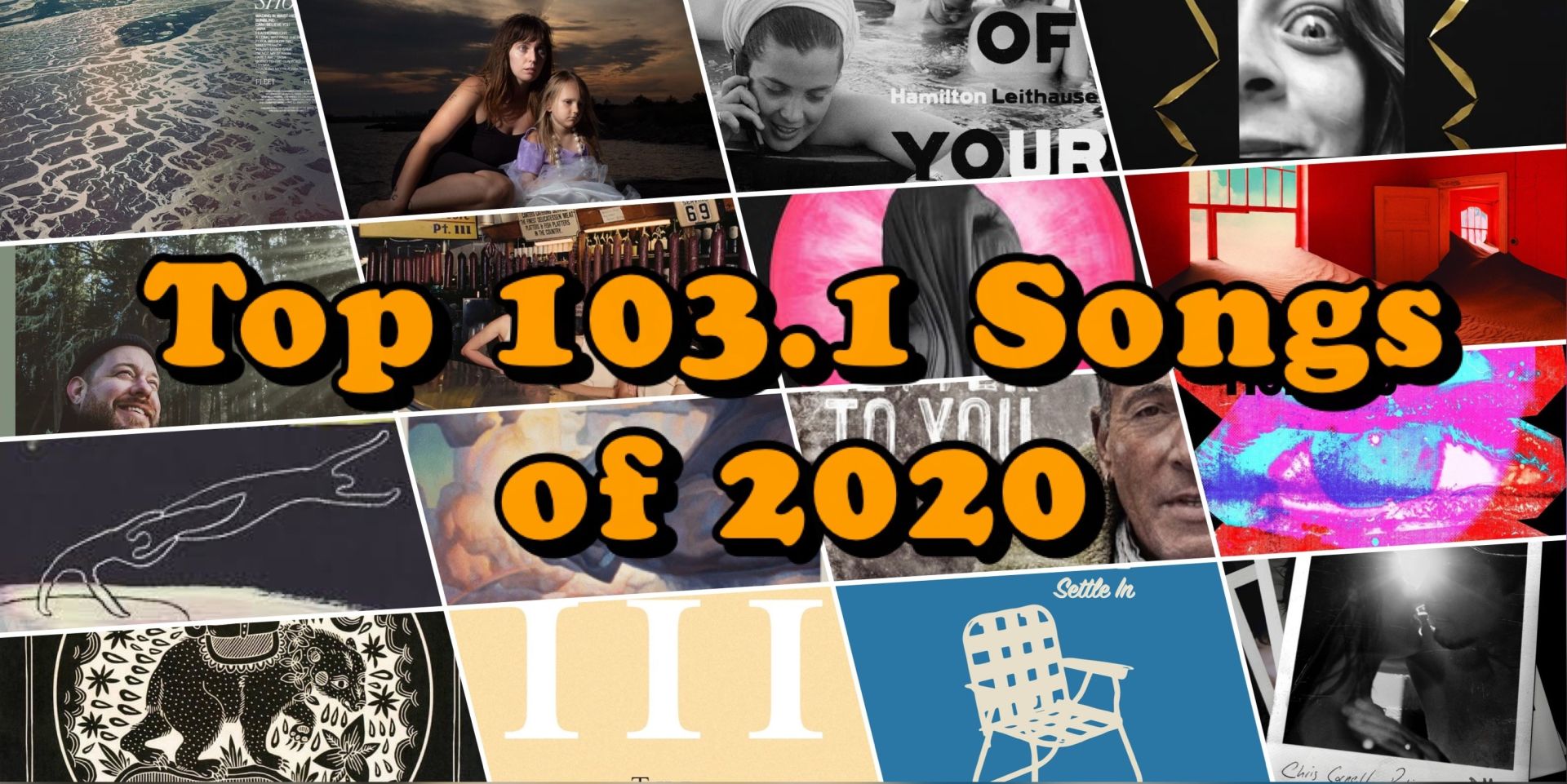 Voting sure was popular in 2020 ... with record voter turnout in November's election - and with the top 103.1 songs of 2020!
We had to count the votes a few times - but we finally got it ... so without further ado - we present the Top 103.1 Songs of 2020 - as voted by you - the WRNR listeners - oh we also made a playlist for you to accompany your reading
Pretty sure the title of this one says it all …
---
The surprise single from Ray was just what we needed this spring … the lyrics- "holding me ... holding you ... and together, we'll get through - we always do" would have been beautiful any time ... but are especially gripping in 2020
---
Rex explained this track's about "being away from home, feeling trapped in an undesirable situation, and finding it difficult to trust people." We trust that we'll be hearing more from ROC in 2021
---
Turns out CAAMP stands for consuming abnormal amounts of Makers and PBR. So is that why you voted for them so much?
---
The track Dawn comes from the album Broken at the Break of Day, which was preceded by the album Wild as the Night ...We're picking up a theme here
---
This time last year, we were still glowing after seeing LA's Cold War Kids at the Ottobar for the RNR Snowball. We couldn't see them live in 2020 - but at least we got some new tunes to add to their immaculate discography
---
Belle Mt is the alt-pop project project by London-based songwriter Matt Belmont who explains that "'Hollow' is about love, loss, rebirth, and everything in between,"
---
The Irish singer song writer explains this track ultimately just about being comfortable with letting go of the past and moving on and being comfortable with change and moving forward in that sense…
---
Nada Surf claimed to have rushed through shooting the video for this song - maybe they weren't happy with the output - since a few days later they announced a contest asking fans to make their own video for the song :)
---
2020 saw the return of Dylan with a 2 disc record (technically...but one disc is a 17 minute dissertation explaining that the assassination of JFK was a watershed moment when innocence and idealism died.) But on My Own Version of You - our favorite story telling song writer dives into the the endless variety of personal relationships
---
James Bay writes love songs ... we know that - but with 2020's Chew On My Heart - James seems to realllly be in love and wants us all to know about it <3
---
2020 was coming together for Mt Joy ... they were on tour with the Lumineers ...they had a headlining tour in the wings to support their new album ... but then 2020 had to go and 2020 ... and we learned you cannot slow this band down. They pushed on with their tour and we even got to see them play the first drive in show at the fairgrounds in Frederick MD
---
Declan describe this track as "a brave new anthem for doomed youth" and a song "about young people in the young people in the modern world and how intimidating it can be. How scary it is to see so much and feel as though you're doing so little." OK - getting deep there Declan!
---
Oh Mike Campbell of The Dirty Knobs - what a heartbreaker 2020 turned out to be for the two of us ... Mike was scheduled to play our St Patrick's Day Private Artist Showcase ... but he fell ill and we were going to postpone - but a few days later COVID decided to postpone all of 2020
---
Hard to believe a song called Need Your Love is rooted in anger - but according to
Alaina Moore - one half of the husband wife Denver duo Tennis - it is. Apparently she was was letting go of unhealthy relationships at the time of writing this song and had a lot to be angry when the pen hit the paper.
---
Our friends Moon Taxi released this song early in the pandemic and solicited for fans to submit footage of their 'hometown heroes' to be included in the song's video. Fun fact- some trash collectors from South AA County made it to the video
---
MIchigander - aka - Jason Singer wrote everything for his latest EP in his bedroom over the course of six months - placing an emphasis on the prominence of solos—in every song—making what he aptly describes as, "big pop songs disguised with guitars." We dig it !
---
Baltimore's Future Islands are a music machine. So they weren't going to let the pandemic stop the celebration of the release of their album this fall ... they livestreamed a show - at an empty Ottobar in Baltimore. Fun fact - the band wanted to play the show on the roof of the Howard Street Club - but ultimately the director nixed that idea
---
Like so many on this list - EOB aka Ed O'Brien of Radiohead - was someone we were really looking forward to seeing live in 2020. He played a handful of shows ahead of the albums release - but never made it to the 930 Club :/ We counting on that rain check Ed!
---
Ummm - see the above description ... one of the very few shows PJ was slated to play in 2020 was in Baltimore ... please don't forget us Ed and company!
---
This jam from the retro roots rockers 12th album begs us to do something a lot of people couldn't this year. But what else were you going to do being safer at home - make sourdough? :)
---
42 years since releasing her debut album - Lucinda is still kicking ass and taking names. She gets political and personal on this bluesy ramble full of 'nasty guitar stabs and sneer-drawled vocals'
---
Another near miss for us in 2020 was Dawes ... well - sort of - we never even got to announce the fact that we were scheduled to have Mandy Moore perform a showcase for us - with her husband Taylor's band Dawes as her backing band :/
---
2020 was gonna be Gracie's year ... she was prepared to release her debut album and hit the road on a headlining tour ... but she - like the rest of us pivoted and played a lot of streaming gigs ... she must have done something right though - because a lot of people noticed - including fellow top 103.1 song artist Phoebe Bridgers - who has exclaimed that "Every new song I hear is my new favorite"
---
A super group band consisting of Miles Kane (of the Last Shadow Puppets) Nic Cester (of Jet), Matt Bellamy (of Muse), Graham Coxon (of Blur) and Sean Payne (of the Zutons) playing rock'n'roll and Motown covers? yes plz... Fun Fact - this group originally formed as a Beatles cover band to perform at one of the members birthday parties.
---
How can you not love a band who has an album called The World's Best American Band ... apparently Elektra records took notice and promptly signed them .. smart
---
The title track from their 5th (and Grammy winning) studio album - this song just slays ... so did anyone ever text 615-235-5440?
---
Try and listen to this song and not have a little bounce in your step ... we dare you!
---
Since we're pulling the curtain back on 'what could have been in 2020' might as well let you know we were all lined up to have MC down from Philly to play a benefit for the SPCA of Anne Arundel County - because both RNR and Mondo Cozmo love the dogs!
---
After spending the last six years running her coffee shop, bar and café Quitters, in her hometown of Stittsville, Ottawa, Edwards made her return to music - and we are sure happy she did!
---
We just can't get enough of HL's finger picking guitar jams ... and this one - about a friend who runs from his problems - makes a lot of sense when you listen to it ... so wait - is that friend Ethan Hawke ?
---
This list could really be a list of concerts we wanted to see in 2020! We were stoked to see Rateliff at The Anthem ... we had even sent him a video of a local crooner belting out some of Nightsweats tunes at Mike's Crab House's karaoke night and Nathaniel sent him some tickets to the show!
---
Don't let their dapper stage attire fool you - this band got their start in Boone NC playing shows - you guessed it - in the buff.
---
This song is the song every parent would write for their child .. but we all aren't as talented as Pete Yorn :/
---
It was a big year for Phoebe Bridgers - her album Punisher received FOUR Grammy noms - but she's been stuck at home instead of performing it ... but maybe that's what she prefers? She recently told Sam Sanders - she can't wait to 'hate touring again'
---
We got a surprise album from Ray this year that he wrote, performed, produced, and engineered all on his own ... which begs the question - how'd you spend your quarantine ;)
---
FF singer Robin Pecknold says "This song draws from the age-old folk tradition of headbangers about trust issues...The verse is the chorus, the chorus is a bridge, the bridge is a different song, it's all backwards but that was what made it so fun to make. Please enjoy!" You follow that? LOL
---
Yep - another concert we were gearing up for back in March ... but alas ... On this track - Sturgill breaks from his country music singer-songwriter roots and rocks out ... oh - the song accompanies an original Netflix dystopian anime film Sturgill Simpson Presents Sound and Fury, written and produced by Simpson with Japanese director Junpei Mizusaki of the animation studio Kamikaze Douga
---
You must be doing something right if your music catches the ear of one of rock and rolls biggest names - and that's just what The Heavy Hours did... getting Dan Auerbach of The Black Keys on board to help them write this record
---
At 21 years old - Declan gives a nod to British music trailblazers that paved the way for him in this track. With Bowie-esque spacey guitars sprinkled with Beatles school boy charm. We just hope he continues his musical journey and doesn't join Space Force!
---
one of the cooler things TO happen, live and in person, in 2020 was seeing Glass Animals do a tour to playing the clubs they played when they were a baby band, just getting started. A handful of us got to see them in February at the now shuttered U Street Music Hall ... a reminder that we all must support the #SaveOurStages initiative
---
We can't listen to this song and not want to be in the Bahamas on the beach under an umbrella doing ...nothing ... instead - we are in our houses - on our couch kinda like the music video for this song ... maybe in 2021 :)
---
From his genre-bending debut solo album, "El Dorado," another Dan Auerbach production, keep an eye on his world-class young talent.
---
The 90's rockers returned this year - with an amazing albums full of jams like this - proving they are more than just the band that wrote the song just about every bar in America played at last call at least once ;)
---
Ahhh concerts - we remember them well - loud music, expensive drinks, even more expensive merch - we love them ... The Lumineers III tour was the last big show we went to before the pandemic .. we hope to see you in the pit soon! Side note - this is our favorite song by The Lumineers not named after a woman ;)
From his self titled third album - this track had the perfect metaphor for 2020 - just roll with the times ;)
---
A pleasant surprise this year was to learn that the late great Chris Cornell had been prepping a covers album before his passing ... his rendition of the Guns and Roses classic is our favorite track from the record that is due out this spring.
---
"This song is capturing the revolution. ... This song is to uplift us and keep us galvanized when we're fatigued. And this song is really for the people." Yes - the tables are about to turn!
---
RIP John Prine who passed in 2020 ... but seriously - how lucky was Kurt Vile to get to collaborate with his hero on this song ... and how lucky are we to get to hear it ..
---
Again- 2020 was going to be the year of billie and fineus - with a MASSIVE world tour canceled ... but the new music they were able to create makes up for it
---
Like a lot of us - James Mercer of The Shins thought he'd have a lot more time on his hands during his quarantine - but it turns out between home schooling his kids and writing great new music - he stayed pretty busy!
---
Not to toot our own horn - but toot toot ... we were the first radio station to play SHAED ... and we continue to support our home town talent ! The band repayed us a few times - playing an amazing showcase for us last year and being a part of our Streaming Snowball in 2020
---
Sloan Struble, better known as Dayglow, has been making music for 10 years .... he's only 20 :/ He says his main influences include Michael Jackson and Tame Impala - and the two blend perfectly on this banger
---
This song might be a head bopper - but when Meg sings "You can do a lot with four American dollars" we are left scratching our heads .. what can you really do with $4?
---
2020 saw us navigate a sea of WTFs ... and this track was the perfect anthem to a year in which we found it hard to remember what day it was, if we were wearing pants, or if it was too early to start drinking .
---
We loved the Travis comeback in 2020 ... and recruiting Susanna Hoffs for this track was icing on the cake!
---
Devon explains "This song is about becoming the best version of yourself no matter what obstacles get in your way. My brother (who is paralyzed from the waist down) is a prime example of that. He doesn't let anything hold him back from being his fullest self." Maybe this song should be all of our anthems for 2021
---
I mean seriously Ray - leave some room on the list for other people ... stop showing off. Just kidding - please keep blessing us with amazing songs like this
---
Fiona came back with a roar in 2020 - unexpectedly releasing one of the best albums of the year. And in this song Fiona says what a lot of us have always wanted to do !
---
Another comeback - and this was a biggie - with the boss reuniting with the E Street Band putting out an amazing album.. welcome back BOSS
---
Jason Isbell is not afraid to speak his mind ... and this year he was far from quiet! In this song he seems to be calling someone out ... we might know who - but we're no snitches ;)
---
After paving the way for indie folk artists - and then taking a 9 year break - Bright Eyes - the trio of Conor Oberst, Mike Mogis, and Nate Walcott, are back and dive right back in to where they left off - with an amazing indie folk sound that examines the depths of human nature
---
This song was written FOR 2020 ... and the video - shot in an empty town would have seemed like a post apocolyptic sci fi movie any other year - but sadly - it eerily mirrored the world we saw this past spring
---
The North Carolina synth-folk duo gave us all we wanted this year - with their third album - Free Love. And in 2020 fashion - Amelia and Nick say the record is " about being increasingly terrified of the world around you and looking inward to remember all the times when loving other people seemed so easy, so that you can find your way back to that place." We just dig the flute solos on this track !
---
On an album full of break up songs - Strangers seems to be the song that shows you have moved on from that relationship. It also highlights the amazing keyboard skills of Jackie Miclau, perhaps more than any other song from the band
---
This isn't the first time the UK artist has made an appearance on the top 103.1 songs - but this peppy love song celebrates finding 'the one'
---
OK - more heartbreak to share - Illiterate Light were lined up to play a Rock N River cruise in 2020 - back when we thought we'd be able to do fun things in the summer.. but alas - maybe next year our buds from Harrisonburg VA will sail the Severn with us!
---
2020 forced us ALL to pivot ... working from home, wearing masks, social distancing - it was all new and scary - kind of like Cope sings in this song - Learning to fly when your scared of heights
---
Another come back in 2020 that was cut short came from Vegas band The Killers ... the album release and tour had to be 'postponed' ... while we'll be waiting a bit longer to see Brandon Flowers and his sparkly keyboard - we have an album FULL of jams to learn the words to so we can scream along with them when concerts return!
---
More comebacks ... this Bo Diddly inspired track isn't about quarantine - its actually about a break up. The video though - was shot during the band's quarantine - with all members appearing in separate frames
---
This song resonates peace and beauty - and lets face it - that is a message we all need these days
---
Fun fact about this track? Kevin Parker aka Tame Impala made a weird bit of history with this track - it was the second song from The Slow Rush album to reach #1 on the alternative charts this year- something no other act has managed to do this year ...
---
Travis' Fran Healy found a good way to occupy his quarantine time - he drew the entire animated video for this song. He says every 10 seconds of the video took about 12 hours to complete! The whole project took about four weeks of working 17 straight hours a day to complete .... damn.
---
Another overachiever - Ray Lamontagne - who has dominated this list - came up with this CCR sounding stomper after overhearing a patrons hard luck tale at a coffee shop
---
Elle King was another artist who's creative juices flowed during her quarantine - with this song first appearing on a collection of raw demos/songs she recorded acoustically while quarantining at home in LA. She later released a full band version of the song - but it's the cat mask she sports in the quarantine video we LOVE
---
Remember this time last year - when no one had ever heard of Zoom? LOL
Matt Schultz and the CTE boys used the year's most popular computer software to develop the video for Black Madonna- repurposing existing never-before-seen footage/up-cycled content to make something new. The band worked with 15 collaborators over 8 weeks while in isolation this past spring to have them contribute or create content
---
Bob Waugh called this track a first listen hit - meaning he only needed to hear it once to know it would make it on this list ;) And who could forget Matt's performance on our Hallowstream !!!
---
All songs are conceived differently. Haim explains that this song began with a lyric. "It kind of just felt like therapy to scream the line, 'You don't understand me!' ... when we were writing it, we would just scream 'You don't understand me!' and see how it felt." What they got was a kick ass song that feels like a karate kick to the face. Lost in the mess of 2020 was their amazing promo tour for this new record - that was comprised of pop up shows in Jewish Delis across the country - L'Chaim!
---
This song easily could have been the song of the year - cause in 2020 we really learned that all super heroes don't wear capes ... the first responders, the essential employees, the parents turned teachers, the teachers, the doctors, the nurses - the list goes on - but to all the heroes of 2020 - we salute you!
---
Another comeback that was capped short in 2020 was Delta Spirit's ... the band had gotten back together and they released an amazing record before the pandemic cut their comeback tour short ... but unintentionally - they wrote the song that could describe navigating 2020 - It Ain't Easy!
---
A late addition to the list - but better late than never ... the song was released in late 2020 - but the band explained they "recorded this song on the road in the summer of 2019. It's a tune that's close to our hearts and one of our favorites to play live. We hope it brings a little joy to your life. Let's all choose love."
---
Jim James explains that this track is about the need to slow down and just "feel" the natural world and what he considers "to be the good way to waste time: to just take time, to do nothing basically, to experience the forest or experience the ocean, because I feel like we're all constantly trying to do things and trying to fill our time with activities and keep it moving. But I think we forget to just take time to just not do anything."
---
A year ago - The Strokes were back - playing a NYE show in NYC that featured a few new tracks - including Bad Decisions - the lead single off their sixth record - and the song is classic Strokes - giving us the Is This It feels !
---
Interesting fact- this song draws on Fiona's experiences with bullies as a child and how 4th grader Shameika Stepney intervened telling Fiona not to give credence to the mean girls - words of encouragement that ended up impacting Fiona for life.
---
I don't know who needs to hear this right now- but you are not alone .. you matter and the world is better with you in it
---
The indie rock folk collective from Seattle just make good music. Period . This particular song was written at Joshua Tree in California during the band's first writing session, and was originally an a-cappella floor stomp about rescuing a decaying relationship, conceived during a writing workshop in Los Angeles
---
It might be hard to stand out in your family when your dad is the creator of the Achy Breaky Heart and your sister was Hannah Montana ... but we're gonna say it .... Noah Cyrus is the most talented Cyrus ... yep - we said it - no take backs !
---
Brandon Flowers hits it with this song ... there's something about this song ... maybe its the line 'She can go straight from zero .. To the Fourth of July' - that we can't wait to scream along to live when concerts are back!
---
OK - is Dave Grohl human? or is he a robot? When does he sleep ... between virtual drum battles, instagram stories, talk show appearances, and the greatest Times Like These sing a long ever - he found time to record an album in 2020 along with the rest of the fighters of foo! All hail Dave Grohl!
---
OK - yes The Slow Rush was an amazing release - but we're still bummed Kevin didn't take the bait on that Gorillaz collab !
---
In his first album without the Night Sweats since 2015 - Rateliff got back to his softer side - ditching the R&B jams for some somber folk ...and it was just what the doctor ordered
---
The song is featured in the film ''On The Rocks'', directed by Sofia Coppola - who happens to be Thomas Pablo Croquet, the lead singer of Phoenix's wife. Talk about relationship collaborations!
---
A few years ago - a struggling artist stopped by the RNR studios to perform a few songs for us ... 2 years later Matt Maeson has a track in the top 15 of our top songs of the year! Whether you like the original or the duet with Lana Del Rey - you can't go wrong
---
OMAM have departed from their Icelandic folk roots - and come out rocking on this track which celebrates the bands tenth anniversary ... the song "was written and recorded when the world was a completely different place, but the post-apocalyptic world of the video seems fitting. We shot the music video for it in Iceland in the freezing cold of February right before the pandemic hit."
---
The song, as the title implies, is bedicated to the people trying their hardest to keep us all safe and healthy in times of chaos and uncertainty. The accompanying video features fan shot footage of the pandemic in our community
---
We'd love to be friends with Michael Franti ... the man just exudes positivity .. can you imagine being in a bad move around this guy?
---
2020 was the year of unlikely collaborations for sure - but Major Lazer and Marcus Mumford has to be one of the strangest ones that works so well! Jamaican-American electronic dance music fused with English folk rock ? Why not ... anything goes in 2020!
---
Before Radiohead fans could lament the band's hiatus announcement - they got the good news that guitarist Ed O'Brien would be releasing a solo record under the moniker EOB, titled Earth. The album includes contributions from Radiohead bandmate Colin Greenwood, Portishead guitarist Adrian Utley, Wilco drummer Glenn Kotche, Omar Hakim, Nathan East, Laura Marling, David Okumu of The Invisible, Adam 'Cecil' Bartlett, Richie Kennedy, Marcelo S. Silva, Flood and Catherine Marks.
---
A country song with Elton John Vibes? yep - 2020 - anything goes ... Chris Stapleton has been writing hits for other country artists for years - but he decided he wanted his voice on this one - and its a gem!
---
It seems like forever ago that we were chasing the VR clues about Pearl Jam's new record ... figuring out what a gigaton was, and were getting ready to see Pearl Jam at the ROFO Arena ... we might not have gotten the show - but we got the PJ album we deserved - with the Seattle rock outfit sending a message to the world - fix yourself before its too late!
---
The song was released on Valentines Day - a month before the pandemic hit the US with its full force ... but that is when the song took on a new meaning - with the video directed by Rhett Rogers , who says - "The global pandemic we are facing has implemented distance – distance from our loved ones far away, distance from people out in the world and distance from the life we once knew. The only way we could film during lockdown was without a crew and drone cinematography can be filmed by a single operator while emphasizing the separation inherent to this moment. People across the world are singularly experiencing this new sense of space and I wanted to document that – from bridges in Nigeria and abbeys in Scotland to the outback of Australia and skyscrapers of Sao Palo, from an empty shopping district in Tokyo to lonely Southern California beaches, silent streets of Santo Domingo and great solitude of the Colorado Rockies. The space within the recording of "Time Stands" fills the vast landscapes, image and song reflecting upon time, detachment and balance."
Love love love Black Pumas ... another 2020 bummer- they were gonna play a Rock N River Cruise too. Hopefully we did a good enough job convincing them that playing on a boat while sailing the Severn River was so much fun - they'll come back when we are able to have boat shows again!
---
The video for this love song features a rock band battling unbeatable robots in a baseball game ... the perfect metaphor for 2020 ... but the moral of the story - don't give up and find the moral victory wherever you can!
---
yes - the top track of 2020 is a collaboration that is kinda bizarre but 100% amazing ... turns out Milky Chance are big JJ fans and when they got the chance to meet him - they didn't waste it - and asked to do a collaboration ... and what we got was an amazing tune ... and while the original was great - even better was the live virtual performance on The Late Show!