Foo Fighters frontman Dave Grohl has a lengthy resume - and he can now add late night TV show host to it ...
Monday night he co-hosted the Tonight Show with Jimmy Kimmel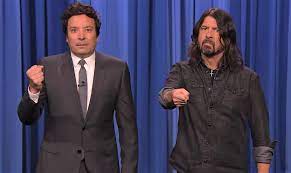 Dave was all hands on deck for the show - chipping in on the opening monologue, the interviews, the sketches and even performed a couple of musical numbers.
He also played name that tune (and forgot the words to the Nirvana hit Lithium - oops) they recreated the popular The Best meme, and he told some classic Dave tales - including one about his mom chugging beers with Green Day!
Check out some clips below!