ITS HAPPENING!! I'm gonna play a full band show on an actual stage for the first time in a year!
Yeah - Brandi Carlile seems a little excited about the news that was shared this week - she will be playing a special pay-per-view livestream from the Ryman Auditorium, marking her first full-band performance since the COVID-19 crisis began. The same room she hosted a six night residency in 2020 .... before 2020- ya know - 2020'd.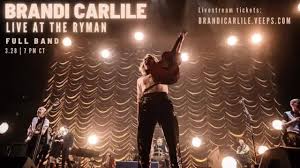 It feels like much more than a year since we played those six sold-out shows at the Ryman! Since we can't do it in person again quite yet, we're dusting off our rock-n-roll clothes and heading to the Ryman for our first full-band livestream show! The Looking Out Foundation will donate $2 from each ticket sold to benefit two very important causes in Nashville: The Rainey Day Fund (www.raineydayfund.org) and Fanny's School of Music (www.fannysschoolofmusic.org).
Additionally, funds raised from this livestream will continue to go to support Brandi's band and crew.
Purchase tickets to the show - that will remain available for rewatch until 11:59pm CT on April 11 - HERE