The promotional blitz is on for Medicine at Midnight - the new Foo Fighters album due out February 5.
After appearing on Saturday Night Live last week - the band will be hitting the stage again this Saturday - with a live streamed concert from Los Angeles' famed concert venue, the Roxy (snag tickets here)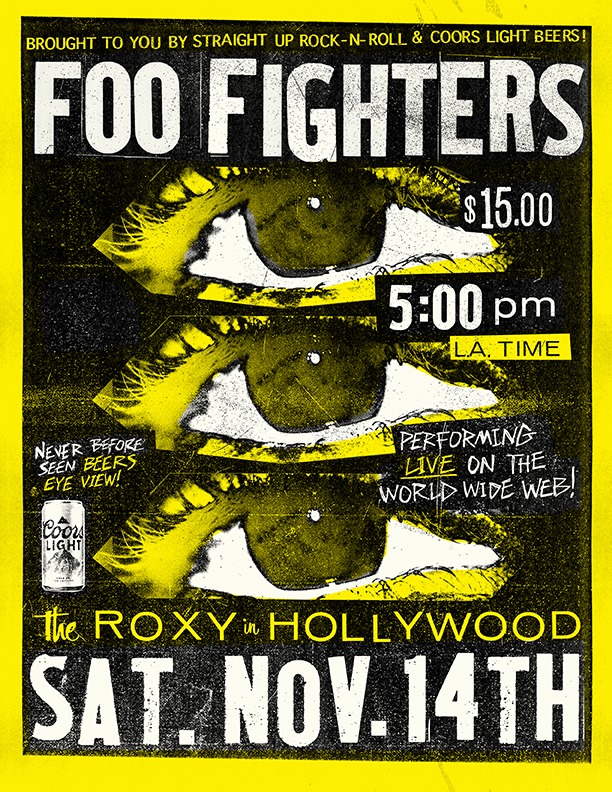 It should be no shock that the show is sponsored by Coors Light - its Dave's beer of choice to shotgun on stage ...
... but the flyer promises us something called Beers Eye View ... hmmm
The stream goes live Saturday and will be available for a 48-hour replay. A portion of ticket proceeds will benefit Sweet Relief, who "provides financial assistance to all types of career musicians and music industry workers who are struggling to make ends meet".
Additionally, Foo Fighters have shared the music video for their song "Shame Shame."
So no matter where you are in the world this weekend - get ready to rock with the Foos .. hopefully we will hear more from the album that Dave is "so fucking proud of", "unlike anything the Foos have ever done" ,"fucking excited for people to hear" and "can't wait to jump on that fucking stage to play it"