One of the last US music festivals planned for 2020 has cancelled ... the Lockn' Music Festival - originally scheduled for June - hoped to have protocols in place to be able to host the 3 day festival safely in October.
But the Coronavirus pandemic proved too much - and organizers have announced there will be no 2020 edition - and the festival will return to Infinity Downs & Oak Ridge Farm October 1-3, 2021.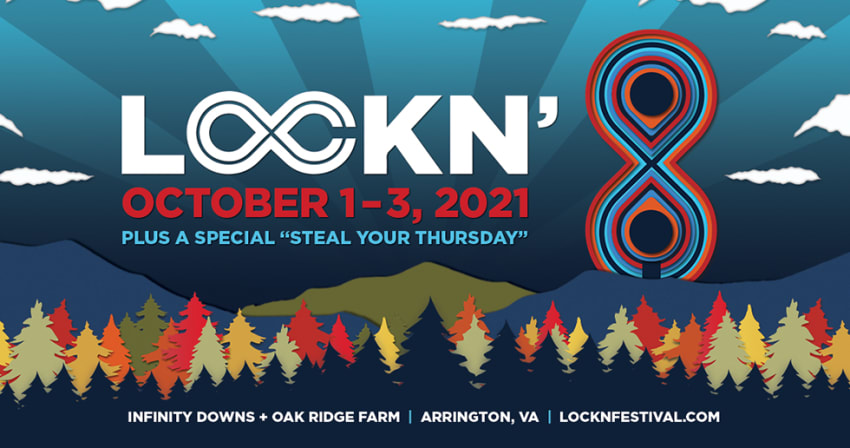 It's not ALL bad news ... the festival is jumping on the live stream business - and Joe Russo's Almost Dead will deliver three livestream performances from the LOCKN' site October 2 – 4.
The official announcement from organizers:
Our hearts were hopeful these past months as we have put our experience and resources into a plan to safely produce LOCKN' 2020. Despite the efforts of our team, it's become clear it won't be viable to safely and responsibly gather at LOCKN' in 2020. So, we must announce that we have decided to shift our focus to 2021. We are disappointed to miss all of your beautiful faces and the uplifting vibe on Infinity Downs Farm, but the health and safety of our artists, staff, fans, vendors, and the surrounding community must come first. Accordingly, LOCKN' will take place October 1 – 3, 2021 with a special Steal Your Thursday on September 30.

If you are a LOCKN' 2020 ticket holder, you have the opportunity to obtain a full refund of your tickets and camping accommodations. If you'd like to roll over your tickets to 2021, we're excited to offer you some added perks. More information on the lineup will be announced at a later date — we're already working on it!

Feeling homesick for LOCKN' today? Don't worry… We have a big surprise for you! Joe Russo's Almost Dead will stream three crowdless performances from the LOCKN' site, October 2 – 4, 2020. This is a chance to build something special for the community, and we are excited to have a band that is steeped in LOCKN' history create it with us. LOCKN' 2020 purchasers transferring their ticket order to LOCKN' 2021 will receive one free access voucher to all three crowdless performances from LOCKN' by Joe Russo's Almost Dead on October 2-4. Additional details of the livestream event will be unveiled soon
The announcement was accompanied by a video message from festival organizer: