Record Store Day 2020 has released the list of exclusive vinyl releases that will hit shelves on April 18th ... and its pretty impressive !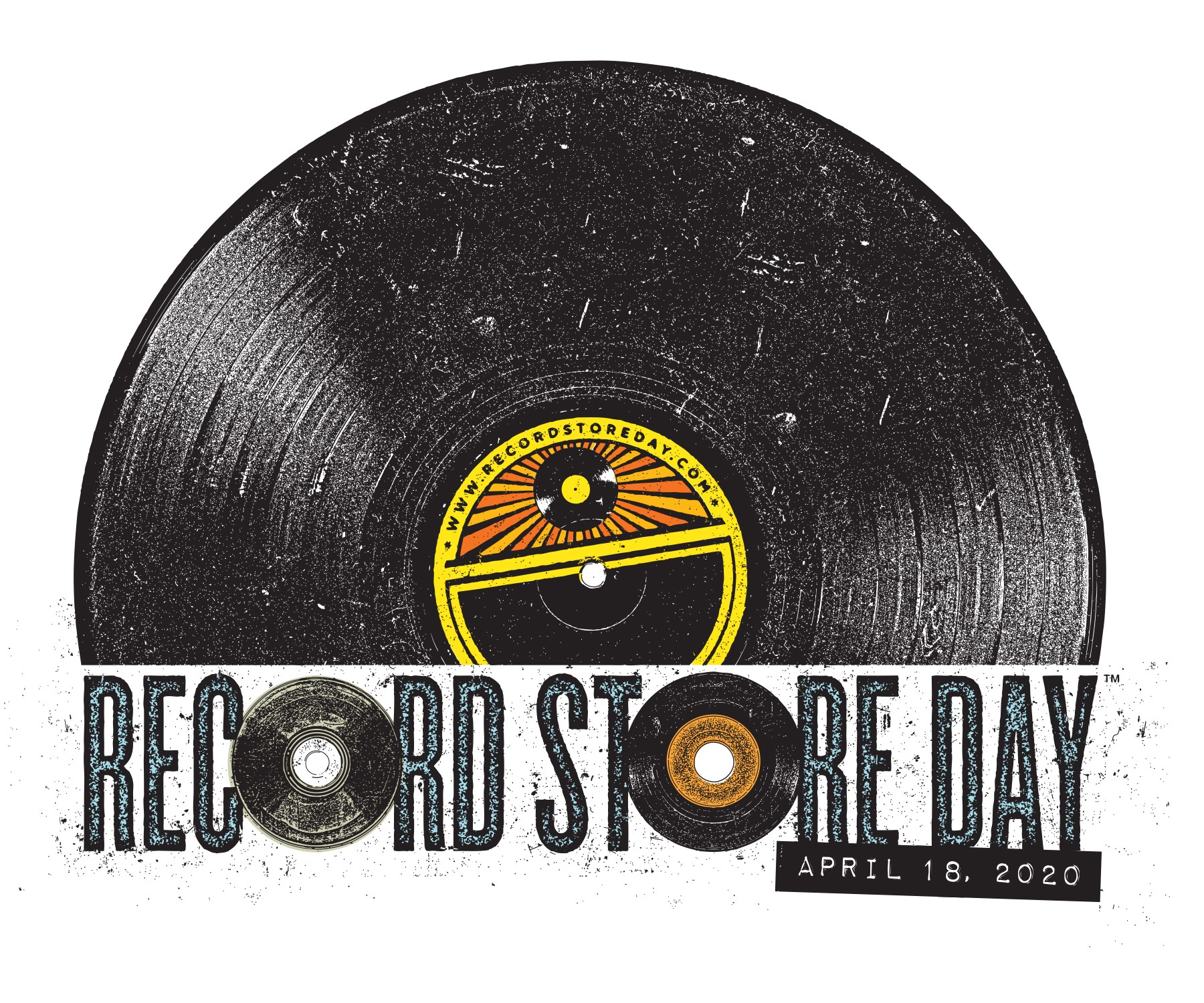 We have the full list below (or download it here) but thought we'd share some titles we'll be looking for:
Bastille – All This Bad Blood
Beck – "No Distraction / Uneventful Days (Remixes)"
Billie Eilish – Live At Third Man Records
Black Keys – Let's Rock (45 RPM Edition)
Bob Marley & The Wailers – Redemption Song
Brandi Carlile – A Rooster Says
Brittany Howard – Live At Sound Emporium
David Bowie – ChangesNowBowie
David Bowie – I'm Only Dancing (The Soul Tour 74)
David Gray – Please Forgive Me
Drive-By Truckers – "The Unraveling" b/w "Sarah's Flame"
Fleetwood Mac – The Alternate Rumours
Gary Clark Jr – Pearl Cadillac (Feat. Andra Day)
Gorillaz – G-Sides
Gorillaz – D-Sides
Iggy Pop – Kiss My Blood (Live in Paris 1991)
John Prine – The Atlantic Albums
John Prine/Kelsey Waldon – The Kentucky Sessions
Kinks – The Kink Kronikles
Local Natives – When Am I Gonna Lose You
Mark Knopfler – Metroland (Music and Songs From The Film)
New Order – Peel Session /82
Paul McCartney – McCartney
Roxy Music – Roxy Music – The Steven Wilson Stereo Mix
Spoon – All The Weird Kids Up Front (More Best Of Spoon)
The Black Crowes – Jealous Again
The Cure – Bloodflowers
The Cure – Seventeen Seconds
The Doors – The Soft Parade: Stripped
The Ramones – It's Alive II
The Rolling Stones – Metamorphosis UK
The Rolling Stones – Let It Bleed (Limited Collectors Edition)
The Strokes – The New Abnormal
Tom Tom Club – Genius of Love 2020
U2 – 11 O'CLOCK TICK TOCK (40th Anniversary Edition)
Warren Zevon – Warren Zevon's Greatest Hits (According To Judd Apatow)
Did you know that the concept of Record Store Day was conceived in Baltimore:

As or that full list ... here it is ... anything you'll be lookng for ?
RECORD STORE DAY – 2020 EXCLUSIVE TITLES
Aaron Lupton & Jeff Szpirglas – Planet Wax: Sci-Fi/Fantasy Soundtracks on Vinyl
Ace Frehley – Trouble Walkin'
Adam Czerwinski/Krzesimir Debski/Wojciech Niedziela – Two Out Of Two: Acoustic References For Audiophiles
Al Green – Green Is Blues
Alejandro Escovedo – La Cruzada
Alfredo Linares Y Su Sonora – Yo Traigo
Alice Cooper – Live from the Apollo Theatre Glasgow Feb 19.1982
Allan Holdsworth – Road Games
Alphaville – Sounds Like A Melody (Grant & Kelly Remix by Blank & Jones x Gold & Lloyd)
America – Heritage II: Demos
And Also The Trees – And Also The Trees
Andrew Gold – Something New: Unreleased Gold
Anoushka Shankar – Love Letters
Archers of Loaf – "Raleigh Days"/"Street Fighting Man"
Asking Alexandria – Stand Up and Scream
August Burns Red – Bones
Awesome Dre – You Can't Hold Me
Badflower – "The Jester / Everybody Wants To Rule The World"
Bastille – All This Bad Blood
Bayside – Heaven
Beck – "No Distraction / Uneventful Days (Remixes)"
Ben Lee – Grandpaw Would 25th Anniversary Deluxe Edition
Ben Watt with Robert Wyatt – Summer Into Winter
Best Coast – Thank You
Biffy Clyro – Moderns
Big L – Danger Zone
Bill Evans – Some Other Time: The Lost Session From The Black Forest
Billie Eilish – Live At Third Man Records
Black Keys – Let's Rock (45 RPM Edition)
Black Lips – They's A Person Of The World (featuring Kesha)
Blitzen Trapper – Unreleased Recordings Vol. 2: Too Kool
Bob James – Once Upon A Time: The Lost 1965 New York Studio Sessions
Bob Marley & The Wailers – Redemption Song
Bob Mould – Circle of Friends
Bone Thugs-N-Harmony – Creepin' On Ah Come Up
Brandi Carlile – A Rooster Says
Brian Eno – Rams: Original Soundtrack
Britney Spears – Oops!…I Did It Again (Remixes and B-Sides)
Brittany Howard – Live At Sound Emporium
Buju Banton – Trust & Steppa
Camille Yarbrough – The Iron Pot Cooker
Canned Heat – Record Store Day Party With Canned Heat
Canned Heat/John Lee Hooker – Hooker 'N Heat
Cat Stevens – Tonight
Charles Mingus – Mingus Ah Um Redux
Charli XCX – Vroom Vroom EP
Charlie Parker – Jazz at Midnite
Cheap Trick – Out To Get You! Live 1977
Chief Keef – Back From The Dead 2
CHON – GROW
Chris Smither – More From The Leaves
Christian Paul – Christian Paul
Christine and the Queens – La vita nuova : séquences 2 et 3
Chromeo – Needy Girl
Chuck Mosley – First Hellos and Last Goodbyes
City Morgue – City Morgue Vol 2: As Good As Dead
clipping with Christopher Fleeger – Double Live
Clutch – The Obelisk
Collective Soul – Half and Half
Coolio – Gangsta's Paradise (25th Anniversary — Remastered)
Corb Lund – Cover Your Tracks EP
Cradle – The History
Cradle – The History
Craig Finn – All These Perfect Crosses
Curren$y – Pilot Talk
D-Mob – We Call It Acieeed
Damien Jurado – "Birds Tricked Into the Trees"/"From Devils To Davis"
Dandy Warhols and Bebe Buell – Femme Fatale
Daniel Pemberton & Samuel Sim – The Dark Crystal: Age of Resistance – The Crystal Chamber
Daniel Pemberton & Samuel Sim – The Dark Crystal: Age of Resistance – The Aureyal
Dave Davies – Rock Bottom: Live at the Bottom Line (Remastered 20th Anniversary Limited Edition)
Dave Pike – Jazz For The Jet Set
David Bowie – ChangesNowBowie
David Bowie – I'm Only Dancing (The Soul Tour 74)
David Gray – Please Forgive Me
Day Wave – Crush
Death Piggy (GWAR) – Welcome To The Record
Declan McKenna – "Beautiful Faces" / "The Key to Life on Earth"
Def Leppard – Rock N Roll Hall of Fame
Dehd – Golden Age of Rock N Roll
Denzel Curry – Bulls on Parade
Destiny's Child – Say My Name
DevilDriver – Winter Kills
Dexter Gordon – The Squirrel
Dexter Gordon Quartet – Live In Châteauvallon – 1978
Dinosaur Jr – Swedish Fist (Live In Stockholm)
Dio – Annica
Don Cherry – Cherry Jam
Don Shinn – Temples With Prophets
Down N Outz – The Music Box EP
Dr. John – Remedies
Drive-By Truckers – "The Unraveling" b/w "Sarah's Flame"
Durutti Column – Idiot Savants
Ellie Goulding – Lights 10
Elton John – Elton John
Emerson Lake & Palmer – Live At Waterloo Field, Stanhope, New Jersey, U.S.A., 31st July
Eminem – "My Name Is"/"Bad Guys Always Die"
Ennio Morricone – Peur Sur La Ville
Entombed – Clandestine– Live
Eve 6 – The Fly Record Live
Felt (Murs x Slug x Aesop Rock) – Felt 3: A Tribute To Rosie Perez (10 Year Anniversary Edition)
Fleetwood Mac – The Alternate Rumours
Frank Marino & Mahogany Rush – Real LIVE! Vol. 1
Frank Zappa – You Can't Do That On Stage Anymore (Sampler)
Frankie and the Witch Fingers – Sidewalk
Freddie Gibbs & Madlib – Piñata: The 1974 Version
Frumpies – "Frumpie One Piece" b/w "Frumpies Forever"
Galaxie 500 – Copenhagen
Gary Clark Jr – Pearl Cadillac (Feat. Andra Day)
Gene Russell – New Direction
George S. Clinton – Mortal Kombat (Original Motion Picture Score)
Glass Animals – Tokyo Drifting
Gong – Live! at Sheffield 1974
Gorillaz – G-Sides
Gorillaz – D-Sides
Grateful Dead – Buffalo 5/9/77
Graves At Sea – History of Sickness
Green Jelly – Triple Live Mother Goose At Budokan
Greg Dulli – "A Ghost"/Girl From The North Country"
Grouplove – Broken Angel
Guided By Voices – Hold On Hope
Gun Club – Live In London
Hank Williams – March of Dimes
Hatchie & Pains of Being Pure At Heart – "Sometimes Always" b/w "Adored"
Hawkwind – At The BBC 1972
Hawkwind – Quark, Strangeness & Charm
Heart Bones – Heart Bones (Har Mar Superstar and Sabrina Ellis of A Giant Dog)
Henrix – Jimi Hendrix
Hiss Golden Messenger – Let the Light of the World Open Your Eyes (Alive at Spacebomb)
Hootie and the Blowfish – Live at Nick's Fat City, 1995.
Hot Rats – Turn Ons: 10th Anniversary Edition
Hugo Montenegro – Hugo in Wonder-Land
Humble Pie – Official Bootleg Collection Vol 2
Hunny – Yes Yes Yes Yes Yes
ICE NINE KILLS – The Silver Scream: Killer Cuts
Iggy Pop – Kiss My Blood (Live in Paris 1991)
Infectious Grooves – Take You On A Ride
Inhaler – My Honest Face
J.J. Johnson and Kai Winding – Stonebone
Jay Bennett & Edward Burch – The Palace at 4 AM
Jerry Garcia – The Very Best of Jerry Garcia
Jesse Dayton – Texas 45 RPM Showdown
Jessie Baylin – Pleasure Center EP
Jethro Tull – Stormwatch 2
Jimmy Giuffre – GRAZ 1961
Jimmy Guiffre – The 3 & 4: New York Concerts
Jimmy Sweeney – Without You
Jimmy Urine & Serj Tankian – Fuktronic
Joe Loduca & Danny Elfman – Army of Darkness (Original Motion Picture Soundtrack)
John Prine – The Atlantic Albums
John Prine/Kelsey Waldon – The Kentucky Sessions
John Wesley Harding – The Man With No Shadow
Johnny Cash – Classic Cash: Hall Of Fame Series – Early Mixes (1987)
Johnny Thunders & Wayne Kramer – Gang War
Jon Brion – Synecdoche New York
Josefus – Get Off My case
Judas Priest – British Steel — Limited Edition 40th Anniversary Edition
Judas Priest – Sad Wings of Destiny
June of 44 – Engine Takes To The Water
June of 44 – Tropics and Meridians
k.d. lang – Drag
k.d. lang & the Reclines – Angel With A Lariat
Keith Richards – "Hate It When You Leave" b/w "Key To The Highway"
Kelly Finnigan – The Tales People Tell (Instrumentals)
Kevin Morby – Oh Mon Dieu: Live In Paris
Kinks – The Kink Kronikles
Lee Fields – Let's Get A Groove On
Lennon/Ono with the Plastic Ono Band – Instant Karma! (2020 Ultimate Mixes)
Lenny Bruce – Lenny Bruce Is Out Again
Lil' Kim – 9
Lisa Loeb – A Simple Trick To Happiness
Local Natives – When Am I Gonna Lose You
Lothar and the Hand People – Machines; Amherst 1969
Lothar and the Hand People – Machines; Amherst 1969
Lou Reed & John Cale – Songs For Drella
Love Tractor – 60 Degrees and Sunny
Mac DeMarco – Other Here Comes The Cowboy Demos
Makeup and Vanity Set – Heart of Batman OST
Manic Street Preachers – La Tristessa Durera (Scream To Sigh)
Marcy Luarks & Classic Touch – Electric Murder
Marion Brown – Porto Novo
Mark Knopfler – Metroland (Music and Songs From The Film)
Mark Snow – Music From the X-Files: The Truth and the Light
Maroon 5 – Memories
Martin Denny – Exotic Moog
Marty Willson-Piper – Nightjar
Marvin Pontiac – Marvin Pontiac: The Asylum Tapes
Meat Puppets – Meat Puppets
Melanie – Melanie With The incredible String Band Live
Mia Doi Todd – Gea
Midland – Live From The Palomino
Mikal Cronin – Switched-On Seeker
Mike Watt + The Secondmen – In Quintessence
Mikis Theodorakis – Serpico
Miles Davis – Double Image: Rare Miles From the Complete Bitches Brew Sessions
Modern English – I Melt With You
Motorhead – "Ace of Spades"/"Dirty Love"
Mott The Hoople – Golden Age of Rock N Roll
Mouth Congress – Ahhhh the Pollution
Murs & 9th Wonder – Brighter Daze
My Chemical Romance – The Murder Scene
Nahko & Medicine For The People – Take Your Power Back
Nas – God's Son
Nat Turner Rebellion – Laugh To Keep From Crying
Neal Casal – Fade Away Diamond Time
Ned Lagin – Seastones: Set 4
New Order – Peel Session /82
New Riders of the Purple Sage – Field Trip (Live)
Nick Mason's Saucerful of Secrets – "See Emily Play"/"Vegetable Man"
Nicole Bus – Live in NYC
Night Beats – Sonic Bloom
Nocturnal Emissions – Tissue of Lies
Odd Future – The OF Tape Vol. 2 : Neon Purple
Odd Future – The OF Tape Vol. 2 : Neon Pink
Oh OK (Lynda Stipe, Linda Hopper, Matthew Sweet) – The Complete Reissue
Ol' Dirty Bastard – Return To The 36 Chambers: The Dirty Version (25th Anniversary Edition)
Original Motion Picture Soundtrack – Lethal Weapon (Original Motion Picture Soundtrack)
Pale Saints – Mrs. Dolphin
Parish Hall – Parish Hall
Parliament – The Medicaid Fraud Dogg Presents 3GP Bangers
Paul McCartney – McCartney
Penderecki/Don Cherry & The New Eternal Rhythm – Actions
Pepper – Kona Town
Percival – Wild Hunt Live: Pyrkon 2018
Pete Krebs & The Gossamer Wings – All My Friends
Pete Rock – Petestrumentals 3
Philip Glass – The Essential
Philip Glass – Koyaanisqatsi
Pink Floyd – Arnold Layne Live 2007
PinkFong – Baby Shark
Polaris – Music From The Adventures of Pete & Pete
Post Malone – Hollywood's Bleeding
Primus – Suck On This
Randy Newman – Avalon (Original Motion Picture Score)
Randy Newman – The Natural
Ravi Shankar – Chants of India
Record Safari – Record Safari
Refused – Not Fit For Broadcast – Live at the BBC
Robbie Basho – Selections from Song of the Avatars: The Lost Master Tapes
Robyn – Robyn
Rockabye Baby! – Lullaby Renditions of Wu Tang Clan
Roger Waters – The Wall– Live In Berlin
Ron Carter – Foursight: Stockholm
Rory Gallagher – Cleveland Calling
Roxy Music – Roxy Music – The Steven Wilson Stereo Mix
Royal Horses – A Modern Man's Way To Improve
Ruston Kelly – Dirt Emo Vol. 1
Ryuichi Sakamoto – Black Mirror: Smithereens (Original Soundtrack)
Sam Smith – I Feel Love
San Francisco Christian Center Choir – The Sound of the San Francisco Christian Center
Screamin' Jay Hawkins – …What That Is!
Screamin' Jay Hawkins – Because Is In Your Mind
Sean Price & Small Professor – "Latoya Jackson" b/w Remix
Skid Row – Slave To The Grind (Expanded)
Skye – Keeping Secrets
Skyzoo + Pete Rock – Retropolitan (Instrumentals)
Slapp Happy – Our Swimmer
Slint – "Breadcrumb Trail" b/w "Good Morning, Captain"
Snoop Dogg – I Wanna Thank Me
Sock-Tight – Smudge
Sofi Tukker – Dancing On The People
Solomon Burke – Back To My Roots
Someone – ORBIT II
Son Volt – Live At The Orange Peel
Soul Asylum – Hurry Up And Wait (Deluxe Version)
Spacehog – Resident Alien
Spoon – All The Weird Kids Up Front (More Best Of Spoon)
Squirrel Nut Zippers – The Inevitable
Steve Earle – "Times Like These / It's About Blood"
Summer Walker – Last Day of Summer + Clear EP
Sumy – Funkin' In Your Mind
Sun Ra – Egypt '71
Surfer Blood – Astro Coast 10 Year Anniversary Reissue
SUSTO – Weather Balloons
Suzannne Ciani – Suzanne Ciani
Tangerine Dream – Tyger
Team Dresch – Choices, Chances, Changes
Tear Da Club Up Thugs of Three 6 Mafia – CrazyNDaLazDayz
Ted Cassidy – The Lurch
Tegan and Sara – Tonight In The Dark We're Seeing Colors
Terry Hall – Home
The (Electric Six) Wildbunch – Rock Empire
The Airborne Toxic Event – Come On Out
The Alarm – Celtic Folklore Live
The Allman Brothers Band – An Evening With The Allman Brothers Band: First Set
The Allman Brothers Band – An Evening With The Allman Brothers Band: First Set
The Allman Brothers Band – Fillmore West 1-31-71
The Black Crowes – Jealous Again
The Boys Next Door – Door, Door
The Charlatans UK – The Charlatans UK vs. The Chemical Brothers
The Comet Is Coming – Imminent
The Cure – Bloodflowers
The Cure – Seventeen Seconds
The Dead South – Record Store Day Release
The Doors – The Soft Parade: Stripped
The Fallen Angels – Paradise Lost
The Feminine Complex – Livin' Love
The Feminine Complex – Livin' Love
The Fleshtones – Face of the Screaming Werewolf
The Fleshtones – Face of the Screaming Werewolf
The Game – Born 2 Rap
The Good Life/The Pauses – Breeders split
The Groundhogs – Split
The Jones Sisters (Steven Conrad, Lillie Mae and Bobby Bare) – Perpetual Grace, LTD Soundtrack
The London Suede – The London Suede
The Magic Numbers – The Magic Numbers
The Menzingers – Chamberlain Waits
The Murder Capital – Live from London: The Dome, Tufnell Park
The Notorious B.I.G. – It Was All A Dream: The Notorious B.I.G. 1994-1999
The Obsessed – Incarnate Ultimate
The Pale Fountains – Longshot For Your Love
The Pineapple Thief – Uncovering The Tracks
The Pogues – At The BBC 1984
The Pretenders – Live! At the Paradise, Boston, 1980.
The Ramones – It's Alive II
The Replacements – The Complete Inconcerated Live
The Residents – Icky Flix: The Original Soundtrack Recording
The Rolling Stones – Metamorphosis UK
The Rolling Stones – Let It Bleed (Limited Collectors Edition)
The Skatalites – Ska Voovee
The Smithereens – "Love Me Do / P.S. I Love You"
The Soft Boys – I Wanna Destroy You / Near The Soft Boys (40th Anniversary Edition)
The Specials – Dubs
The Strokes – The New Abnormal
THE THE – I Want 2 B U
The Unrighteous Brothers – Unchained Melody / You've Lost That Lovin' Feelin'"
The Verlaines – Dunedin Spleen
The Violets – Athens Georgia 1988-1992
The Weeknd – My Dear Melancholy,
The Who – A Quick Live One
The Who – Odds and Sods (Deluxe)
Throwing Muses – Purgatory/Paradise
TLC – Waterfalls
Tom Tom Club – Genius of Love 2020
Tommy Bolin – Tommy Bolin Lives!
Tones on Tail – Pop
Tony Joe White – The Beginning
Toto – Live in Tokyo 1980
Tove Lo – Bikini Porn
Tres Vampires – Tres Vampires
Twiztid – All These Problems
Tyler, The Creator – Cherry Bomb (The Instrumentals)
Tyler, The Creator – Cherry Bomb
U2 – 11 O'CLOCK TICK TOCK (40th Anniversary Edition)
UFO – Live in Youngstown '78
Ultravox – Sleepwalk
Various Artists – Sweet Relief: A Benefit for Victoria Williamas
Various Artists – The Turning: Kate's Diary
Various Artists – Lagniappe Sessions Vol. 2
Various Artists – Sunrise On the Blues: Sun Records Curated By Record Store Day Vol 7
Various Artists – Behind The Dykes: Beat, Blues and Psychedelic Nuggets from The Lowlands 1964-1972
Various Artists – Hackers (Original Motion Picture Soundtrack)
Various Artists – The Land of Sensations & Delights: The Psych Pop Sounds of White Whale Records, 1965–1970
Various Artists – Double Whammy! A 1960s Garage and Folk-Rock Rave-Up
Various Artists – FLOW
Various Artists – The Virgin Suicides (Music From The Motion Picture)
Various Artists – Girls in the Garage Volume 8
Various Artists – Soul Jazz Records Presents STUDIO ONE 007: Licensed To Ska! James Bond and other Film Soundtracks and TV Themes
Various Artists – Soul Jazz Records Presents Brazil Funk Power –Brazilian Funk and Samba Soul
Various Artists – Wick Records Presents Battle of the Bands Vol. 1
Various Artists – The Ska (From Jamaica)
Various Artists – Psyché France vol. 6 (1960-70)
Various Artists – Hi Tide Groove
Various Artists – Record Safari Motion Picture Soundtrack
Various Artists – Record Safari Motion Picture Soundtrack (Deluxe Edition)
Various Artists – I Saved Latin! A Tribute To Wes Anderson
Various Artists – Dance Craze
Various Artists – This Are Two Tone
Various Artists – STUDIO ONE Rockers
Various Artists – From The Vaults, Vol. 2
Various Artists – From The Vault, Vol. 2
Various Artists – Rough Guide To Brazilian Psychedelia
Various Artists – DUNE OST
Various Artists – Queen & Slim Soundtrack
Various Artists – Austin Powers — International Man of Mystery
Various Artists – Wilcovered
Various Artists – Phenomenon (Music From The Motion Picture)
Various Artists – Batman & Robin (Music From and Inspired By The Motion Picture)
Various Artists – Austin Powers: The Spy Who Shagged Me Soundtrack
Various Artists – Music From The Motion Picture: Austin Powers in Goldmember
Vitamin String Quartet – Vitamin String Quartet Performs Lana Del Rey
Wale – Wow… That's Crazy
Warren Zevon – Warren Zevon's Greatest Hits (According To Judd Apatow)
Widespread Panic – Sunday Show -the Capital Theatre, Port Chester, NY 3/24/19
Wild Tchoupitoulas – Wild Tchoupitoulas
Willie Colon – Cosa Nuestra
Wipers – Is This Real–Anniversary Edition
Wire – 10:20
Wolfgang Press – Unremembered, Remembered
WURM – "Poison" / "Zero Sum"
Yardbirds – Roger The Engineer: Stereo & Mono
Young Fresh Fellows – Toxic Youth
Zap Mama – Adventures in Afropea