Legendary glam rock band had big plans for the end of 2019 - with a tour set for parts of Australia and New Zealand. But unfortunately - the tour was canceled because singer-guitarist Paul Stanley's battle with the flu.
But since bassist-singer Gene Simmons, guitarist Tommy Thayer, and drummer Eric Singerhree had already gotten their Visas in order (and their flu shots) - they decided to make the trek to the land down under ...and play a single show ... on a boat ... for an audience of great white sharks. Seriously - you can't make this up ¯_(?)_/¯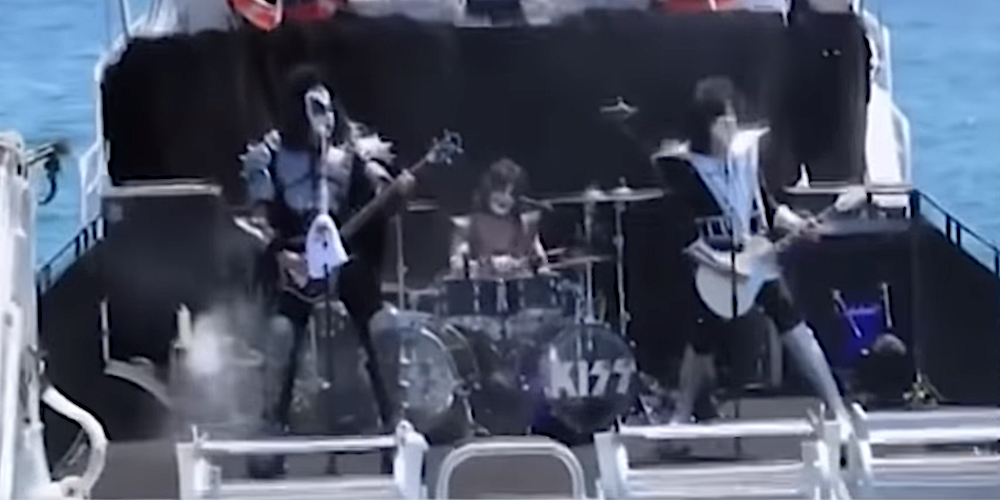 There were 8 paying members of the KISS Army on the boat and a handful of other boats in the area to hear the shark's show. But alas- apparently no Great Whites got the memo - not even Jack Russell - despite the fact that sharks apparently "love the low-frequency sounds of rock and roll".
Ok ... it wasn't all a gag - the show was to benefit the Australian Marine Conservation Society:
"Welcome to 'Shark Rock City,' where KISS will perform a live set off the southern coast of Australia to entice sharks, who love the low-frequency sounds of rock and roll.

This once-in-a-lifetime ocean concert takes place on November 18, 2019, in Port Lincoln, where you'll board a boat at 6:30 AM and cruise along the coastline looking for birds, dolphins, and other wildlife. For the main event, you'll head out to the deep waters of the Indian Ocean — one of the biggest feeding grounds for great whites.

As KISS rocks out above water, you'll also get to see what's down under it. Watch from a glass bottom boat as the music attracts the legendary band's biggest (underwater) fans. KISS has played plenty of wild shows in the past, but this one will top them all."