2019 is shaping up to be a good year for fans of The Cure....
They will be inducted into the Rock and Roll Hall of Fame on March 29th.
They've announced a bunch of tour dates ... nothing in the US ... yet ;)
And in honor of it being the 30th Anniversary year of the release of Disintegration (their best record?)
They have announced that they will be playing the record in full ... that's the good news ...
The bad news - for those of us fans in the United States - is that these shows are in Austrailia ...
The band will be celebrating that landmark by playing it live in full at four shows, as part of Sydney, Australia's Vivid LIVE festival series on May 24, 25, 27 & 28 at the Sydney Opera House.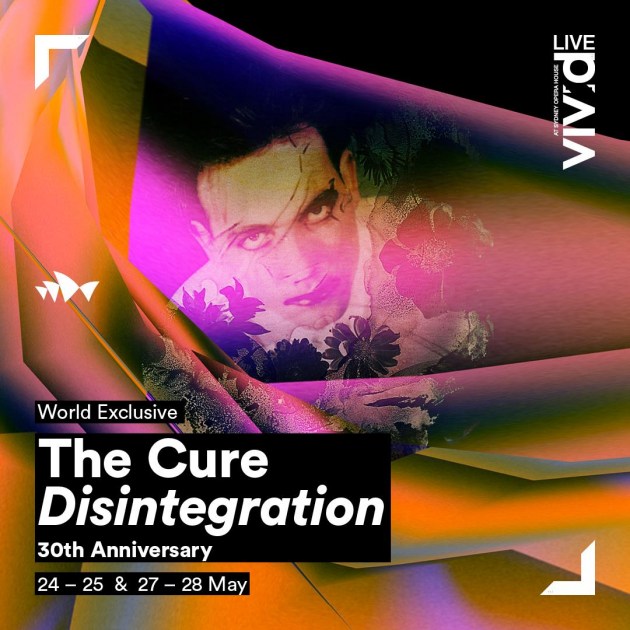 According to lead singer Robert Smith - "Vivid LIVE is a wonderful international event. Our Reflections shows in 2011 were truly memorable experiences, and with the excitement surrounding those early album performances in mind, we are more than delighted to be announcing our return in May 2019 to present the world premiere of Disintegration – 30th Anniversary."
So - unless you have some disposable income laying around (or a surplus of Qantas Airlines points) - we'll have to wait for some US dates to be announced ...
The Cure – 2019 Tour Dates
16 – MAR 2019 – ROCK ON THE LAWNS – Johannesburg – South Africa
21 – MAR 2019 – ROCK ON THE LAWNS – Cape Town – South Africa
24 – MAY 2019 – SYDNEY OPERA HOUSE – Disintegration 30th Anniversary Show – Sydney – Australia
25 – MAY 2019 – SYDNEY OPERA HOUSE – Disintegration 30th Anniversary Show – Sydney – Australia
27 – MAY 2019 – SYDNEY OPERA HOUSE – Disintegration 30th Anniversary Show – Sydney – Australia
28 – MAY 2019 – SYDNEY OPERA HOUSE – Disintegration 30th Anniversary Show – Sydney – Australia
08 – JUN 2019 – MALAHIDE CASTLE – Dublin – Ireland
14 – JUN 2019 – NOVA ROCK FESTIVAL – Nickelsdorf – Austria
16 – JUN 2019 – FIRENZE ROCKS – Florence – Italy
21 – JUN 2019 – SOUTHSIDE FESTIVAL – Neuhausen ob Eck – Germany
23 – JUN 2019 – HURRICANE FESTIVAL – Scheessel – Germany
24 JUN2019- To- 26 JUN2019 – INMUSIC FESTIVAL – ZAGREB – Croatia
28 – JUN 2019 – ROCK WERCHTER FESTIVAL – Werchter – Belgium
04 – JUL 2019 – EXIT FESTIVAL – Novi Sad – Serbia
06 – JUL 2019 – ROSKILDE FESTIVAL – Roskilde – Denmark
11 – JUL 2019 – NOS ALIVE – Lisbon – Portugal
13 – JUL 2019 – MAD COOL FESTIVAL – Madrid – Spain
17 – JUL 2019 – EJEKT FESTIVAL – Athens – Greece
18 JUL2019- To- 20 JUL2019 – COLOURS OF OSTRAVA – Ostrava – Czech Republic
22 – JUL 2019 – ROCK THE CITY FESTIVAL – Bucharest – Romania
26 JUL2019- To- 28 JUL2019 – FUJI ROCK FESTIVAL – Fuji – Japan
03 – AUG 2019 – AFISHA PICNIC – Moscow – Russia
07 – AUG 2019 – OYA FESTIVAL – Oslo – Norway
08 AUG2019- To- 10 AUG2019 – WAY OUT WEST – Gothenburg – Sweden
09 AUG2019- To- 11 AUG2019 – FLOW FESTIVAL – Helsinki – Finland
16 – AUG 2019 – BELLAHOUSTON PARK – Glasgow – United Kingdom
23 – AUG 2019 – ROCK EN SEINE – Paris – France
And for your listening pleasure - here's the full album - Disintegration -
The Cure - Plainsong
The Cure - Pictures Of You
The Cure - Closedown
The Cure - Lovesong
The Cure - Last Dance
The Cure - Lullaby
The Cure - Fascination Street
The Cure - Prayers For Rain
The Cure - The Same Deep Water As You
The Cure - Disintegration
The Cure - Homesick
The Cure – Untitled