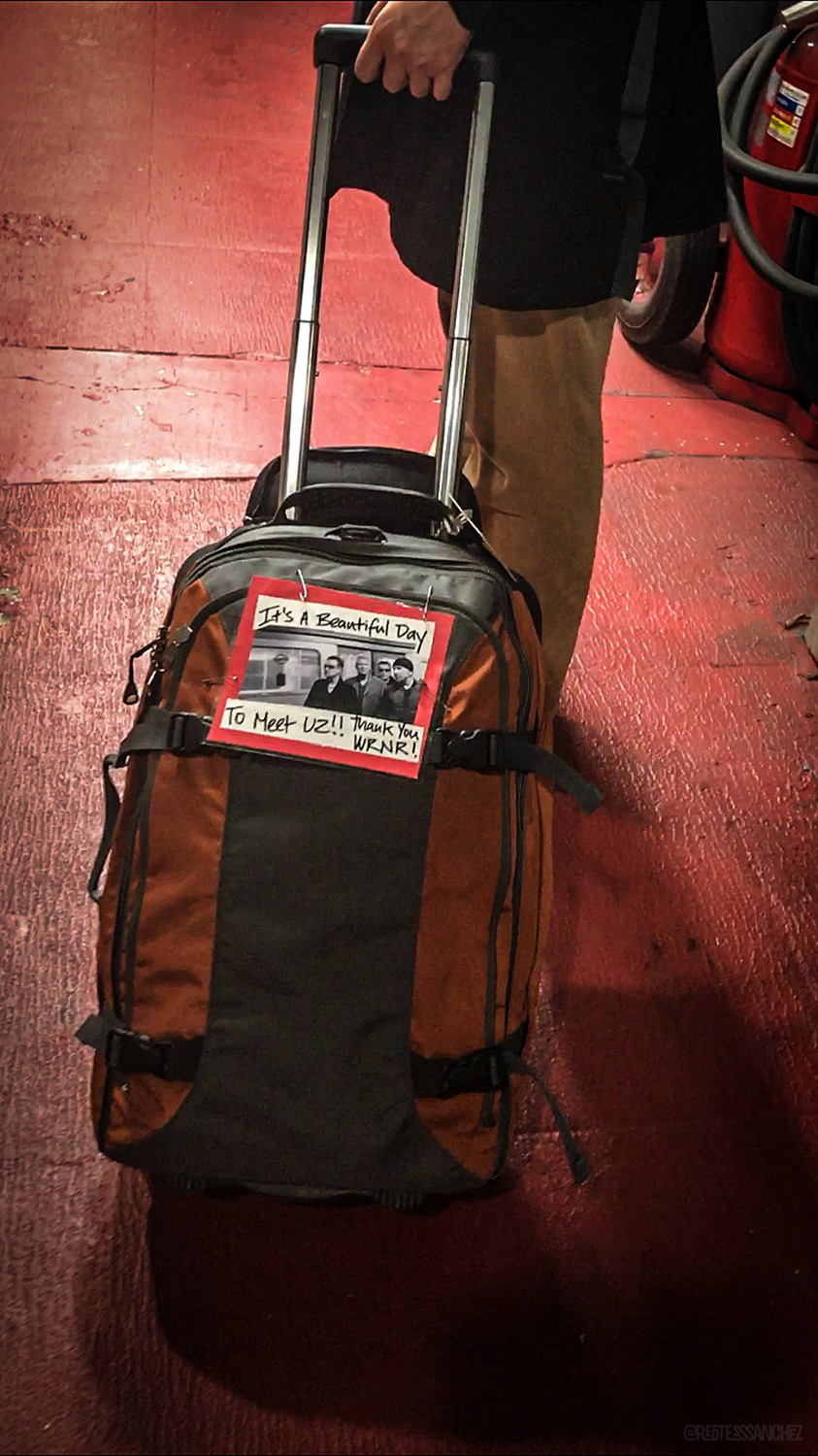 We were able to share a lot of cool experiences with you in 2017. Free Pop Up shows with Brandi Carlile, Private Soundchecks with The National and Portugal. The Man. Win Butler's Suite and The Anthem's opening with Foo Fighters. But nothing was bigger than our #ExperienceU2 contest ... we aksed for U2 fans to show their devotion via Instagram posts ... we brought in a panel of U2 experts to judge the post and the most passionate fan would have the chance to travel to New York City and listen to U2's new CD ... with the band!
We asked our winner, Theresa Sanchez, if she would let us come along with her - virtually - and she agreed - check out the experience - in her words, photos, and videos below.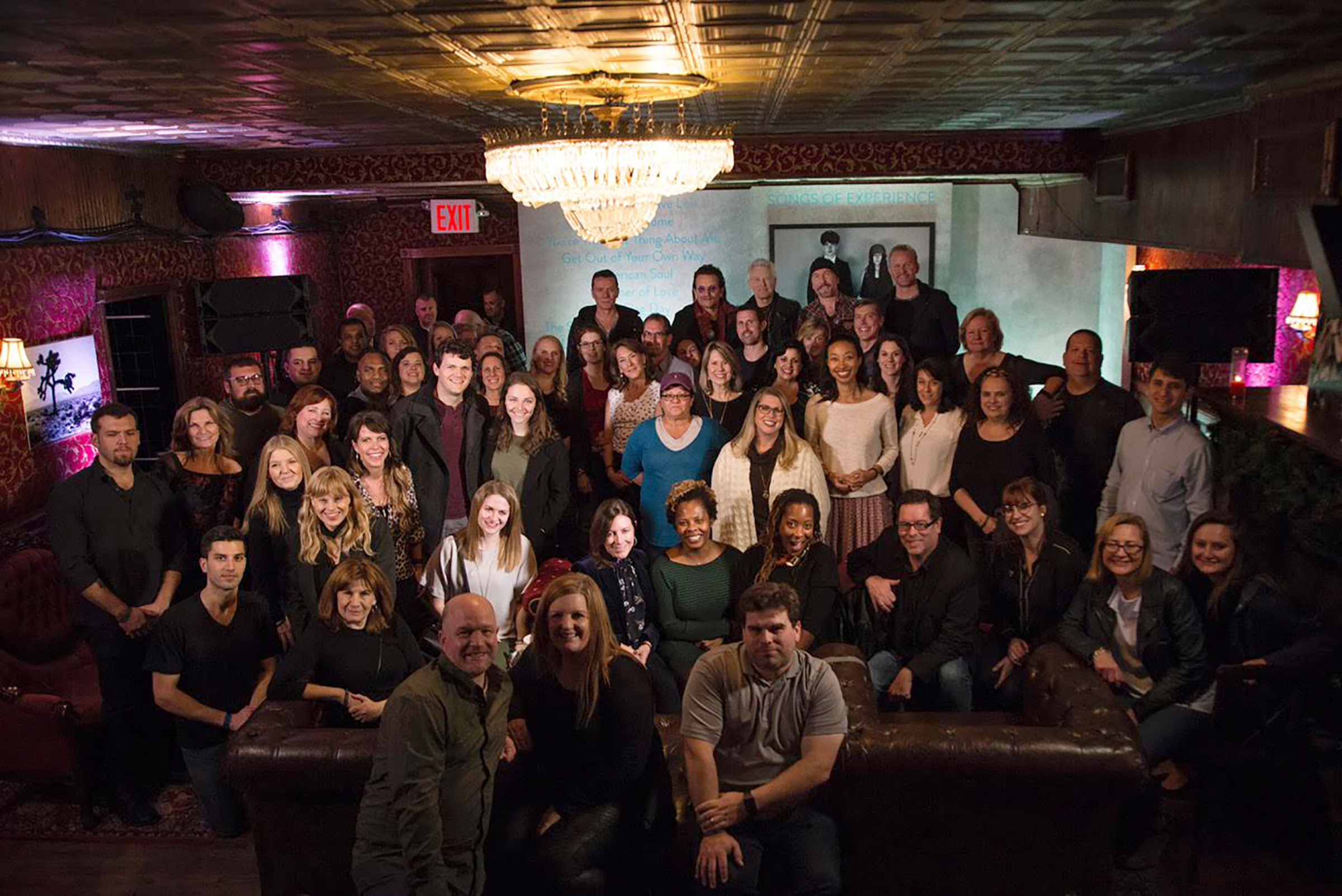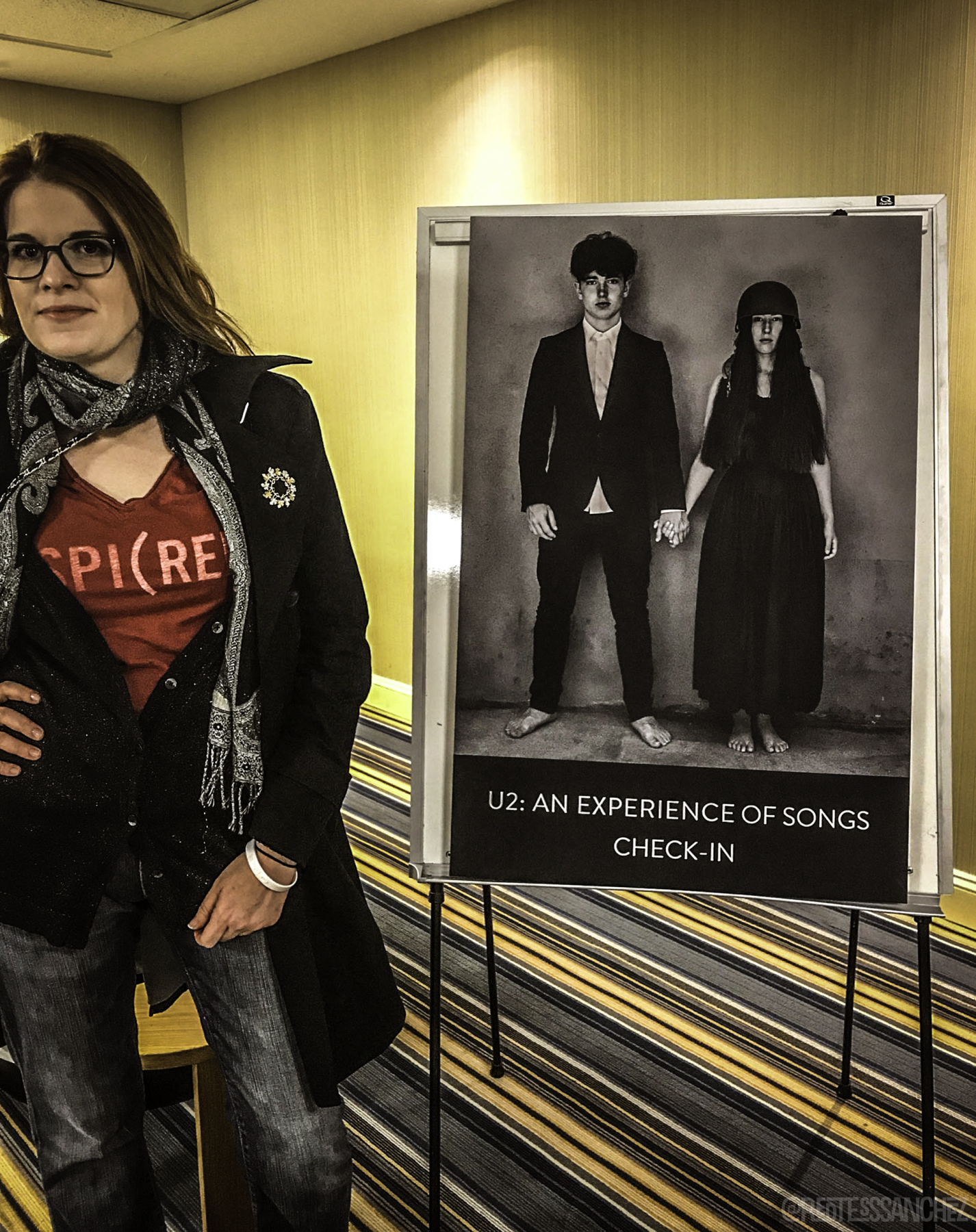 Anticipation. Rocky Horror has mocked it. Carly Simon has sung about it. I was now feeling it. My eyes darted all over the tiny, dimly lit Lower East Side authentic Prohibition-era speakeasy known as the Back Room. Posters with images of U2 and their 14th studio album adorned the bar mirrors and the red velvet-covered walls. The bathrooms even had song lyrics strategically displayed at the sink stations. Sensory overload extended from sight and sound to taste. A constant delivery of delectable hors d'oeuvres (single serving Shepherd's Pie anyone?), liquor-filled teacups, and brown-bag beer, satisfied my appetite but did little to calm my nerves. Yondr and their lockable technology pouches made fiddling with my phone impossible. What was a U2 super fan to do?
A copy of William Blake's illustrated poems "Songs of Innocence and of Experience" briefly helped occupy my mind. Fellow fans shared stories attesting to their U2 fandom and debated why only three chairs occupied the stage. A spotlight illuminated thirteen song titles printed on the left side of the large wall facing the small seating area. At about 8 p.m. the room darkened and people with all-access credentials started swiftly moving about. One man pulled out his cell phone and plugged it into a cable connected to the main sound booth towards the rear of the room. The listening party had officially begun. ­­
The album ended about fifty minutes later to resounding applause. More people then entered the room and two additional chairs were placed on stage. Finally, the moment everyone had been waiting for arrived. Documentary filmmaker and local resident Morgan Spurlock took the stage and introduced himself as the moderator. He noted: "This is an incredibly special night on so many levels." He also acknowledged U2 felt it was "incredibly important" to share their new music with their biggest fans. This was the third of three listening parties, the other two being in London and Los Angeles.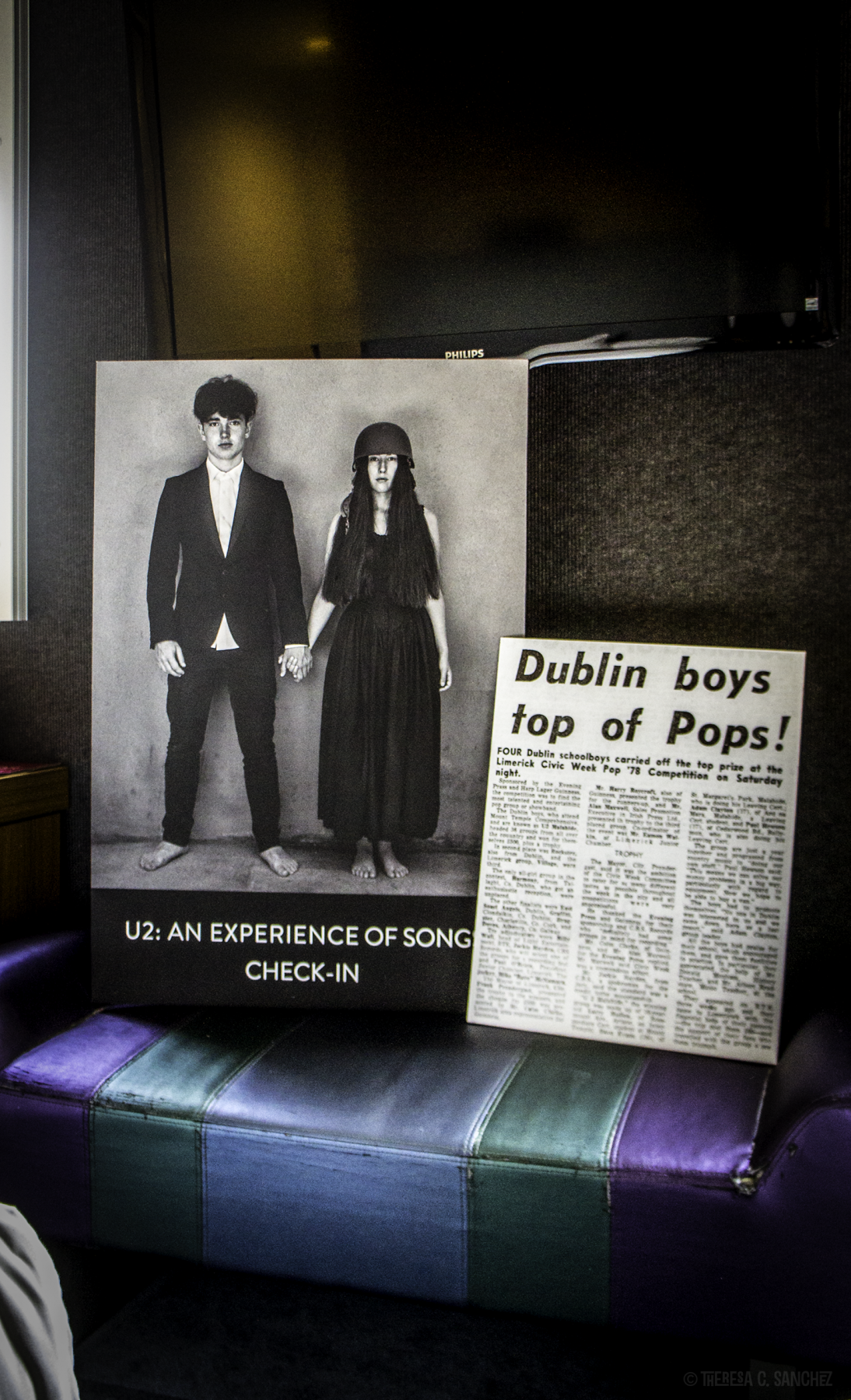 The Edge [Daniel H. Evans] and Adam Clayton emerged from the bookcase door and sat in the seats stage left next to Spurlock. Larry Mullen Jr. followed thereafter and sat right in front of me and my friend to stage right. Bono [Paul D. Hewson] was the last to arrive, having been delayed by what Adam and The Edge jokingly called a "most exciting pee." Each member's long-awaited entrance prompted emphatic applause, but that of bespectacled Bono's certainly invoked the longest and loudest.
Not to gloat, but our proximity to these four Irish rockstars was both astounding and surreal. We were sitting so close to them that I could see the detail of the yellow threading on Adam's $630 black "Dublin Star Bee" Slip-On Gucci sneakers.
The primary purpose of the night's event was to experience the band's thirteen newest tracks. Given that, Bono asked everyone if they liked what they had just heard. The cozy crowd hollered various affirmative exclamations, while clapping and cheering. He then inquired about specific favorite song choices, to which the audience enthusiastically obliged. I praised the record's fifth track, the anthemic tune, "American Soul," and got a nod of approval from the burgundy-haired, scarf-wearing singer himself! [I later learned it's the band's second collaboration with Grammy-winning rapper Kendrick Lamar. It's an alternate version of the single 'XXX' from his fourth album, Damn (2017). Lamar also worked on 'Get Out of Your Own Way.' Bono revisited it later in the evening's discussion.]
From there, Spurlock commenced with the pre-submitted fan questions (one was mine!), beginning with band influences and song covers.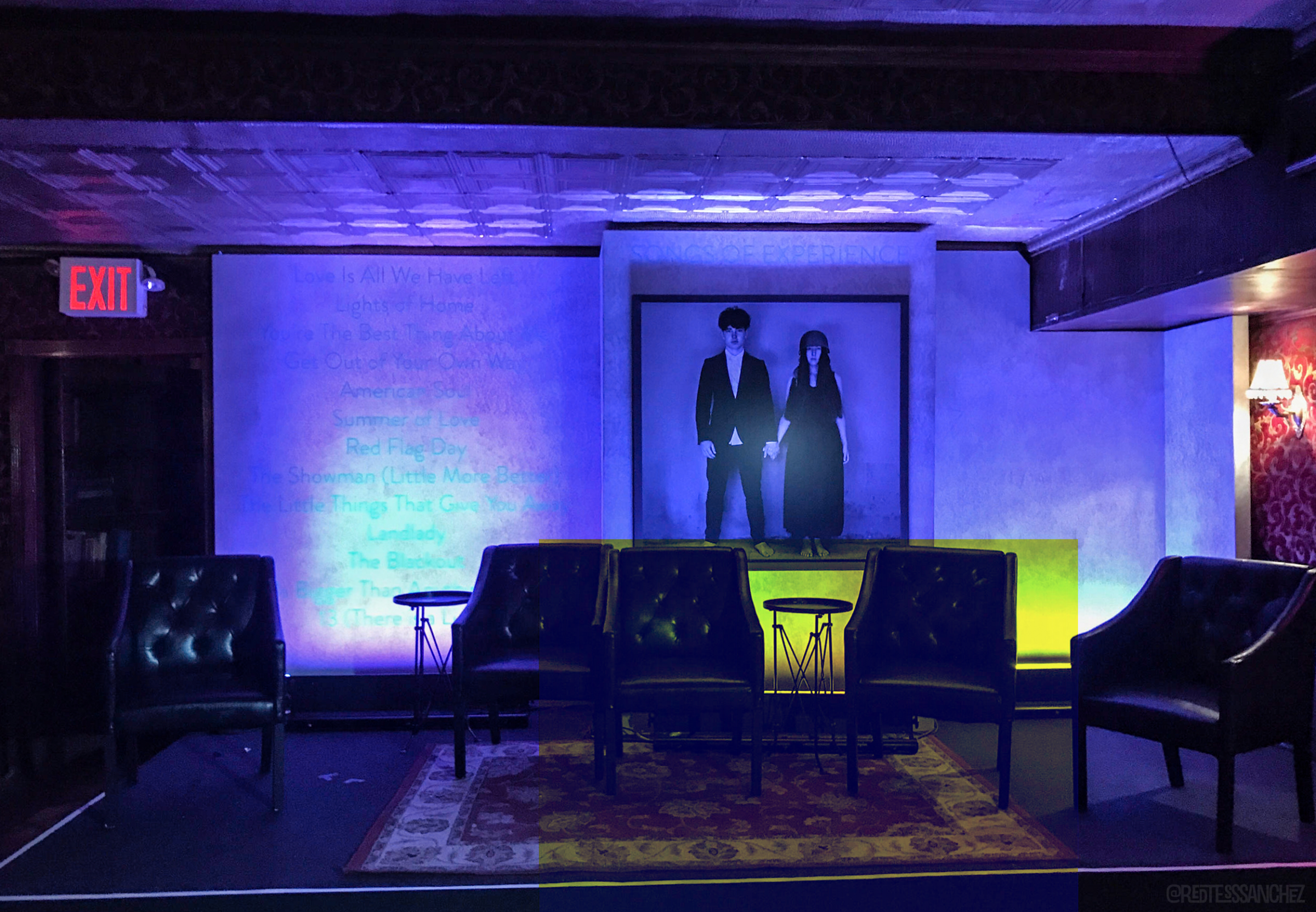 [Queries were addressed to the entire group, while others targeted specific members. At times, one member would finish another's statement or pick up where another left off. Unless otherwise noted with quotation marks, the majority of the answers have been paraphrased from detailed shorthand notes.]
Influences and Favorite Covers to Perform Live:
During this past year's massive worldwide 30th anniversary tour for The Joshua Tree, the band interspersed lyrics from David Bowie's 1977 hit 'Heroes' into the 1984 single 'Bad' (The Unforgettable Fire). This isn't the first time they've done it, but it's turned into a special tribute following Bowie's 2016 death. Over the years they have incorporated lyrics from 50+ songs and other salient snippets into live performances of this fan favorite. Many recent shows took place in outdoor venues. Bono would look up into the night sky and point out different constellations while the band played an extended instrumental of "Bad." Here is what they had to say:
The Band: Sometimes you just stumble into something. 'Heroes' is very special to us. David Bowie was a gigantic person in our life. He lived in this city and loved New York. It gave him a freedom he didn't get anywhere else. All of us had his posters in our bedrooms. He was a teenage idol. He was a strange creature who gave people permission to be different. It's strange when you get to know someone as famous as Bowie. We played him an early version of 1991's 'The Fly' (Achtung Baby). He said, "I think you should record it again."
Bono: David Bowie was there producing us, and "we didn't take his advice, even though after the fact, I think he was right."
Adam­: "The group was most unfamiliar with playing 'Red Hill Mining Town' live, and this past tour was the first time we had ever performed it in concert." We could only do it after adjusting the vocals. An additional brass component was also added.
The Edge: "I didn't appreciate 'Bad' enough until we played it live."
Larry: "The audiences are the arbiters at the end."
Bono: "The title of 'Bad' comes from when we were teenagers and Andy Warhol made a movie called 'Bad' (1977). We went to see it trying to feel artsy, bohemian, and interesting. We saw this sort of art film and we had a spectacular argument about the film. A friend of mine [Gareth Spaulding] ended up being a heroin addict [who overdosed in 1987 on his 21st birthday]."
Concert Audience Size:
The next question was a shorter version of the one I crafted with my friend Susan Gibbons. "December 6, 2017 marked the 37th anniversary of their first U.S. live performance at The Ritz in New York City. Can a band of this notoriety ever play smaller, more intimate venues again – maybe under an alias as a surprise to fans? The moderator conveniently left off the part about playing a rooftop pop-up concert like the one they did in 1987 for 'Where the Streets Have No Name'."
Two days later, on December 2nd, they showed up on a NY street corner to play their newest material! Coincidence? To think we had any kind of influence on this super band is incomprehensible, but reassuring this day and age.
Larry: "All gigs for a band like U2 come with a big sign. Performing can be intimidating because we have become accustomed to pushing boundaries and our fans expect that. Size does matter!" [The double entendre evoked laughter].
Adam: "We always try to make our shows as intimate as possible. [I remember] that first show and it felt very big and I felt very small. The combo of going on late and jet lag didn't help. It wasn't one of our best nights."
Bono: "Anyone who went to that probably thought it was the best gig they ever saw, but it really wasn't. We went to the Mudd Club [counterculture nightclub operating from 1978-83] afterwards. What's that Groucho Marx quote? 'Who would want to belong to a club that will have people like me as a member?' Madonna and Basquiat went there." We knew people who could get us in, but they were outside with us. Our great friend/promoter was knocking on the door. He climbed up the scaffolding and eventually got us in.
Adam: "New York was a lot of fun."
Choosing Concert Set Lists:
The Edge: "It's an instinctive thing. You imagine what the best show would be like and you make it happen. As lead singer, Bono has a very particular role. He gets more votes than the rest of us."
Bono: "We're not a jukebox kind of band. We're not playing the songs. We're playing the occasion. It's just not the same show night after night. We want to create a feeling and a connection. Forgive me for this – we want to achieve a sort of transcendence. It's like the Shakespearean structure [of a play]. We're trying to play the best night of our life every night. One day we'll get it right."
Quality of Music Today:
U2 has hope for today's music and are in touch with all types of genres. They even gave a shout out to the British band The Horrors who just released their fifth album V. Bono specifically mentioned the award-winning English garage rock duo Royal Blood and Irish singer-songwriter Imelda May.
Adam: "There's always so much good music around. There's Kendrick Lamar, of course [as aforementioned, they've recently worked on two projects together]. Jay-Z too – it was extraordinary for him to admit all he did [on his 13th studio album 4:44]." Twenty One Pilots is good. "There's this new guy out named Noel Gallagher."
Incidentally, the "Life" section headline of the November 29, 2017 USA Today available at most hotels read: "Grammy Awards: Hip-hop giants Jay-Z, Kendrick Lamar lead the field." Maybe they read the seemingly ubiquitous newspaper that day.
The New Album:
Bono: "The two albums [Songs of Innocence (2014) & Songs of Experience (2017)] talk to each other." 'American Soul' samples part of 'Volcano.' "I wrote a lot about my wife Ali [Hewson] – having met her as a teenager. We were just kids." '13 (There is a Light)' samples lyrics from 'Song for Someone.' There was some preaching of what you had to hear.
What Makes New York City Special To You:
Larry: "In the 80s, in Dublin, nothing seemed possible. New York is full of possibilities. Ireland has changed thankfully. And thankfully, New York hasn't!" [laughter]
How Has Politics Affected the New Album:
Bono sighed and picked up his beer. That about explains it all. [laughter]
The Edge: "A lot has changed over a year. We try to avoid political processes and political issues. We went through a time period of many years looking at the developing world and truth is - in fact - history zigzags. There was a very long run that one could consider was in a positive direction. In 20 years it may not feel as significant. What's important is to look at the wider swath of history. The bottom line is that we are still issues based and hopeful. We don't want to let politics deter us."
Adam: "I still want to know if Obama was born in Kenya." [laughter]
Bono: "What the Edge said is a very wise way to look at the world. I'm splintered with anxiety [mentioned Charlottesville, UK, and Ireland]. The Edge referred to the last 70 years. Every day you wake up to things being just a little bit better and that just seems to have changed. What about the past 5,000 years? We are not giving up that progress. Don't agonize. Organize! Whatever you believe in, get out and vote."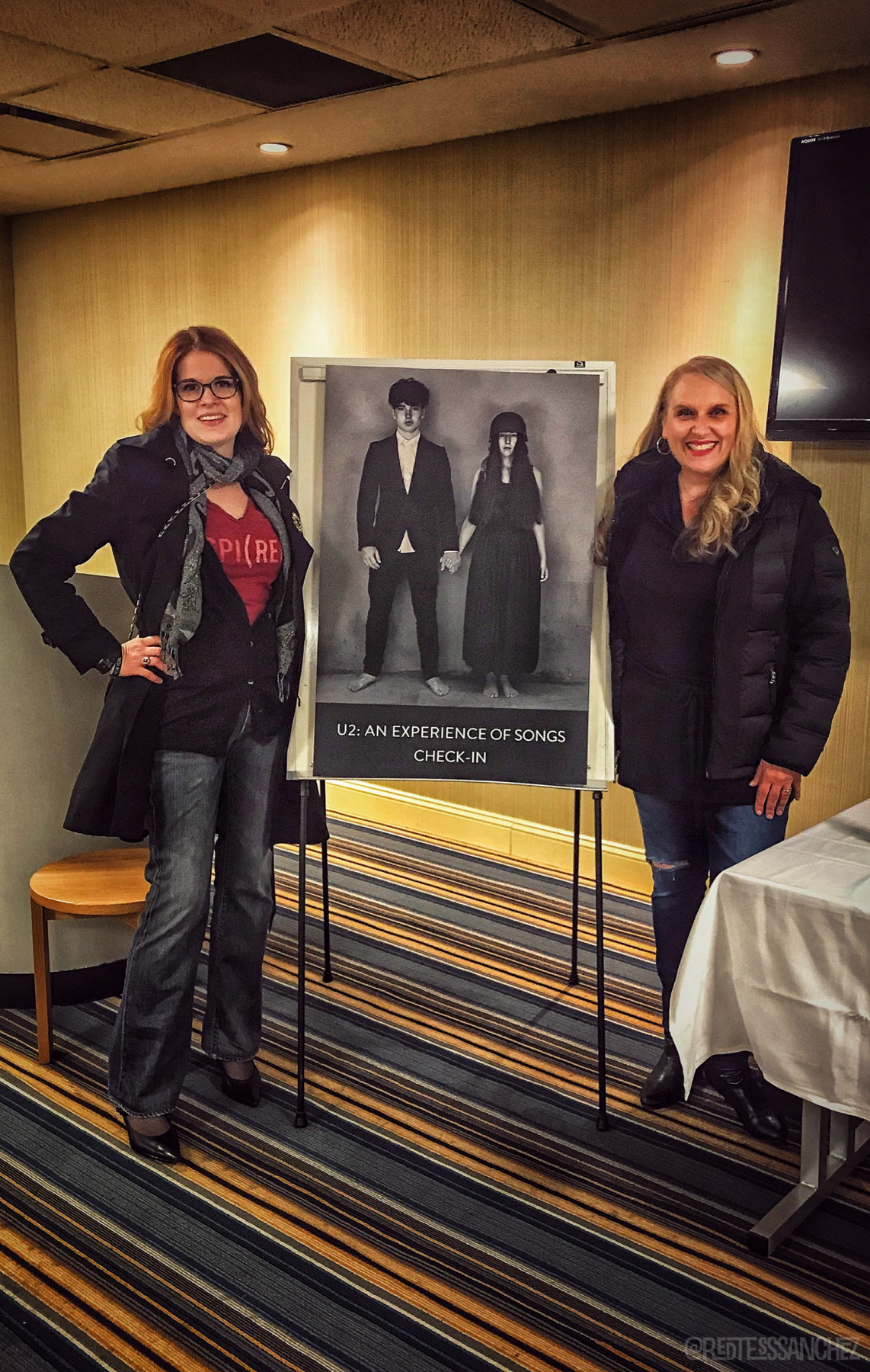 The musicians ended their discussion with a strong message and even stronger handshakes to many of the fans closest to the stage (yes, I got to thank each one of them!). The lights raised and a quick frenzy ensued as the collective contest winners assembled together to pose for a group shot. I pointed out the obvious: "If you can't see the camera, it can't see you." The Edge validated my advice by repeating the exact instruction to the overly eager throng. After the camera flashed, final brief band-directed salutations were exchanged, and then the Irish quartet departed. Desserts were served, but the 'sweetest thing' – a once-in-a-lifetime night with larger-than-life legendary band - was over almost as quickly as it began. We were then directed through the cavernous exit, handed a deluxe gift bag, and whisked off to the hotel in the same luxury coaches in which we arrived. It was hard to sleep after such an unforgettable experience. Good thing we have the 2018 Experience & Innocence Tour coming up. Let the countdown commence! Patience is a virtue, right?
See the full gallery if photos HERE and check out the video of her trip below: