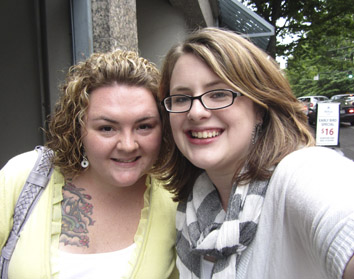 I enter WRNR contests literally all the time and never win. So when the most awesome contest ever (in my opinion at least) came along, I felt a little discouraged from the start! Ha. I remember before it started, I said to my best friend "I am trying to win something amazing this week." Did I mention that we are huuuuuge Pearl Jam fans and the opportunity to see Eddie Vedder in Seattle of all places would just about blow our minds? :)

So every time I heard the little sound bite, I dialed and dialed... and finally, the Thursday of the contest... dialing simultaneously through my cell and work phone, I got through! I couldn't believe it! But still knew that I had one more hurdle to overcome. I felt a little confident but didn't want to get my hopes up too high. Tuesday morning finally came along. I made sure I was settled in at my desk with WRNR streaming in time for the announcement. I was sure I wasn't going to win. But then when they were ready to announce the winner, my heart rate picked up a little bit... and then they said MY NAME!! I was literally in shock. Me?! REALLY?

Since I have never been to Seattle before, I spent the weeks before the trip getting advice and Googling to best places to go. We did the typical "must-sees" like Pike Place Market (I am pretty sad I can't shop there every week), the Space Needle, and also found the best sushi place in the city. But then it also turned out that there were a couple other great things going on like the Bite of Seattle festival (more food then you could ever eat!) and the most awesome: the Nirvana exhibit at the EMP Museum. It was really incredible to see all the memorabilia and also to see how bands from Pearl Jam to The Shins to Death Cab for Cutie are connected to Nirvana in some way or another. Definitely a must see for pretty much anyone who has the smallest amount of appreciation for good music.

Oh right... you probably want to hear about the concert, eh? I really cannot even say enough about this. I have seen Pearl Jam four times in four different venues- all memorable shows, but seeing Eddie solo in Benaroya definitely ranks very highly among the others. Eddie did such an amazing job of mixing old with new, solo songs with Pearl Jam songs, and throwing in a few covers in while also engaging the crowd with some entertaining stories (he was really hung up on talking about the recent news story of a man whose wife had cut off something quite important to him and put it in the garbage disposal- noted that he would be talking to his own wife about not having to do the dishes anymore to avoid looking at the garbage disposal… also segued into "Rise" after that ha). He mentioned many times how happy he was just to be home (and "anxious to do laundry") and seemed genuinely grateful for and humbled by the reception he was receiving (Pearl Jam really does have the best, most dedicated and appreciative fans in my opinion). Also, rumor was that Krist Novoselic was in attendance that evening.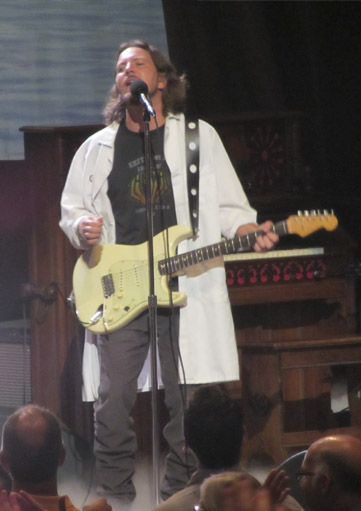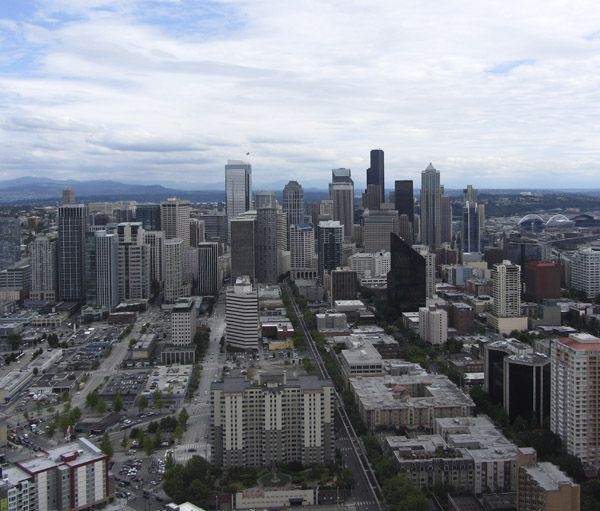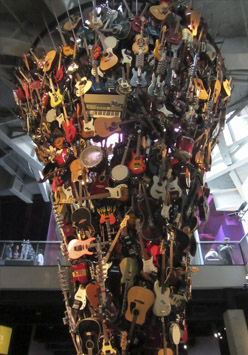 Some song highlights were "Without You," "Longing to Belong" (with a cello accompanist that really showed off the acoustics of Benaroya), "Unthought Known," a re-worked version of "Betterman," "Guaranteed," "Just Breathe" and "The End" with the string quartet, and then using looped vocals, closed out the set with "Arc" in the pitch black. During the two encores, my favorites were the cover of "You've Got to Hide Your Love Away," opener Glen Hansard (who did a fabulous job- seems VERY popular with the PJ community and a great addition to the tour) coming back out to sing "Falling Slowly" with Eddie singing back-up, "Sleepless Nights" (also with Glen, sang with no mics or amps- the audience was completely silent!!), "Porch," and then Eddie had everyone on their feet to close out the evening with "Hard Sun." Overall, the music was beautiful... it bounced off every wall and surface in Benaroya. I'm really grateful for the opportunity to hear such a talented artist in a place like that.

To sum it up, this was an amazing trip!! I really cannot thank WRNR enough for the opportunity to visit Seattle for the first (and hopefully not last) time and on top of that, getting to see one of my favorite performers. It was an unforgettable trip for sure. Thanks again!!!
----Laura Harris