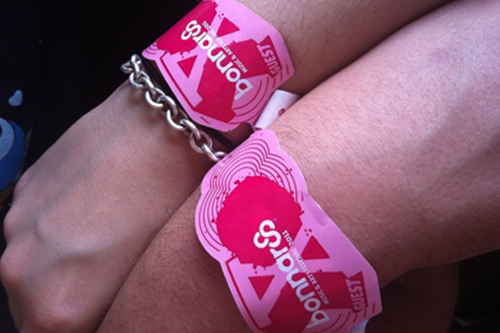 Thank you, thank you, thank you WRNR. I am so grateful to have been given the opportunity to attend one of the largest musical events in the entire country! Where to begin… the camp site was AWESOME. We pitched tent with other radio stations and media-folk, right next to the venue. Our site had its own complimentary shower complex and row of port-a-johns, which anyone who attended Bonnaroo would know, was a blessing. Our guest passes got us some other sweet amenities, like premium viewing areas, and access to more secluded eating areas/shaded areas.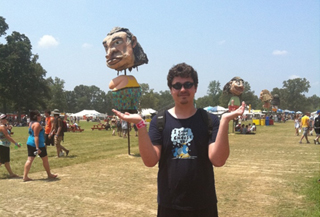 All that aside, let's gets down to the MUSIC. Since making the earth shattering PowerPoint presentation for the guys at the station, I decided I would experiment more with being nerdy. I charted out my whole viewing schedule, each page in a plastic sleeve, in a hard 3 ring binder. Yes. I went there. I will tell you that during our adventure I managed to lose the binder... creativity and spontaneity tend to rule these kinds of events, and I had no problem with that. We got to see Primus, Alison Krauss, The Knux, Bela Fleck and the Flecktones, G Love, Mumford and Sons, Black Keys, Eminem... Awesomeness Overload. There is something incredible about being surrounded by music enthusiasts, cheering on some of the greatest performers of our generation.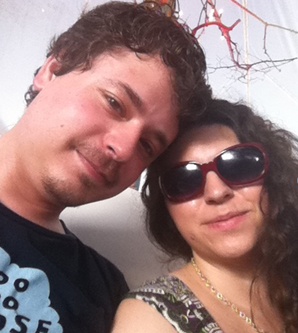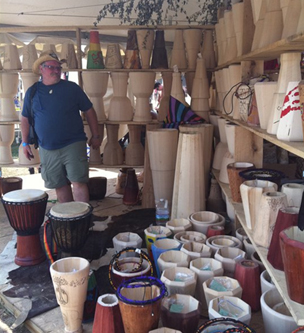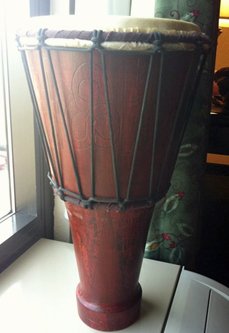 My amazing fiancée Ashley made me a spectacular hand drum virtually from scratch at one of the vendor tents. She burned the logo of my private lesson company, TomTom Studios, across the front, using the Bonnaroo symbol for the O's!! We buddied up with the owner who actually put the finishing touches on the drum, free of charge. An amazing professional sounding drum for $70 bucks? Can't beat that with a stick... I should know; I beat things with sticks all the time!

I am most thankful for the opportunity to have been engulfed in creative and artistic energy. I left Bonnaroo with a great deal of inspiration that has greatly enhanced my drum set playing, my private teaching, and my composing. I can't fully express my gratitude for the experience of a lifetime. Thanks to my all time favorite radio station, WRNR.