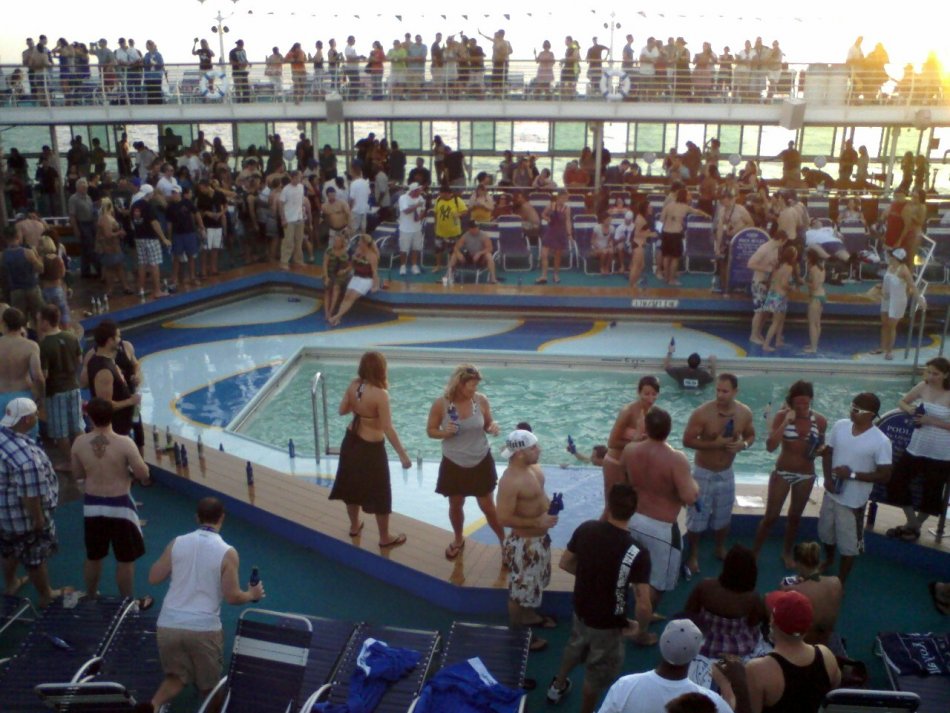 I was the lucky Grand Prize Winner on RNR's Dave Matthew's Band/Bud Light Cruise to the Bahamas! After completing the required on-line forms, our trip was completely mapped out for us. My wife, Mari-Ann, and I flew from BWI to Orlando where we were greeted by Bud Light Port Paradise representatives. We were guided to our tour bus which shuttled us to Cape Canaveral Port and our ship: The Monarch of the Seas.
There was Bud Light everywhere: on the bus, on the ship, on the island, but I'm getting ahead of myself here. Once on the ship, we learned everyone there was a free guest and there to have a good time. There were some people who had never heard of DMB on one side of the spectrum then there were the two girls, we had dinner with, from Long Island who had seen DMB sixty-one times!
After sitting poolside on the boat for about 5 hours and watching the beer-fueled mayhem, we noticed the ship had finally pulled away from the pier. There was a Halloween costume party that night. Before we left, I shamed my wife into getting a costume then I forgot mine! We wound up just watching the party from the rail above the dance floor. The DJ was awesome and the costumes were killer.
Saturday, after working out in the ship's gym, we pulled into Nassau, Bahamas for a day of Coconut Monkey shopping and Conch fritter eating. There was even a Starbucks with a second floor balcony where I could drink a mocha frappaccino and smoke a big fat Cuban maduro cigar! Back on the ship, we discovered UFC pay preview fights were shown for free in the "Sound of Music" theater – Score! After watching those fights, we went up to the pool area and hung out.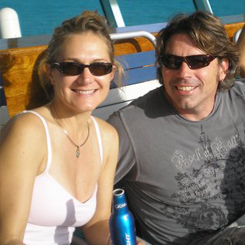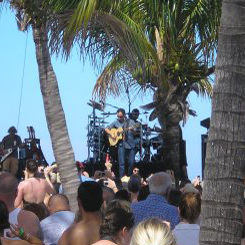 Mari-Ann and Sean on The Monarch of the Seas and DMB live at Coco Cay
Sunday morning we pulled into the Coco Cay waters. Coco Cay is a beautiful private island with no paved roads. Everyone had to take a ferry over there. Once on the island, we co-mingled with members of our sister ship. Barbeque lunch was served buffet-style. An opening band played on the Port Paradise stage while we explored the coastline. After finding fallen coconuts (notice a coconut fixation?), we moseyed back towards the stage. DMB came on and played a great concert! Here's the set list:
1) Don't Drink The Water 2) Funny The Way It Is 3) Seven 4) Satellite 5) So Damn Lucky 6) Why I Am 7) Spaceman 8) Cornbread 9) Shake Me Like a Monkey 10) Burning Down The House-Talking Heads cover 11) Tripping Billies 12) Crash Into Me 13) Jimi Thing 14) Grey Street 15) You & Me 16) Stay (Wasting Time) Encore: 17) Everyday 18) Ants Marching
Monday morning, the ship pulled back into Cape Canaveral. After a pretty painless Customs departure, we were back on the bus on our way to the airport.
It was a great little get-away and we want to thank WRNR, DMB, and Bud Light for taking care of everything (well, except babysitters!).
Thanks!
Sean and Mari-Ann