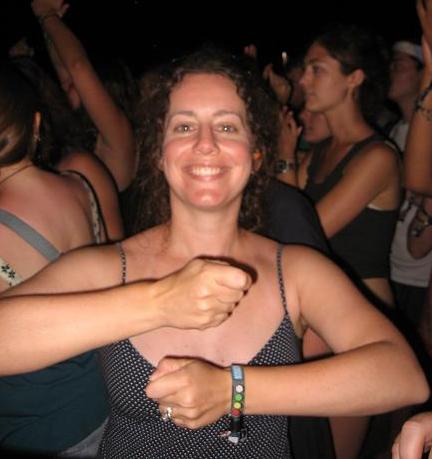 When I heard that WRNR was posting a position for a Lollapalooza correspondent, I immediately put together a resume. The 2008 Lollapalooza line up was an indie rockers dream: Rogue Wave, The Go! Team, The Kills, The Black Keys, Mates of State, Bloc Party, Stephen Malkmus & the Jicks, The Ting Tings, Broken Social Scene, Wilco, Iron and Wine, the National, NIN, and many many more! If that was not cause enough to want to go, I have one word for you: Radiohead! In May, we had an unfortunate experience at the recent Radiohead show at Nissan Pavilion. We were totally pumped to see In Rainbows performed live. Sadly, we did not make it to the rain based show despite an extensive effort to build an ark to float us to Thom. Jeremy declared war on Nissan and stated, "I will never return to that venue even if the Beatles were resurrected and opened for Jesus". Thankfully, WRNR gave us the chance to experience Lollapalooza and see Radiohead.
As soon as I got word that we were the correspondents, I began lifting weights with my right arm only in order to build fist pumping endurance and work towards the perfect fist pump. I practiced multiple rock band instruments in case Jeff Tweedy asked for crowd participation with the Wilco set. All of the air instruments such as guitar, xylophone, and keyboards were ready to be busted out all over the festival.
My husband, Jeremy, and I spent three full days totally ROCKIN' out. Radiohead was so incredible as usual. Wilco, Iron and Wine, and the National posted such strong performances. Band after band, we were blown away with the talent. At the time, the relatively unknown Ting Tings played a great set and now, have a top 40 billboard single. All weekend, there were so many festival rumors going around which we reported back to share with WRNR listeners. Concert goers whispered about Obama coming to introduce Kanye and Wilco and the possibility of the Flaming Lips as a secret act. Anything seemed possible at this festival.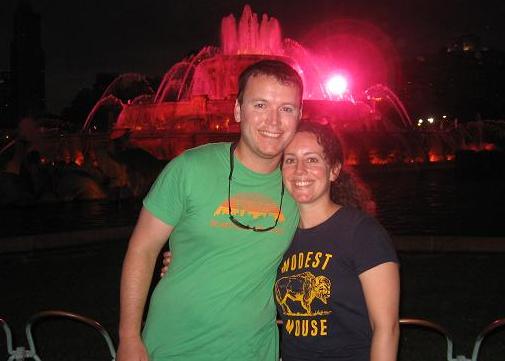 Lollapalooza at night was quite a scene! The Chicago architecture lit up behind the stages was one of the ultimate city skylines. It was an Amazing Line up in an Amazing city! You can't ask for a better music weekend than at Lolla. Thanks WRNR for a wonderful and memorable weekend! --- Lisa Grant