We are kicking off a new feature for the WRNR website known as: Women Who Rock Wednesdays. This aim is to highlight some of our favorite women in the music industry who are forging their own path and making good music while they're at it. Check back each week for the post!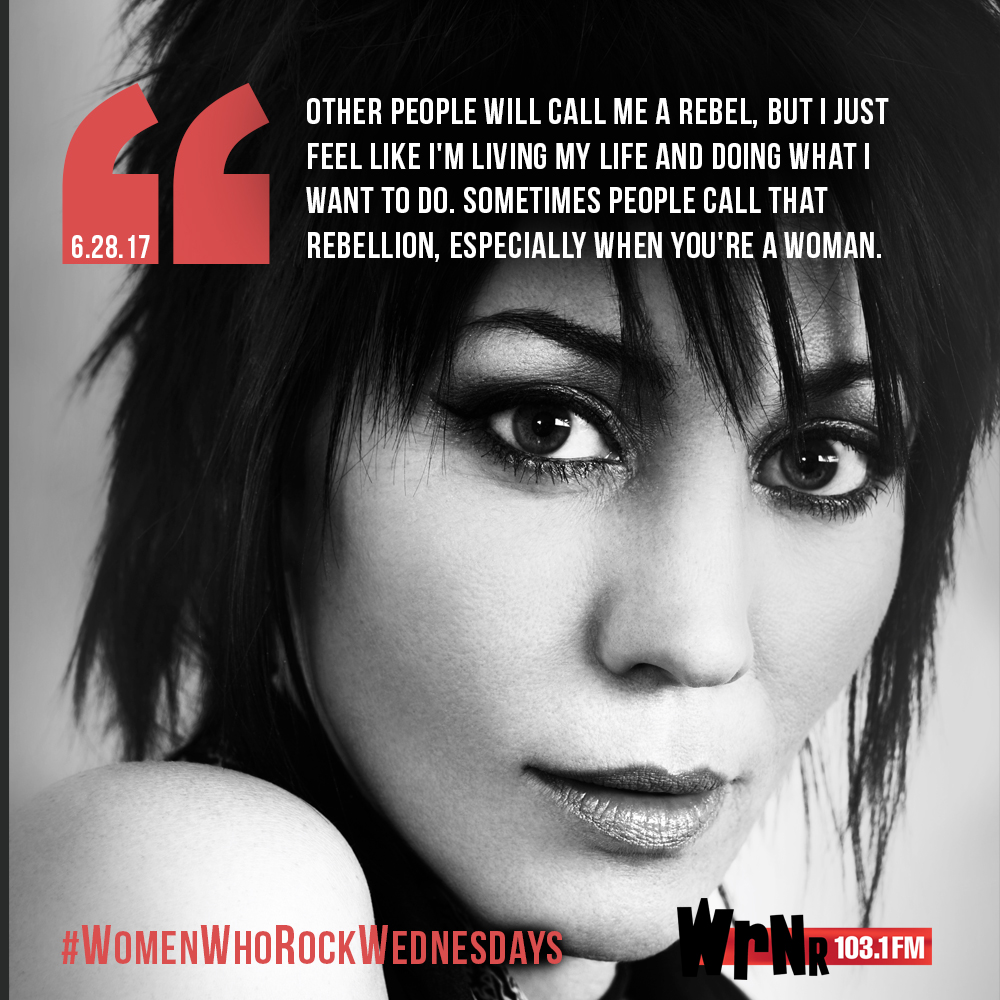 Joan Jett - 6.28.17
This week's Woman Who Rocks is the self-described Queen of Rock n' Roll herself, Joan Jett.
Starting off her career as a founding member of The Runaways, Jett was not initially a frontwoman. She played rhythm guitar and some lead vocals, while bandmate Cherie Currie held the front spot. Despite this, Jett was one of the main writers for the band's songs. Their international success far exceeded their success stateside, and eventually the band broke up in 1979 after creating five albums together.
Later that same year, after an attempt at going solo, Jett posted an ad in LA Weekly looking for three male bandmates to join her in Joan Jett & the Blackhearts. Once the lineup of the Blackhearts was solidified, the group toured throughout the states, often selling copies of their album out of their producer Kenny Laguna's car. Once the demand for the albums grew too immense to handle, friend and producer Neil Bogart joined Laguna in creating Boardwalk Records and signed Jett before re-releasing her self-titled album as Bad Reputation.
After gaining a solid following post-touring in 1981, the group recorded their second album I Love Rock n' Roll which featured the title track with the same name - which spent seven weeks at the top of the Billboard 200 and was inducted into the Grammy Hall of Fame in 2016.
Jett has not only influenced the music world as an artist and performer but also as a producer for several bands and has released records from various artists from her own label - Blackheart Records.
Capping off an expansive career, Jett was inducted into the Rock and Roll Hall of Fame in 2015. Despite her self-proclaimed title of "Queen of Rock" she has also been dubbed "Godmother of Punk" by various press outlets for her pioneering success as a woman in rock. (Abby Smith)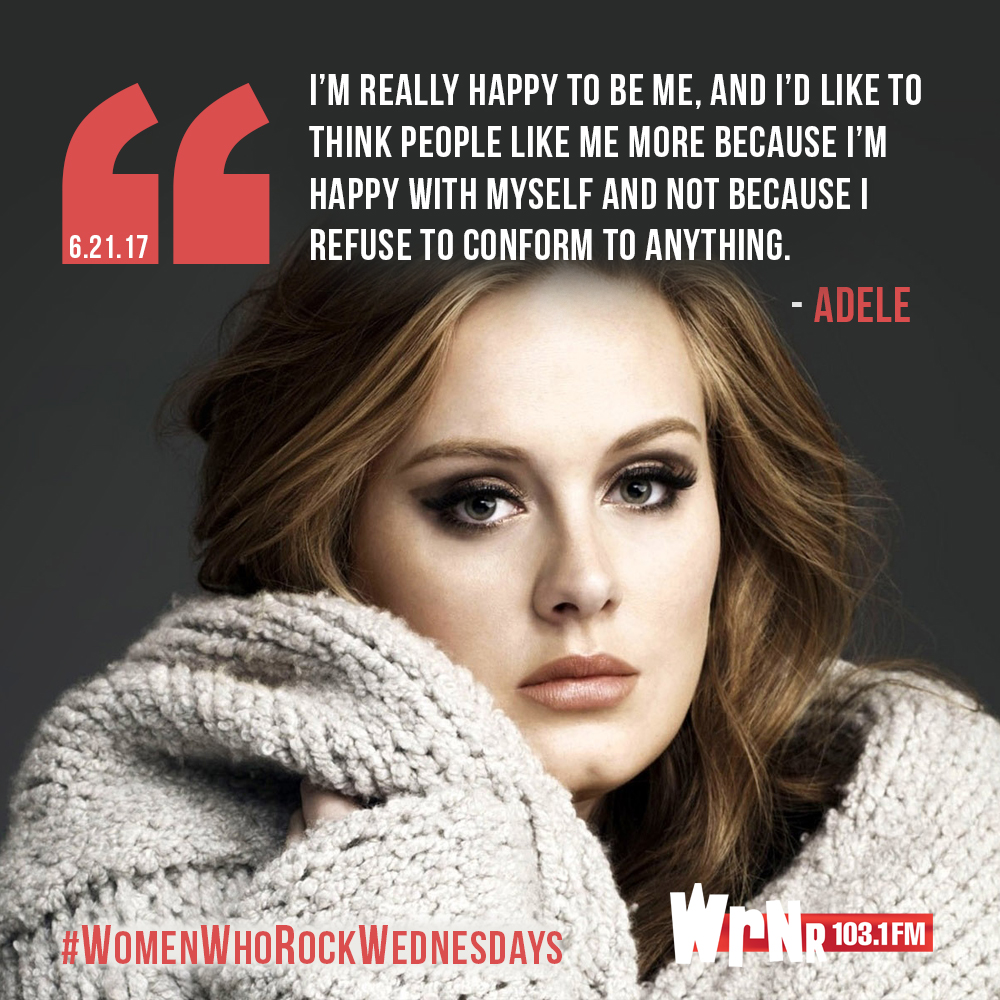 Adele - 6.21.17
She's so impressive she only goes by one name: Adele. The soulful British singer is well on her way to becoming a music industry icon. Her unparalleled success has led to more awards and recognitions to count, but we're going to try anyway.
Adele's career took off after graduating from the BRIT School for Performing Arts and Technology in 2006. She signed a recording contract with XL Records that same year after her friend posted recordings of her demo on MySpace. After this, the anticipation for Adele became apparent, she received the Brit Awards "Critics Choice" award and the BBC Sound of 2008 poll.
Her debut album 19 charted number one on the British charts. With songs like "Hometown Glory" and "Chasing Pavements", the debut album generated many awards including the Grammy for Best New Artist and Best Female Pop Vocal Performance. Her second album 21 features unmistakable tracks "Rolling in the Deep" and "Someone Like You." This essential breakup album has influences of contemporary roots and country mixed with a classic sound. This album earned her an unprecedented accolade: a number one album on the Billboard 200 while concurrently having three number one singles. This album also spent more time on the Billboard 200 than any other female artist.
And now her third full length album, 25 has made even more history. It became the fastest selling album in UK chart history and sold a record-breaking 3.38 million copies in the US in its first week. This fifteen time Grammy award winner has remained to true to her humble England countryside roots. Citing she gets homesick when she is away from London too long. So the bottom line here is: it's Adele's world, and we're just living in it.
(
Abby Smith
)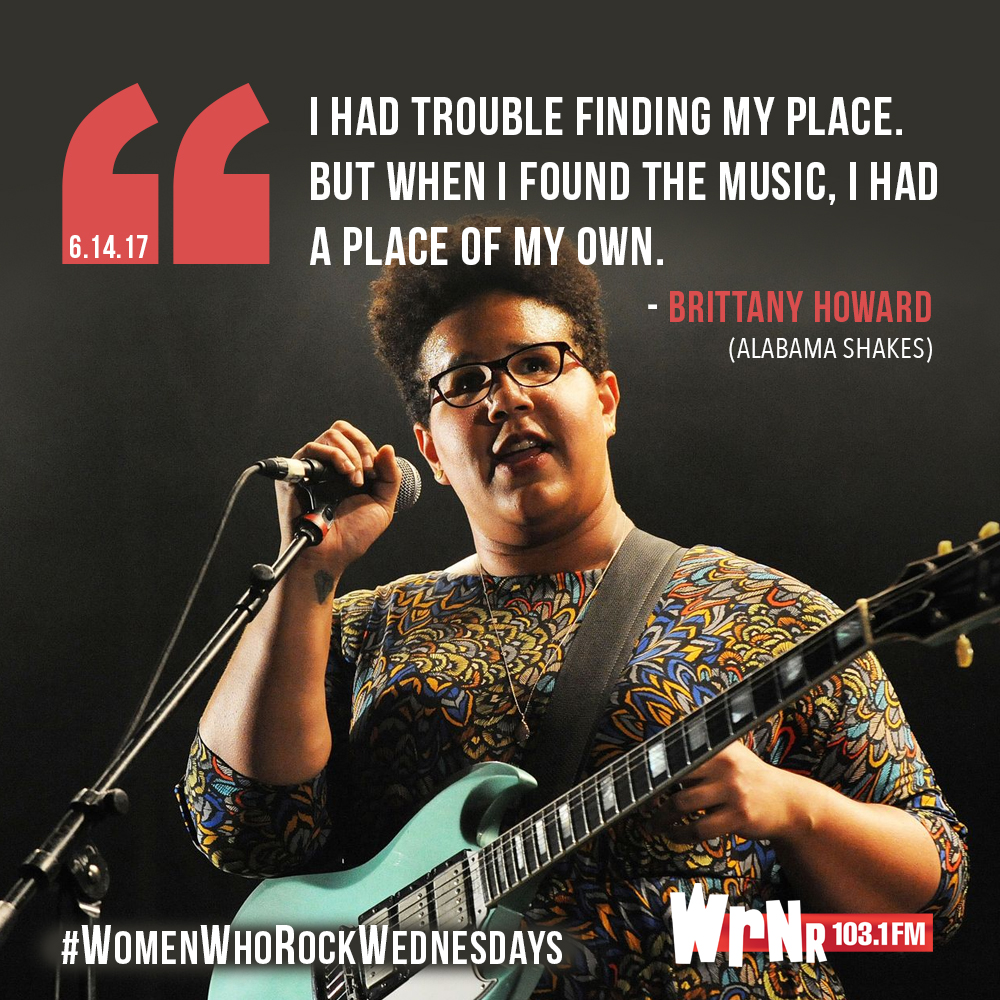 Brittany Howard - 6.14.17
You've definitely heard the Alabama Shakes. But how much have you heard about powerhouse frontwoman Brittany Howard? Growing up in the small town of Athens, Alabama, Howard credits not having much to do in the small town with why she turned to music. After hearing Pink Floyd for the first time when she was 14, it awakened the inner artist. She began listening to Led Zeppelin and Black Sabbath and it opened her eyes to an entire spectrum of music she had never heard before. Since this musical awakening, Howard has truly made a name for herself and the band. Their debut album
Boys & Girls
(2012) went on to receive several Grammy nominations including Best New Artist. Many critics credited the band's quick ascent to Howard's magnetic and commanding stage presence. Their second album
Sound & Color
(2015) debuted at number one on the Billboard 200. This album earned them three Grammy awards including Best Alternative Album. Howard has graced the stage with legends such as Paul McCartney and Prince all while holding her own. She was crowned Billboard's Women in Music "Powerhouse" award in 2015 cementing her status as a force to be reckoned with.
(
Abby Smith
)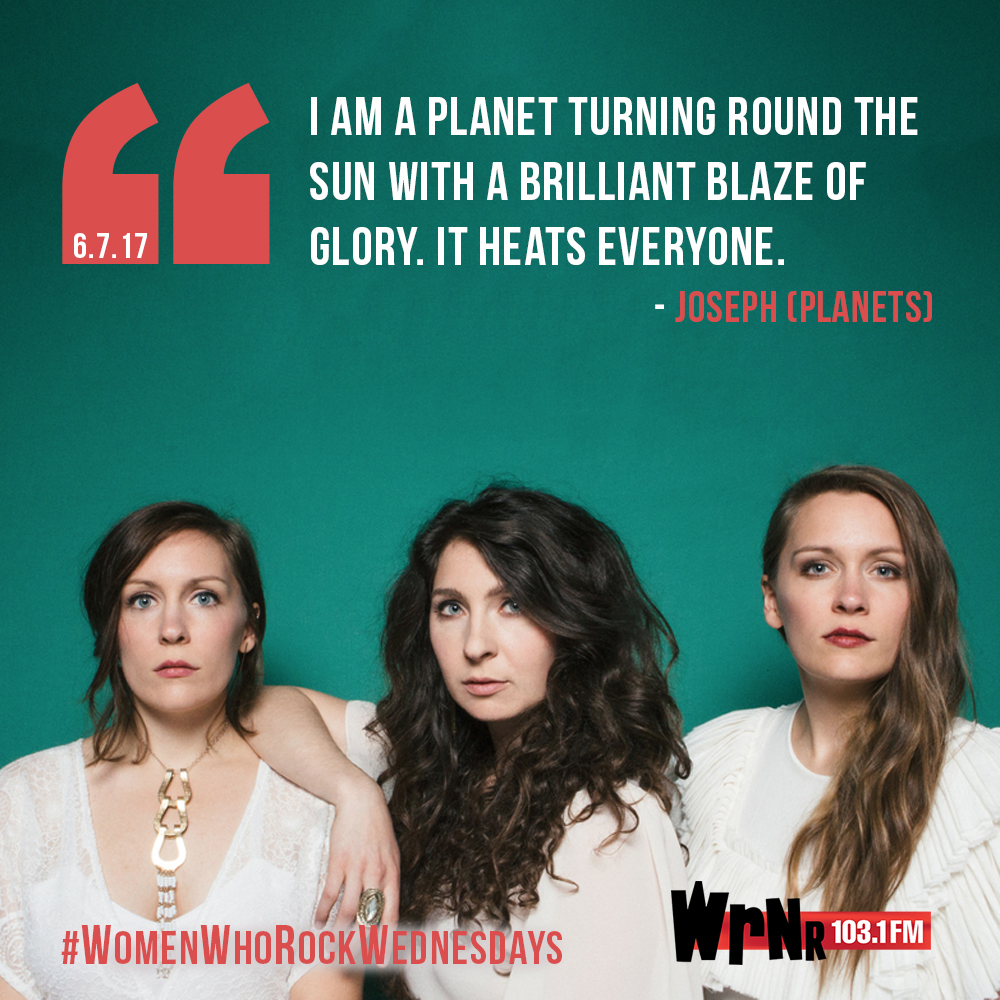 JOSEPH - 6.7.17
What started as a solo career quickly turned into a sister act for Natalie Closner Schepman and her two sisters Allie and Meegan Closner. After trying to make it on her own as a solo artist, Natalie knew something was missing and turned to her two younger twin sisters to help form the trio now know as Joseph. This indie-pop trio from the Pacific Northwest has taken the music world by storm since releasing their second album I'm Alone, No You're Not in 2016. These sisters are known for their lyrics about strength and acceptance mixed with strong vocal harmonies. Much of this is on display in their hit song "White Flag" which currently has over 10 million plays on Spotify. After releasing the single "White Flag" they had several television appearances including The Tonight Show with Jimmy Fallon, Ellen, and CBS This Morning. They wrapped up a very successful 2016 by touring with James Bay on his sold out arena tour in fall 2016. So far in 2017 these sisters have performed at Coachella and The Today Show all while on a tour of their own hitting up venues in the US and Europe. These sisters are just scratching the surface of their careers and we cannot wait to see what else they achieve together. (Abby Smith)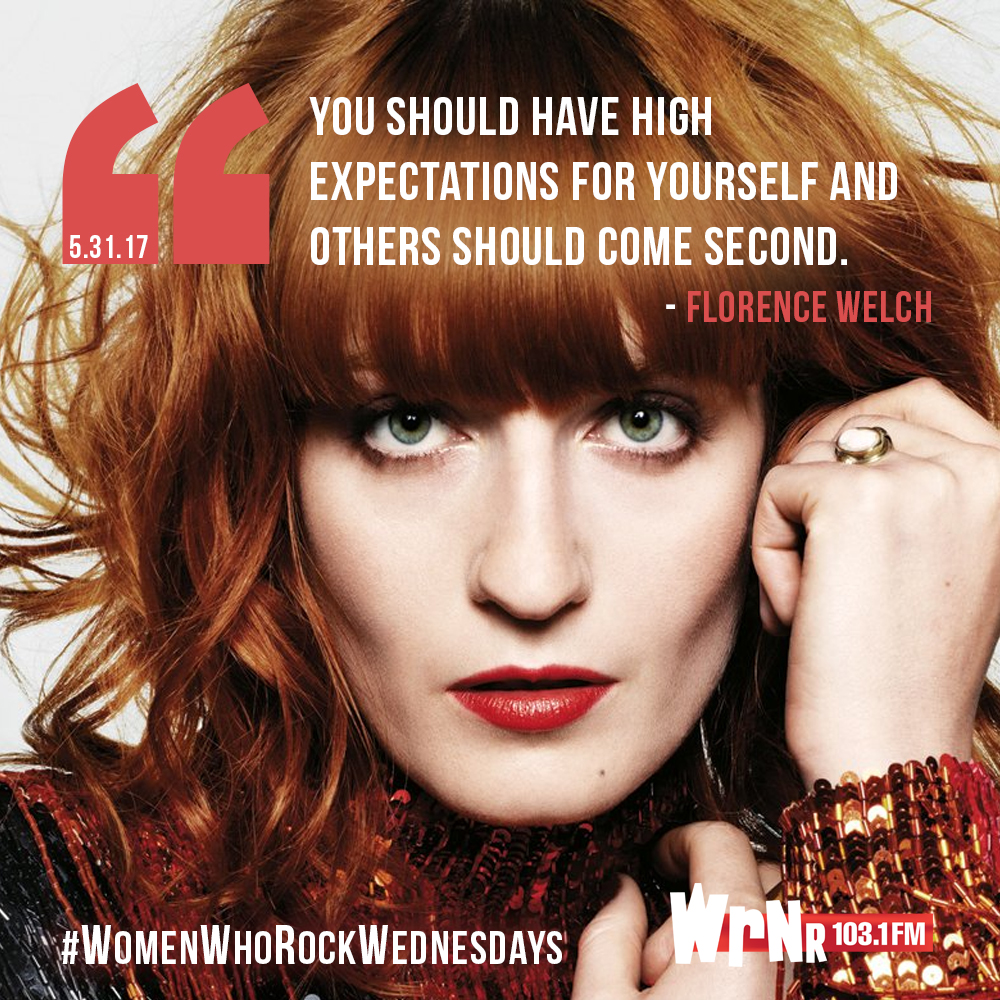 Florence Welch - 5.31.17
This week, we're taking it across the pond for Women Who Rock Wednesday, highlighting indie British songstress - Florence Welch of Florence and the Machine. Drawing inspiration from Kate Bush, Stevie Nicks, and Grace Slick, Welsh has developed a unique dark and romantic sound.
Since forming in 2007, Florence and the Machine has seen widespread international success. Early in their career, the band was backed by BBC Introducing – a British radio show promoting new unsigned bands. From this feature, the band saw their singles "Dog Days Are Over" and "Cosmic Love" go from indie favorites to Billboard hits. The band's music has been featured in many TV Shows, including 90210, Gossip Girl, Community, and Grey's Anatomy.
In 2015, the band released their third studio album - How Big, How Blue, How Beautiful, which debuted at number one on the UK Albums Chart. The album received five Grammy nominations including Best Pop Duo/Group Performance for the song "Ship to Wreck".
Later that year, Florence made history by becoming the first British female artist to headline the Glastonbury festival this century. The band was chosen to replace the Foo Fighters as headliners, after lead singer Dave Grohl fractured his leg. Their Glastonbury headlining set was one of the band's most critically acclaimed performances to date.
As we keep these records on repeat, we will just have to wait and see what Florence puts out next. Whatever it is, we know we can't wait to hear it.
(Abby Smith)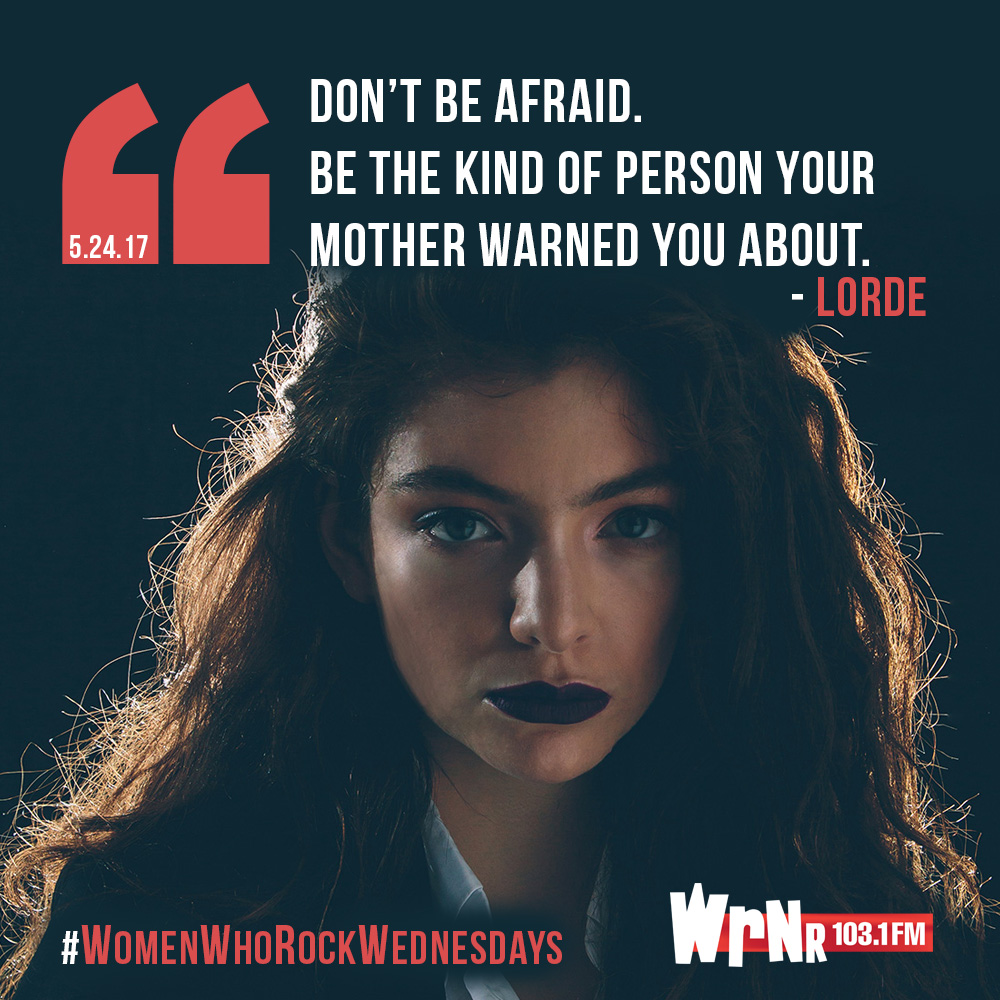 LORDE - 5.24.17
Starting off Women Who Rock Wednesdays is none other than indie-rock Queen: Lorde. Any true WRNR listener knows we can't get enough of her latest hit "Green Light" and subsequently the single has been on rotation here at the station. At only 20 years old Lorde is one of the most successful solo artists from her home country of New Zealand and has cemented her status in mainstream music. Since her professional debut with The Love Club EP in 2013, Lorde has maintained a regular place on the Billboard charts. This Grammy award winning artist has seen global success and been highly regarded as a performer, producing memorable sets during her concerts and festival appearances. Her 2014 performance at Lollapalooza in Chicago was dubbed the "best segment of the Chicago event" by Rolling Stone. Mark your calendars because Lorde is set to release her sophomore album Melodrama on June 16th, 2017. Whether you've been a fan since her debut EP or just can't stop listening to "Green Light" Lorde is a woman who definitely rocks! (Abby Smith)