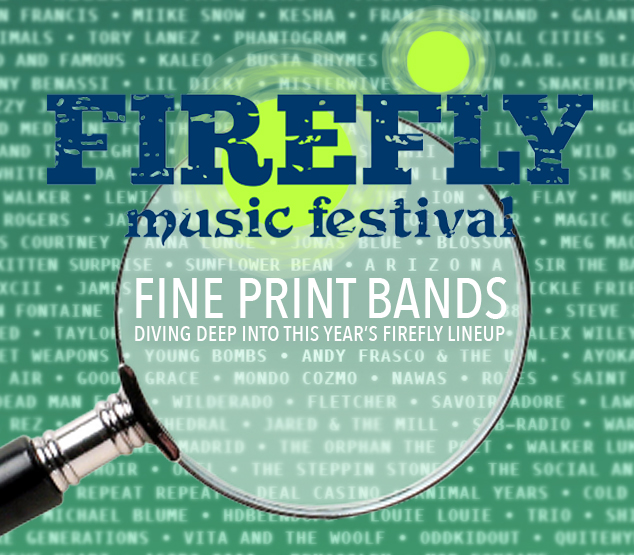 The Firefly Fine Print
Good news: it's officially festival season. Even better news: it's almost time for Firefly Music Festival. By now you probably know the headliners - Bob Dylan, The Weeknd, Twenty One Pilots, Muse, and Chance the Rapper. But what about those bands not so close to the top of the lineup? Well, here at WRNR we took the guess work out of finalizing which bands you should see. We perused the bands on the Firefly "fine print" section and compiled a list of ten artist to check out at this years festival. Whether you are a die hard fan who plans out their road trip festival playlist to prep for the event or just a music lover going to have a good time, give these bands a listen:
DREAMERS
This alt-rock trio hailing from Brooklyn is one of our top bands to watch for Firefly. Their indie-pop influenced sound packs a punch that makes them fit right in with some of the best of this years festival. Their debut LP This Album Does Not Exist was released this past August. The catchy melodies of Sweet Disaster and Wolves (You Got Me) from the debut LP showcase the band's readiness to have a place in the regular alt-rock scene.
For fans of: The Mowgli's, COIN, Grizfolk
Check out their "Sweet Disaster" music video: https://www.youtube.com/watch?v=wWB0AHhtjUE
Secret Weapon
A pop duo also hailing from Brooklyn, Secret Weapon is primed and ready for commanding a festival stage. This group's sound is an eclectic mix of everything from 80s synth-pop to modern yet old school styles resembling Capital Cities. Even though this fledgling band has only been around for a short time, they are making a name for themselves in the pop/dance world.
For fans of: Foreign Air, Nightly, Flor
Check out their "Something New" music video: https://www.youtube.com/watch?v=HsAAw2lZDXY
Foreign Air
This pair of musicians turned best friends have combined to created Foreign Air. After meeting in North Carolina a few years ago, each while playing with different bands, set the groundwork for the unique duo we know today. After swapping melodies and tracks over Dropbox for years, they are ready for center stage.
For fans of: Glass Animals and Alt-J
Check out their "Foreign Animal" music video: https://www.youtube.com/watch?v=160rtD36ojI
Roadkill Ghost Choir
A six piece alt-rock band from Florida, Roadkill Ghost Choir combines power-folk sound with the comfort of Tom Petty's unique sound. The band has toured with Band of Horses and been highly regarded by Rolling Stone and SPIN. RGC has already hit the festival scene this summer at Shaky Knees Festival in Georgia, and is one to definitely check out at Firefly.
For fans of: Mumford & Sons, The Wild Feathers, and Dawes
Check out their "Beggars' Guild" music video: https://www.youtube.com/watch?v=K8WnbiBSV1A
ROZES
Once heralded "YouTube's best kept secret" by her fans, ROZES has ascended to newfound recognition after partnering with The Chainsmokers for their hit track "Roses." After releasing her own EP in 2016, ROZES is prepared to take on a bigger spotlight, all while keeping that important intimate connection with her fans.
For fans of: Luna Shadows, Phoebe Ryan, and EXES
Check out their "Under the Grave" music video: https://www.youtube.com/watch?v=iZVbV6wsdIU
Wilderado
This band formerly known as Bird Dog, is bringing a soulful, out in the desert sound to the indie rock scene. Their latest EP Misty Shrub showcases haunting choruses and meaningful lyrics. Make sure to check out this LA quartet at Firefly this year.
For fans of: Run River North and Streets of Laredo
Check out their "Morning Light" music video: https://www.youtube.com/watch?v=dVPSKg3UtbM
The Social Animals
Minnesota natives, and now Portland Based, The Social Animals use their easy-going sound to stand out in a noise filled genre. Their debut EP Formative Years is packed with meaningful melodies and indie rock instrumentation to back them up.
For fans of: Young in the City, Wilderado, and My Brothers and I
Check out their "Cold" music video: https://www.youtube.com/watch?v=_WnBfi21MB4
Future Generations
An indie-pop group right out of NY brings the nostalgic and warm feels with their self-titled 2016 EP. With similarities to Two Door Cinema Club and Coast Modern, their upbeat melodies make you want to dance.
For fans of: Coast Modern, Passion Pit, and Two Door Cinema Club
Check out their "Stars" music video: https://www.youtube.com/watch?v=Y-syx-QNrX0
Hamish Anderson
For blues-rock fans, Hamish Anderson is one to watch. After opening for blues legend B.B. King in 2014, Anderson has been on the rise. His EP Trouble released this past fall, showcases not only his impressive guitar skills but also songwriting abilities.
For fans of: Gary Clark Jr., The Delta Saints, and Bellhound Choir
Check out his "Trouble" music video: https://www.youtube.com/watch?v=uhMi8CA8lBI
Andy Frasco and the U.N.
This blues rock outfit, straight out of LA is perfect for all you festival goers who love to party. This group, with rotating members from different groups, has been dubbed as "party blues" and their exceptional instrumentation and witty lyrics definitely back it up. The group incorporates Americana, soul, blues, and rock into their highly energetic sets, and they do not disappoint.
For fans of: Hamish Anderson, Walker Lukens, and The Motet
Check out their "It's Been A Struggle" music video: https://www.youtube.com/watch?v=OznEGhGJiCU