11:28pm - Sunday
In a crowd of over 100,000 ppl, someone yells, "Let's all go streaking as everyon leaves Lolla."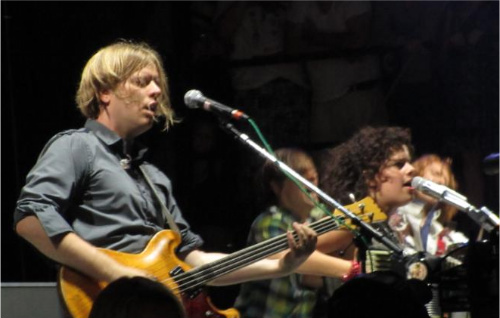 ARCADE FIRE
On day 3, you get up and say to yourself "today is the day that I fight my way all the way to the gate. I must be as close as possible to Richard Parry's red hair and the glockenspiel". Your friends think you are crazy, but we have a plan. Arcade fire was scheduled to start at 8:30. We were going to 7-11 to get food reinforcements, go to the park, buy numerous waters, be at the gate by 2:30, and wait. To most, this plan for the 3rd day of a festival is equivalent to using the 3 day old port-o-potty after it ran out of toilet paper. Not us! Out of all the amazing music that was available, I was there primarily to see Arcade Fire...not only see them; I wanted to see them from the front row. Over the 6 hours at the gate, we sweated through the sun, endured the overdramatic statements from the Arcade Fire fan club members next to us, dodged crowd surfers, learned to love protein bars, and found someone who would share an umbrella to block the sun.

Let's back up a little. Officially, Arcade Fire released the Suburbs on August 2nd which I promptly purchased. This album is a return to the suburbs to begin the next stage of life's journey (settling down, having children, working for the man etc.). What they find is that the American dream can be monotonous, mundane, and painful. The band members are still healing from the grief and loss that they sang about in Funeral. They are working through the passing feelings. Now, the reality is that suburban life just doesn't fit for everyone. I could not wait to hear this album live. Word on the street is that there is already a drinking game forming where you drink every time Win says "the Kids".

The sun set and it is 8:30. Arcade Fire exploded onto the stage with Ready to Start. They played old classics like Haiti, Neighborhood #2, and Rebellion (Lies). They played new hits like We Used to Wait, Sprawl II, the Suburbs, and Month of May. The crowd did their homework. They sang along with all the new material and embraced it. When they were on Tour with the National, the National always asked why they never play Crown of Love. In honor of their old tour buddies, they dedicated and played the request. Win Butler, lead singer, mentioned that the last time they were in Chicago it was before Obama was in office. He thought that there was no alcohol aloud pre Obama. About ¾'s of the way through the set, Win said, "Usually at this point in the festival, people are too wasted to be able to make it. You guys are doing pretty good". He challenged the crowd to go deep in the tank for the next song. The band broke out Neighborhood #3 Power Out. There were so many moments during the set. Regine Chassagne danced with Ribbons. Yet, there was one true star of this show who outperformed everyone. That was Win Butler. Win plays synthesizer, bass, guitar, and percussion. He was the definition of INTENSE! Win constantly was banging on something or jumping up and down. Oddly, I never saw him with his mouth closed. Check the pictures. By far, he was my favorite performer on the stage.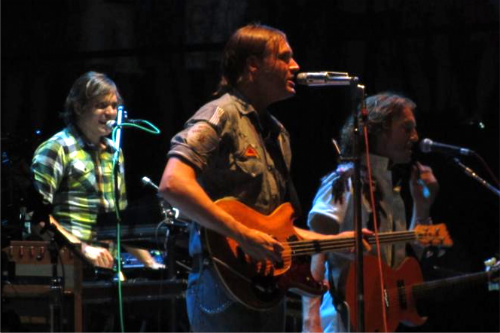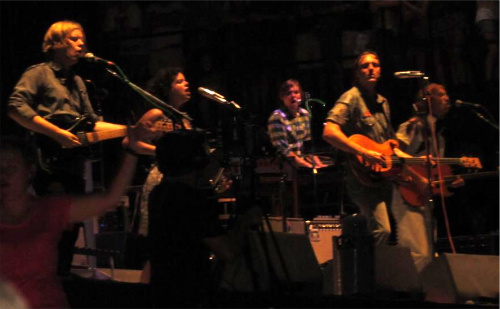 The band played Keep the Car Running and exited the stage. The crowd was not finished with Arcade Fire. They demanded an encore by singing Wake up. Arcade Fire answered the call and returned for their final song. Win said, "This is our last song. I want them to be able to hear this at the space station". I think they did. After the show, you could still hear the crowd singing Wake Up as they exited the park.

Arcade Fire was one of those bands that I always loved but I didn't want to move them into the top five until they proved they were going to sustain and make multiple major contributions to the music scene. Sunday's performance moved them right into the top five and reiterated what I already knew in my heart. Arcade fire is incredibly talented and they deserve all of the respect and fortunes coming their way. Thank you for an amazing show!

8:24pm - Sunday
Made the call to skip The National to remain up front for Arcade Fire... at least we can hear The National. They sound good. Just another hour and a half of waiting til Arcade Fire.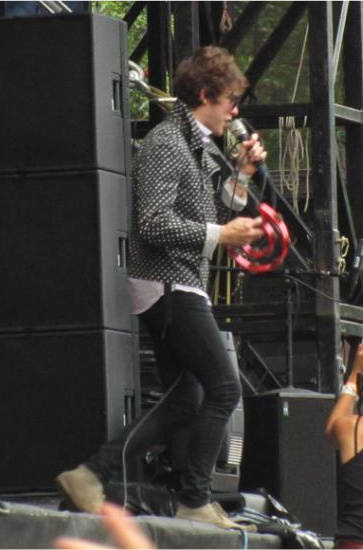 MGMT
"It's Working"! "Congratulations" MGMT for an excellent crowd pleasing performance on the Sunday evening. Andrew VanWyngarden, lead singer, told the crowd that "We are going to save the world". They just might. NME rated Oracular Spectacular as the top album of 2008; Rolling Stone called it one of the top 100 albums of the 2000's.
Their entire set built up to Kids. During their set, they had a full jam session during the Handshake. Fourteen and Fifteen year olds were taking their first ride crowd surfing. They were pumped. appearance on stage and sang back up. Kermit and the members of MGMT went out into the crowd. People went crazy! Here are some more pics: MGMT on stage and Kermit going into the crowd.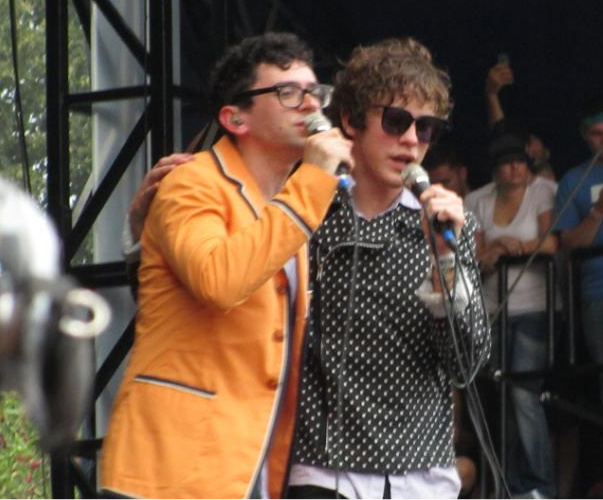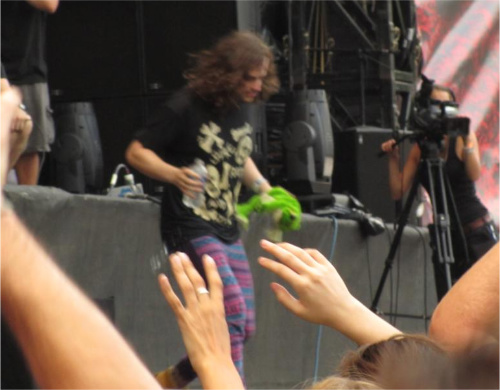 7:22pm - Sunday
MGMT has a huge following... everyone is feeling them except this super angry girl next to me all in black.

4:57pm - Sunday
We're up against the grate for Yeasayer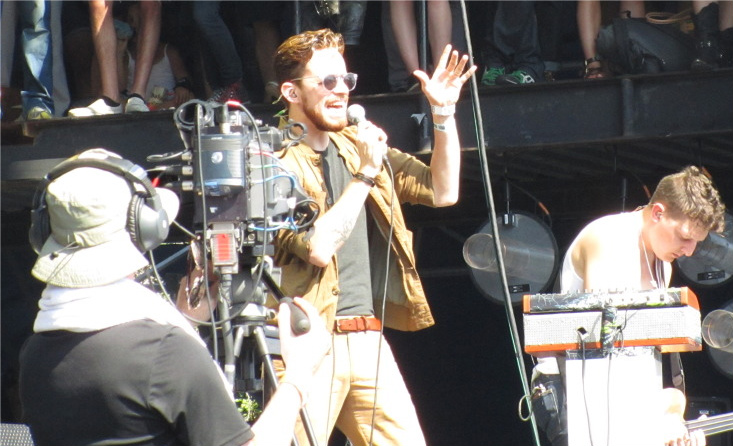 YEASAYER
Yeasayer declared their love for Chicago. There was not a cloud in the sky when this band hit the stage at 4:00. Chris Keating was nice enough to provide a reminder to use sunscreen. He said, "I wouldn't want you to burn like me. I'm Irish…and Jewish." Some of the Highlights were Ambling Amp, O.N.E, and Madder Red. They rocked it! Another Brooklyn band representing this year at Lolla.

3:13pm - Sunday
Just shook hands with Britt Daniels of Spoon.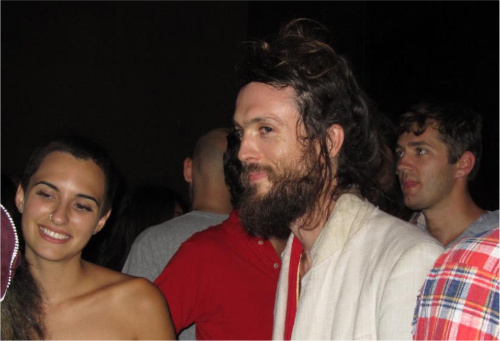 EDWARD SHARPE AFTER SHOW PARTY
There was an after party at our hotel for Edward Sharpe and the Magnetic Zeros. Grizzly Bear, War Paint, and Phoenix came to help celebrate along with myself and Lisa. Even Alia Shawkat, Maeby from Arrested Development, was at the party. To the left is Alex Ebert, lead singer from Edward Sharpe, having a good time at the after party. Below are pictures someone playing a game of "Gotcha nose" with Edward Droste, lead singer from Grizzly Bear and us hanging out at the party with Alex Ebert sitting behind us.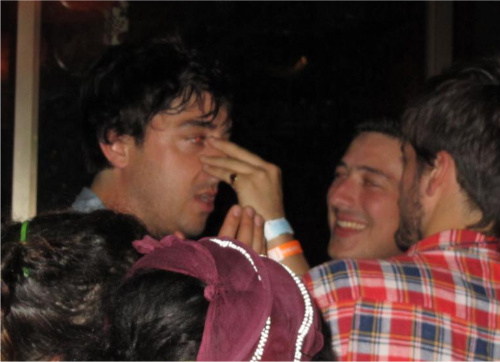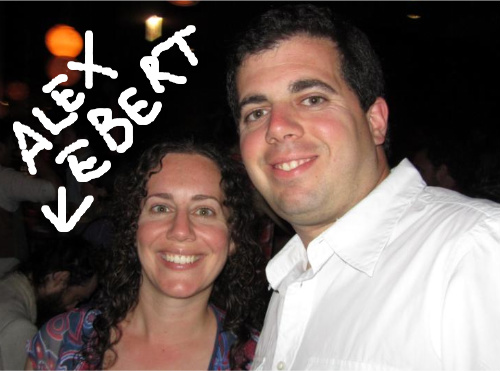 1:26am - Sunday Already?
Just left the Edward Sharpe and the Magnetic Zeros aftershow party. Quasi met Alex... He acknowledged my presence.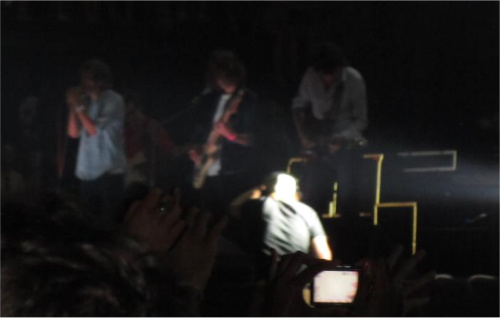 PHOENIX / GREEN DAY
Everyone was waiting with great anticipation to see Phoenix. The jumbo tron kept teasing the crowd with shots of the stage and they were going crazy. Next to us, there was a 55 year old writer for USA Today. I think we out scooped him. We were happy to realize that our press credentials for this blog put us at the same place as other credible writers. The lights came up and Thomas Mars, the lead singer, busted into Listomania. The crowd went completely nuts! It is amazing to think that this band started in Mars' basement and moved to work the French bar circuit. Now, they have a Grammy for best alternative album and are playing to a gigantic crowd at Lolla. Their good friends, Air, would be so proud. To date, Phoenix had the best light show by far. They sounded fantastic.
Curiosity started to kill the cat…after 40 minutes, we decided to go check out Green Day. What we got, we never saw coming. I thought I would hear some Good Riddance or American Idiot or Welcome to Paradise. I thought back to my childhood, listening to Dookie, watching Green Day spit and throw mud at the crowd. We walked into a playlist from a bad wedding DJ and Green day was belting out Shout by the Isley Brothers. Next, they proceeded with a 10 minute medley of 1960's hits such as Satisfaction and Hey Jude. Over the next 15 minutes, Billy Joe continued to hit the crowd with batches of "Hey ay ay ay" and hoped for responses. Eventually, we did hear American Idiot and 21 Guns. They had awesome explosives which made the stage look like the Chicago Fire of 1871 was coming for round 2. Here is the crowd waiting for Phoenix and a shot of the Green Day stage: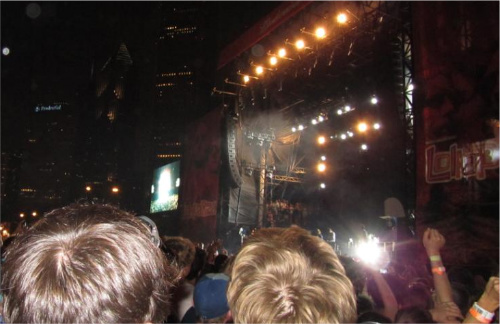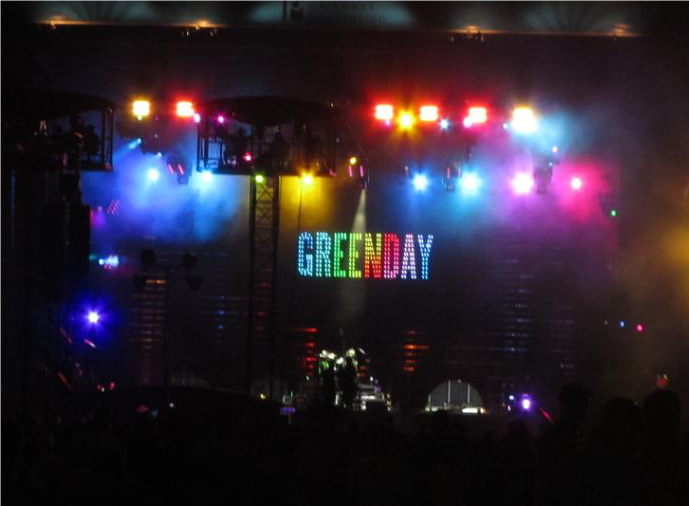 10:06pm - Saturday
Main event! Phoenix is a sick band. The blow up doll was the only crowd surfer to make it on the jumbotron. Splitting time between shows. Pulling myself away from Phoenix: heading to Green Day.

6:22pm - Saturday
10 feet from front for Spoon. Only another 50,000 people behind me. Met some nice North Dakota girls.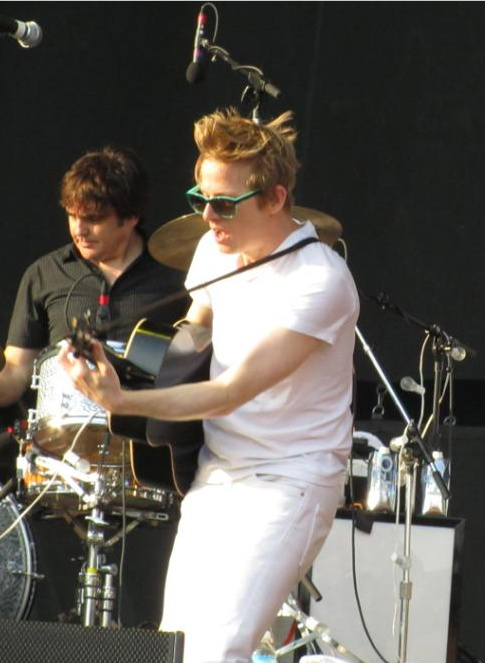 SPOON
Polished, energetic, and a solid set list made for an unbelievable show from Spoon. This band has been together for 17 years and it shines through. I hope that Hot Pocket, Spoon's sound man, gets paid well because they sounded AWESOME! Some of the highlights were I Summon You, I Turn My Camera On, My Mathematical Mind, and Jonathan Fisk. They even threw in the Wolf Parade cover, Modern World.
Britt Daniel, lead singer, interacted with the crowd through small hand gestures and smiles. During the set, one guy started the crowd surfing which definitely caught on. The original crowd surfer made 7 successful runs until…FAIL. He was dropped hard. It turned out that he was such an annoying concert goer that they picked him back up and threw him over the fence.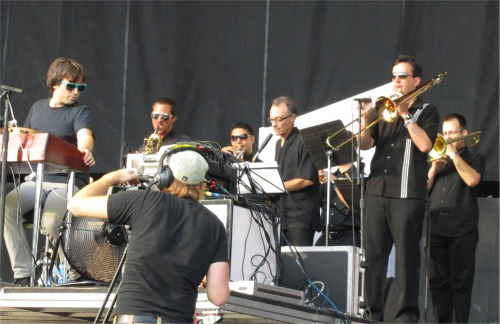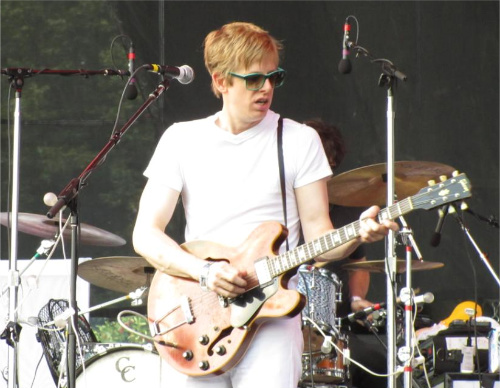 5:50pm - Saturday
Giant R2D2 cutout fighting to get to the front of Grizzy Bear... I don't blame R2. Next up: Spoon.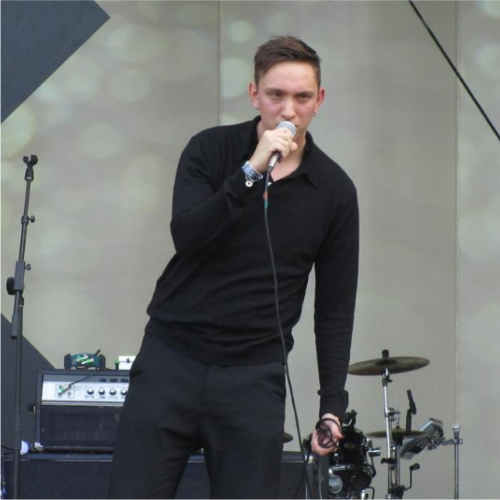 THE XX
I go way back with the XX. One time at the SAX Hotel in Chicago, we spent an 8 floor elevator trip learning about each others' life goals and opinions on Lady Gaga. No, but seriously, Lisa (my apprentice) and I waited roughly 90 minutes to see the XX up close and personal. The bands followers were dedicated to seeing the dark trio and now I know why people love this band. They started off the show building suspense with some electronic sounds. You then got blasted with some heavy bass sounds that knocked the sweat from your brow. My new friends are amazing entertainers and played through Crystalised early in the set. The bassist/singer, Oliver Sim, is the main attraction in my eyes. The dude in black slapped the bass while singing melodically and doing top notch slow motion head banging. It's so unlikely but he has moves. I was entranced by main guitarist, the lovely emotionless Romy Madley Croft. She broke an uncharacteristic smile and I think she was feeling the love from the crowd. Maybe she was taken back by playing to such a huge crowd? Melting in the sun was worth every second of the XX. Some of the highlights were VCR and Islands.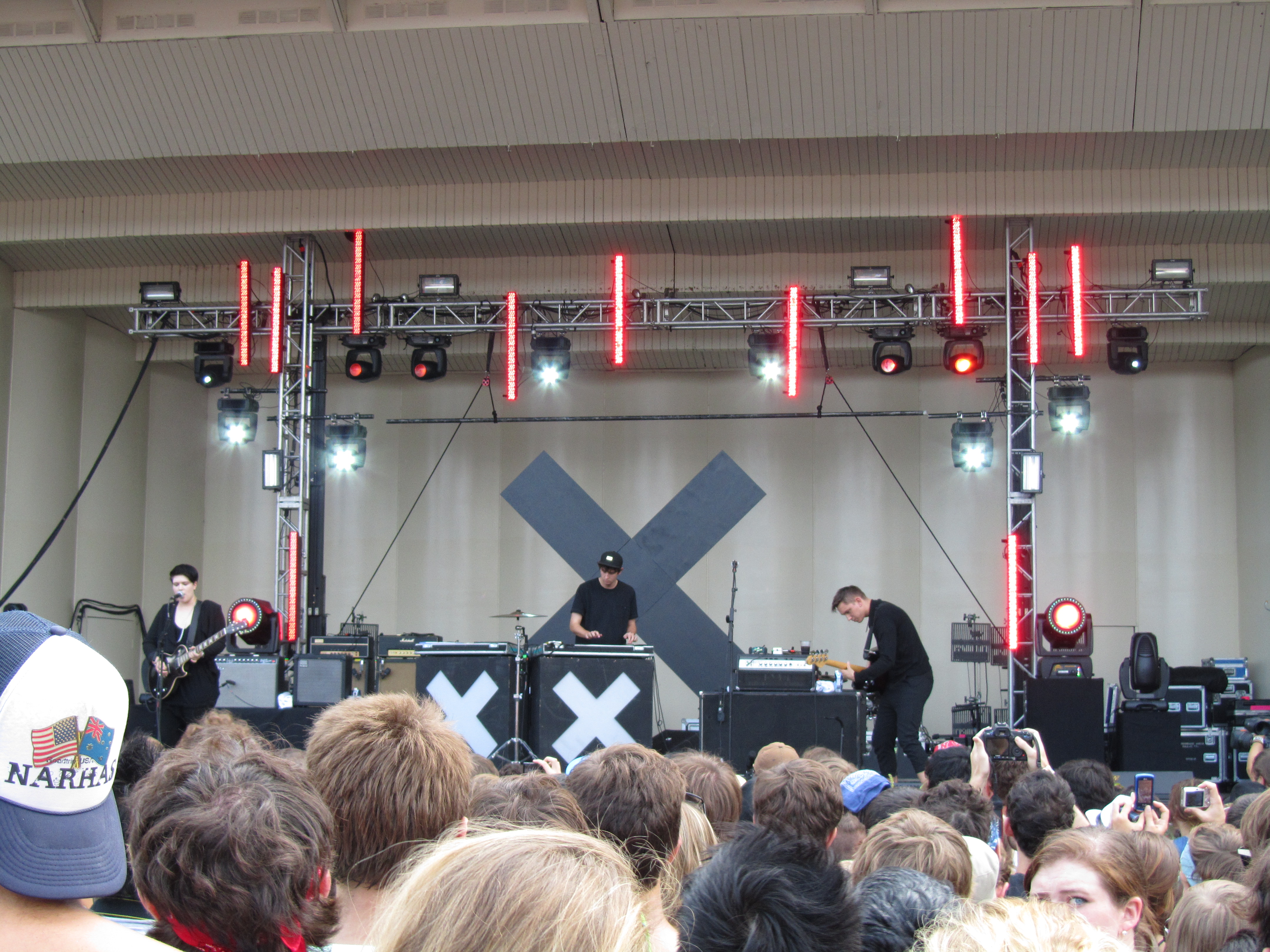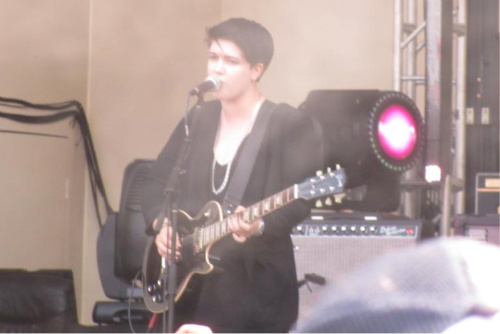 5:07pm - Saturday
The XX were all black and fantastic. Unbelievable crowd... unbelievably hot: sweatfest 2010.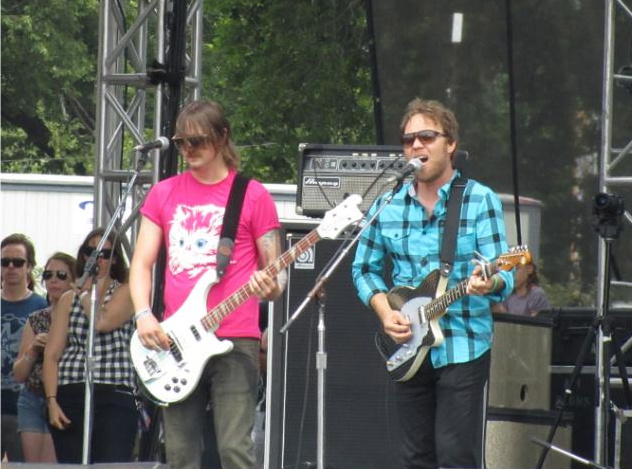 ROGUE WAVE
Rogue wave was the first performance we caught on Day 2 of the festival. This was the last stop on Rogue Wave's current tour and Zach Rogue, lead singer, stated that this was their largest crowd to date. The band was also acknowledging Dominic East, the guitarist, got some new tattoos. Apparently, the Hard Rock café was giving away tattoos and Dominic got a few birds on his middle finger. He showed the crowd his new tats. The most hard core member was the bassist, Cameron Jasper. He was wearing this Hot pink t-shirt with a giant kitten on the front. Real men wear pink and kitten shirts. Rogue wave sounded great and put on a great show. We were all thankful to Zach Rogue for creating the band after he lost his job in the dot/com bust. After we rocked out to Lake Michigan, it was time to head to Chow town South. Right after getting a pork sandwich, we spotted the Hot Pink Kitten t-shirt. I congratulated the guys on an awesome set and they thanked us.

3:15pm - Saturday
Just accidentally met Rogue Wave... Lisa freaked out and scared them away... jk

2:36pm - Saturday
Bass player for Rogue Wave has a pink kitten t-shirt on. "Lake Michigan" is a nice song. Also, there are 400 dragon flies attacking... 2012 may be starting early. Warn Bob Waugh!

1:43pm - Saturday
Just gave a nod to four guys in the hotel... they said "Bon Jour..." I said "Hi" and I went on my way. I looked back... it was PHOENIX.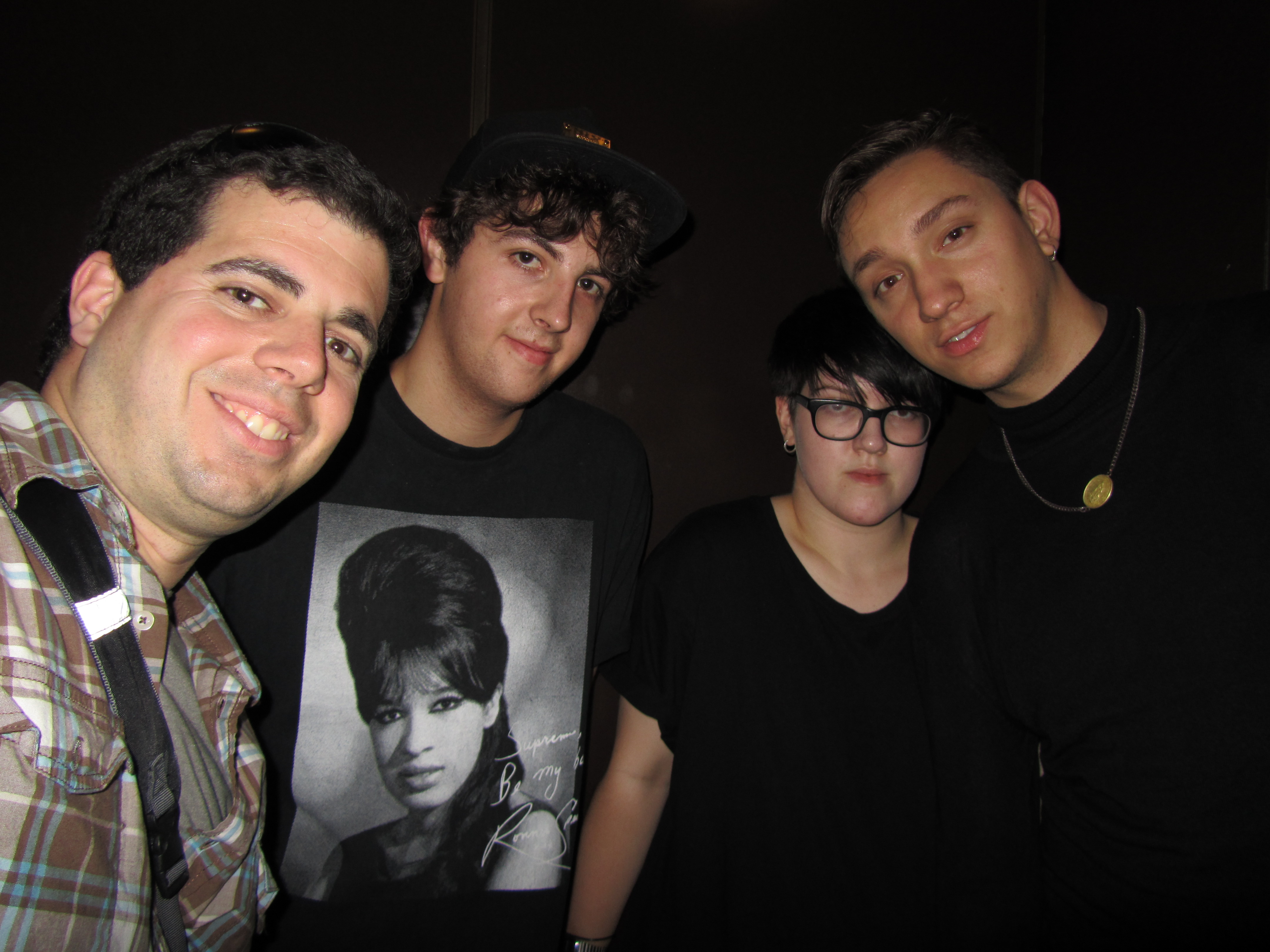 IN THE ELEVATOR WITH THE XX!
My new BFF'S

12:38am - Saturday (just barely)
OMG! Riding up in the hotel elevator with the XX! ...and we got a pic!
BLACK KEYS!
Absolutely AMAZING! The Black Keys are stripped down to the foundation of a band: an unbelievable guitar and bad ass drums. Their blues infused style of rock and roll makes for a classic sound. Patrick Carney, the drummer, was brought out an ice pack because he was hammering away to entertain the crowd. Dan Auerbach, the lead singer and guitarist, was so intense and passionate.
There was a guy who looked like Simon Cowell in V neck sweater watching off to the side of the stage. He appeared to enjoy the music although he was not clapping. Akron Ohio was well represented at Lollapalooza by the Black Keys and Devo. Maybe these bands got some good Akron, Ohio talk in backstage? Hands Down, the Black Keys were the best band of the day!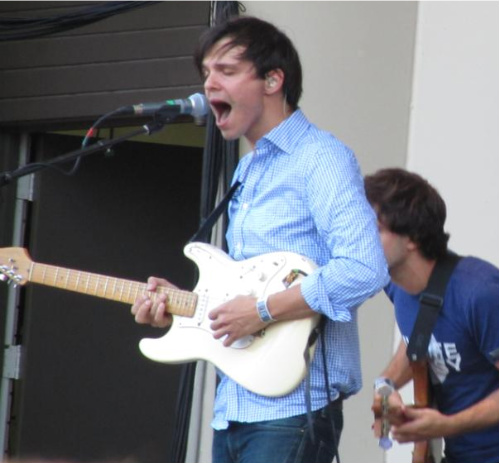 DIRTY PROJECTORS
Brooklyn NY is kickin' out the experimental indie rock music with bands like Dirty Projectors and Yeasayer. I have to admit this is a new band for me; I'm just not as familiar with their music. My colleagues, Lisa and Lisa, were very excited to see them. First impressions: 1. Amber Kaufman is intense! She sings with conviction sometimes to the point where it hurts your ears (but you like it because you know she is passionate about her music). 2. Interesting guitar picking, very unique sound. 3. I appreciated their music but the overwhelming urge to go grab a Sweat Tea and slice of Connie's Pizza took over. I bolted out of the pit and into Chow street north. I came back very satisfied and watched the end of their set with tea in hand. A for effort Dirty Projectors.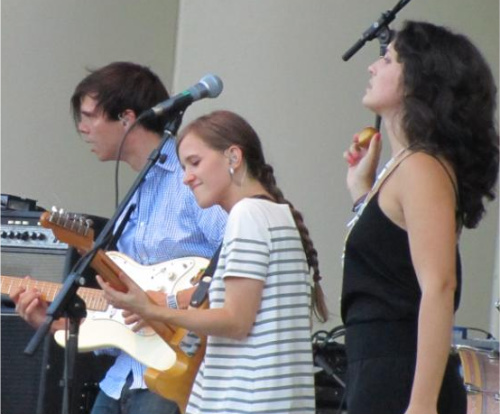 THE CONSTELLATIONS: More Cow Bell!
This Atlanta based band took time to explain how meaningful it was to play Lollapalooza. The lead singer, Elijah Jones, talked about how growing up he wanted to save enough money to make it to the festival, but he never could get there. Now as an energetic front man, his band was playing Lollapalooza. This seven piece band looked like they exploded off the set of "That 70's Show", and you love them for it! Elijah challenged the crowd to get some more smoke going. The Constellations funky style of rock music will get you on your feet and dancing. One of the highlights was during Step Right Up. The Keyboard player, Jamie Gordan, made Christopher Walken extremely proud. He jumped into the crowd and pounded the cow bell. I had a fever and the medicine was Jamie Gordan rockin a giant cow bell!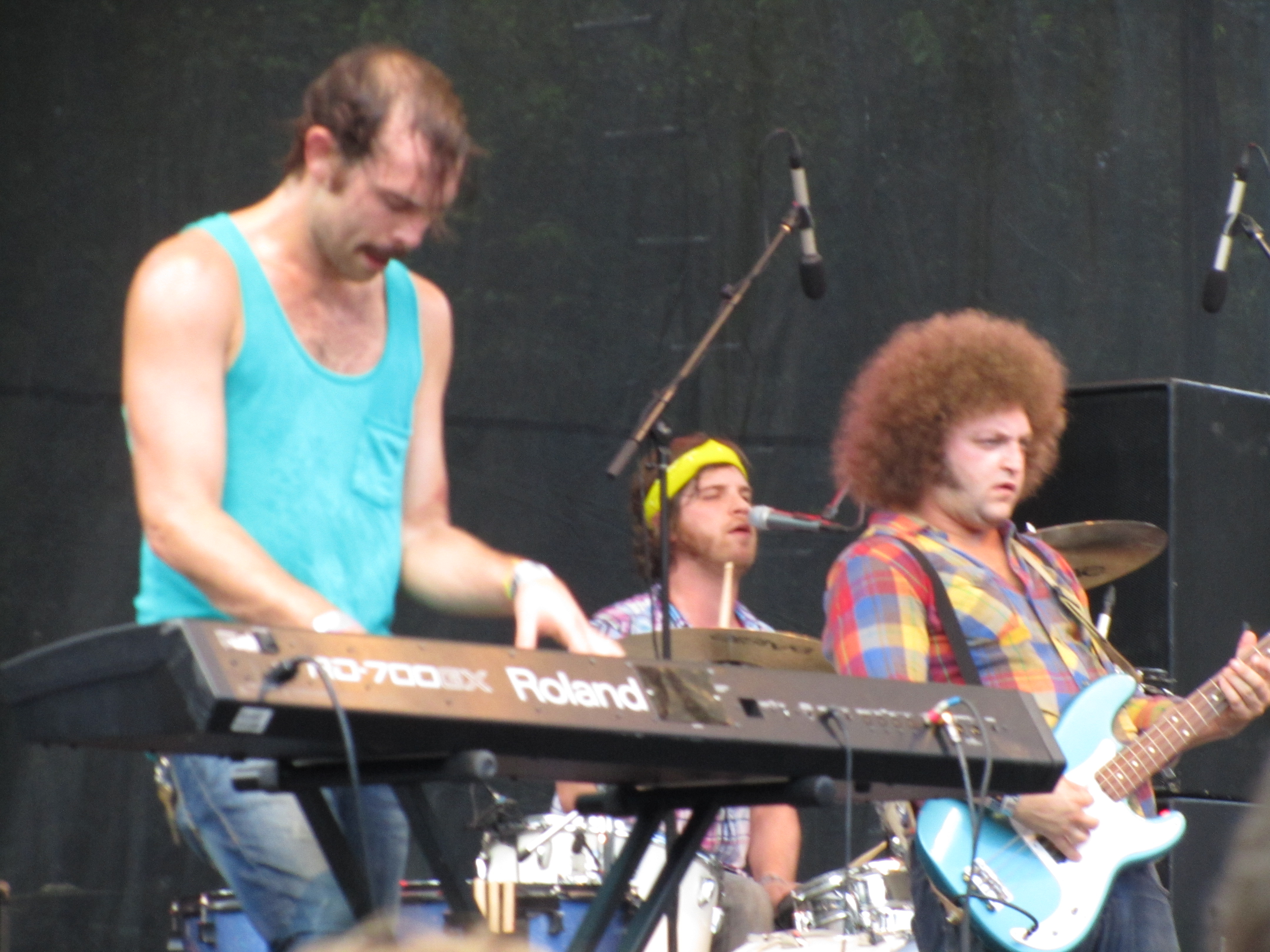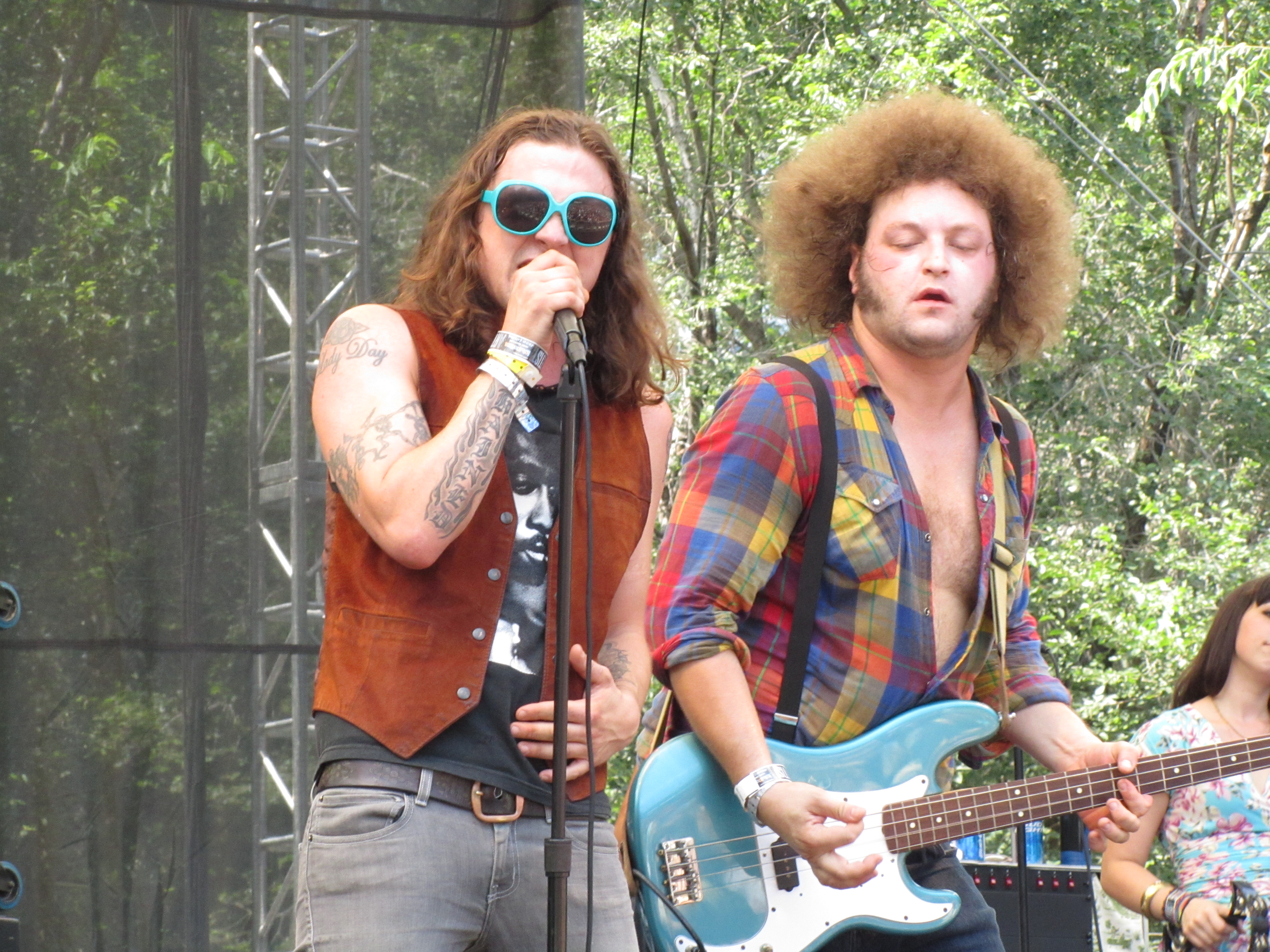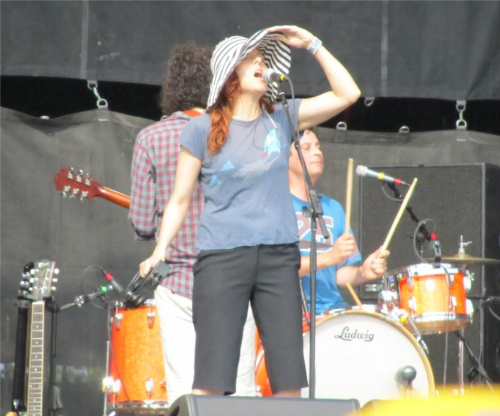 THE NEW PORNOGRAPHERS
This year, A.C. Newman graduated to the big stage. People were camped out early to get a good spot to see this Canadian Supergroup. A.C Newman referred to the last time they played Lollapalooza. He remembered all the fans turning around getting ready for Kayne West on opposite stage. A.C wanted to know if that would happen again when the Dirty Projectors started playing. They also referred to the big Lady Gaga vs. the Strokes controversy. Neko Case declared "I am a single mother of a teenage daughter" and that she likes a woman in Leotards. She would probably go see Lady Gaga.
Some say that the New Pornographers were named as a reference to Jimmy Swaggart's claim that rock and roll was the "new pornography". They had some great rock and roll moments on the Lollapalooza stage such as Mass Romantic, Your Hands Together, and The Bleeding Heart Show. The New Pornographers are A.C. Newman's personal orchestra that reminds me of a modern day Beach boys with their amazing harmonies. Everyone is creating a huge sound by each contributing their voice. It was awesome to see the entire band together including Dan Bejar.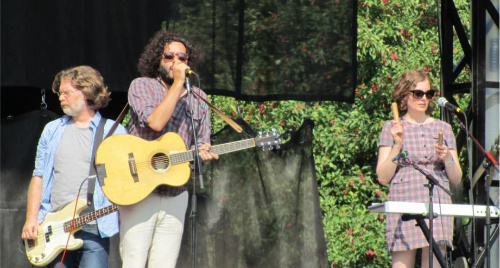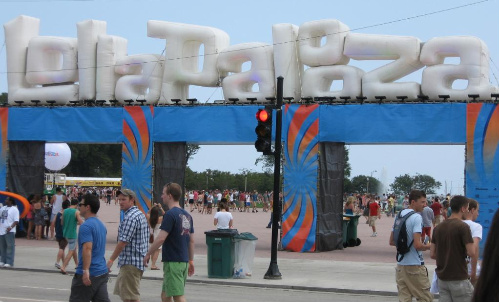 HERE WE GO:
Chicago is home of Gotham city, deep dish pizza, Wilco, the Bears, the Cubs, and the White Sox. This is the 6th annual Lollapalooza hosted in Chicago. The festival is complete with 8 stages which is an increase from previous years. There has always been an environmental awareness at Lolla. They are making a huge effort to recycle. They have numerous water stations for concert goers to reuse bottles. Here is WRNR refilling at the water station: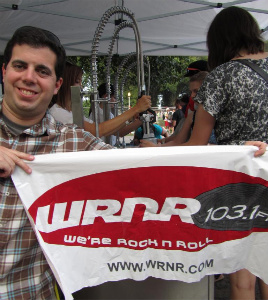 One of the new features of the festival this year is the addition of a water guy. He is that Guy! Water guy runs through the crowd squirting people down. In addition, he offers hand sanitizer and lollypops. I think he knows how many licks it takes to get to the center of a tootsie pop. Here he is helping WRNR cool down after a lot of rockin at the Black Keys.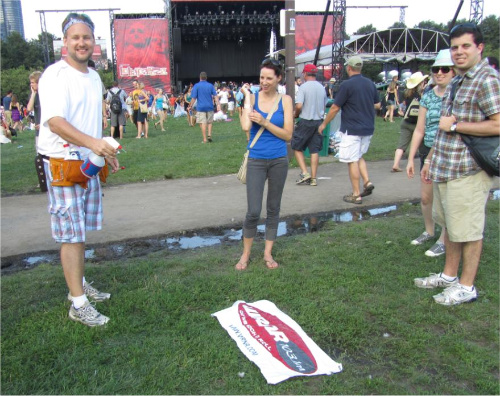 You know you are in for a weekend filled with amazing rock and roll when your hotel is right next to the famous Honeycomb buildings. These buildings are featured on Wilco's Yankee Foxtrot Hotel cover. Wilco will be missed at this year's festival.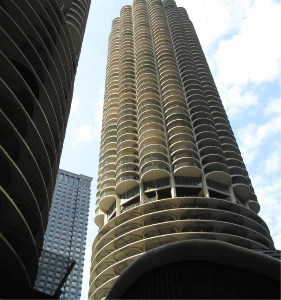 10:46am - Friday
Just getting off the plane...boooyaa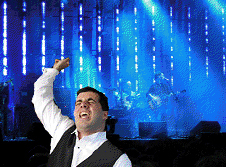 PRE-GAME BLOG
When you get the call at 8am from Alex Cortright, you are nothing less than ecstatic to have been named the Lollapalooza correspondent. You just can't think straight. Then Alex asks you, "What bands are you looking forward to seeing?" My mind goes blank. All I can think is say something good…name one of the bands that you love like Arcade Fire or the National. It was like the scene from the classic movie, a Christmas Story, where Ralphie goes to see Santa Claus at the mall. Finally, he gets his chance to declare his love for the red ryder carbon action air rifle. He could not come up with the words and what does he ask for…a FOOTBALL. Now, Alex is asking me and the words come out of my mouth…Dookie…GREEN DAY. Here are some bands that I am looking forward to seeing along with Green Day:
ARCADE FIRE:
The last time that I saw Arcade Fire was at the Judson Church in New York City. They were on a practice tour for the real Neon Bible tour. Neon Bible was recorded in a church because the organ was instrumental to achieving the desired sound. Everyone in the church was anxiously awaiting the start to the show. Arcade Fire came out from the side door and headed straight to the center of the floor. There began the ultimate church drum circle of 2007. You can check out a rough filming of the drum circle at the website above. You have to love Richard Parry. At the Coachella 2005, he climbed the stage and got into a sword fight with Win. Win Butler, tip of the hat to you because the single, the Suburbs, is so catchy. I can't get it out of my head. It is like Win poops Amazing Records!

NEW PORNOGRAPHERS
Finally, I got to see the New Pornographers with Neko. She is hilarious! There was a discussion about the first time that the band was going to be interviewed by Pitchfork. Back in the day, A.C. Newman said that he couldn't believe that he had to do an interview with a lowly website (like that was ever going to become anything). The guy who interviewed them was 17 years old. Neko claimed to have breast fed him for two years so he grew up strong. Later in the show, they incorporated the video of Electric Version.
GOGOL BORDELLO
This band is highly unique and definitely a worthwhile venture if you get the opportunity to check them out. Gogol Bordello is kind of like fiddler on the roof meets the Muppets meets a gypsy rock band. I have never heard the accordion rock quite so hard! They also have some kick ass dance moves. You never know how a festival schedule will play out in the end. You have the best intentions of seeing everything on your list. Sometimes, shannanigans gets in the way and you have to make some difficult decisions. The rest of the weekend's story will be a treat to reveal.