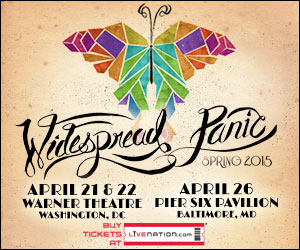 Since their inception in Athens, Georgia, in 1986, Widespread Panic has risen to elite status among American jam bands Following in the steps of other Southern Rock jam bands such as The Allman Brothers, they have influences from th Southern rock, blues-rock, progressive rock, funk and hard rock genres.
They are playing three shows in the area.
April 21st (1) and 22nd (2) at the Warner Theatre, and April 26th (3) at Pier Six Pavillion in Baltimore.
Please specify on the Ticket Window Form which show you would like tickets to (1, 2 or 3).