(As of 1:15 pm, 12/21/12. I change my mind a lot.)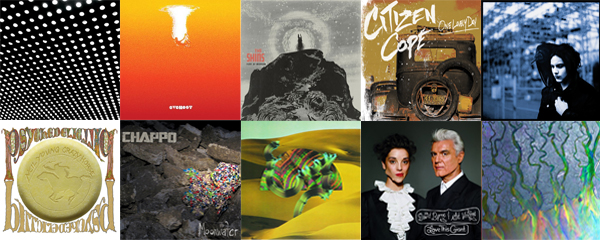 ALBUMS, Top 10 in no particular order (top left, clockwise)
BEACH HOUSE BLOOM
EVEREST OWNERLESS
THE SHINS PORT OF MORROW
CITIZEN COPE ONE LOVELY DAY
JACK WHITE BLUNDERBUSS
ALT-J AN AWESOME WAVE
BYRNE & CLARK LOVE THIS GIANT
DJANGO DJANGO DJANGO DJANGO
CHAPPO MOONWATER
NEIL YOUNG PSYCHEDELIC PILL
SHOWS, Top 10 in no particular order
EVEREST 'RNR ROCKIN' RIVER CRUISE
A fantastic, loose-yourself-in-the-music show followed most
dramatically by the derecho. Wild as hell!
CITIZEN COPE ELECTRIC LADY STUDIOS, NYC and
GOVERNMENT HOUSE, Annapolis
Two private Cope performances in one year? I'm a lucky man.
JACK WHITE FIREFLY FESTIVAL, Dover
That is what a rock concert is supposed to be.
JIMMY CLIFF RAMS HEAD TAVERN, Annapolis
Reggae superstar in Naptown?! Energetic, impassioned performance. Just great. Glad to have been there that night.
DAVID BYRNE &
ANNIE CLARK STRATHMORE HALL, Bethesda
Talking Head meets shredding pixie. Add an 8-piece horn section and you've got one quirky, cool show.
TINARIWEN RAMS HEAD TAVERN, Annapolis
Tuareg warriors cum blues musicians. Sounds of North Africa and of the Mali desert, infused with American Blues. Rhythmic and righteous.
RADIOHEAD VERIZON CENTER, Washington, D.C.
Never disappointing. Less guitar rock and more Yorke at the piano/computer, but very a satisfying set. Cutting edge light and video screen displays.
PETER GABRIEL PATRIOT CENTER, Fairfax
All of So, an acoustic 'Shock The Monkey', and a 'Biko' encore. Levin, Sancious, Katche and Rhodes – killer (original So) band. Never miss Gabriel!
MEIKO BOATYARD BAR & GRILL, Annapolis
An extemporaneous mini-set at a fundraiser for the Performing and Visual Arts program at Bates Middle School. Meiko is such a sweetheart.
THE SHINS, TUNE-YARDS, DAWES, AFGHAN WIGS, RHCP,
THE BLACK KEYS, WASHED OUT, GIVERS, + MORE
LOLLAPALOOZA, Chicago
My first real trip to Chicago. What a great city! The architecture, the food, the casual vibe. The streets are unbelievably clean in the Windy City. The festival was terrific and made even more memorable by a massive storm that forced the evacuation of Grant Park for the first time in Lollapalooza's 20 years. Lolla was a holla!
SONGS, Top 10 in no particular order
THE SHINS NO WAY DOWN
CITIZEN COPE SOMETHING TO BELIEVE IN
FATHER JOHN MISTY HOLLYWOOR FOREVER CEMETERY SINGS
JACK WHITE SIXTEEN SALTINES
FAMILY OF THE YEAR HERO
LIANNE LA HAVAS IS YOUR LOVE BIG ENOUGH?
CALEXICO SPLITTER
SLIGHTLY STOOPID TOP OF THE WORLD
LEONARD COHEN DARKNESS
OF MONSTERS AND MEN LITTLE TALKS
FEATURED SONGS FROM THE NEW BLACK
Top 10 in no particular order
JAKE BUGG TASTE IT
PINBACK PROCEED TO MEMORY
THE LONE BELLOW YOU NEVER NEED NOBODY
MICACHU & THE SHAPES SLICK
SUN KIL MOON AMONG THE LEAVES
THEEsatisfaction QUEENS
GRIMES OBLIVION
SLEIGH BELLS COMEBACK KID
AC NEWMAN YOU COULD GET LOST HERE
JD McPHERSON NORTH SIDE GAL
BEST COVER OF THE YEAR
JIMMY CLIFF GUNS OF BRIXTON
FAVORITE INTERVIEW OF THE YEAR
JON MEACHAM THOMAS JEFFERSON: THE ART OF POWER
(CLICK HERE TO HEAR)
MOVIES
I missed a lot of films this year, including ARGO, BEASTS OF THE SOUTHERN WILD, THE GREY, THIS IS NOT A FILM, MOONRISE KINGDOM, and many others. Did manage to catch a slew of family/kids movies, though.
LINCOLN
MARLEY
FRANKENWEENIE
CROSSFIRE HURRICANE
BRAVE
BOOKS
THE SISTERS BROTHERS PATRICK DeWITT
THOMAS JEFFERSON: THE ART OF POWER JOHN MEACHAM
THE BETRAYAL OF THE AMERICAN DREAM DONALD BARTLETT & JAMES STEELE
DRIFT RACHEL MADDOW
PIRATE HUNTERS OF THE CARIBBEAN DAVID CORDINGLY