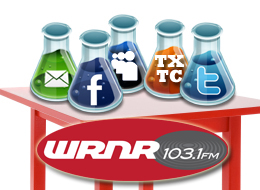 WHAT CONCOCTION WORKS FOR YOUR LIFE?
You can expect RNR to give you things you can't get on your own: Tickets to sold out shows-- like Coldplay and The Red Hot Chili Peppers. Trips to exotic shows—like Bonnaroo and Lollapalooza. And, of course, access to our exclusive shows, including WRNR's Private Artist Showcases. Facebook. Twitter. Textacy. Rock N Rewards. Pick your poisons: hook it up and get hooked up. Here's a menu for your selection:

WRNR on Facebook
You're on Facebook anyway, you might as well win stuff. WRNR's Facebook page also helps you keep up with the latest shows and videos, music news and more. Try us.. you'll LIKE us.
CLICK HERE for WRNR's Facebook page

WRNR ON TWITTER
What's not to love about Twitter? Short and sweet messages whether you like them or not. WRNR posts music news and concert updates, exclusive WRNR Twitter contests, plus we steal the best Twitter has to offer via retweets. #WRNRtwitFit
CLICK HERE to check out WRNR on Twitter

WRNR's TEXTACY
Get contests sent to your phone. How great is that? Concert tickets, digital downloads, and more could be yours with Textacy, WRNR's FREE texting club: as in WRNR charges you NOTHING, but we GIVE you prizes and inside info. In the last 60 days alone, WRNR has given away more than 400 prizes through Textacy.
CLICK HERE to join WRNR's Textacy

WRNR's Rock N Rewards
WRNR's monthly newsletter PLUS a window in to tons more prize opportunity, if you wish. Sign up and you'll recieve WRNR's monthly newsletter with exclusive contests and inside info, e-mailed to the address of your choice.
CLICK HERE to sign up for Rock N Rewards