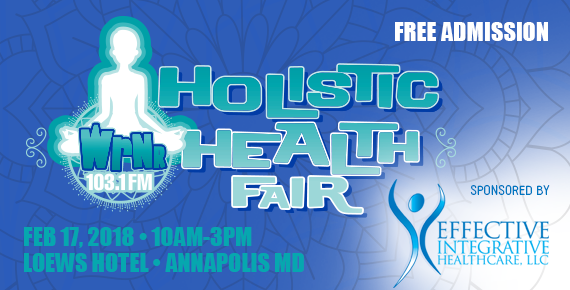 The WRNR and Effective Integrative Healthcare Holistic Health Fair is back!

Join us on February 17th from 10a-3p for a day of health and well being at the Loews Annapolis Hotel
(126 West St, Annapolis MD). Check out demos and displays for everything from Reiki to Pilates.

This event is FREE to attend!
Experts will be on-site to meet with you, educate you, and let you experience their healthy lifestyle tips, products, and services.
Here's the schedule of speakers:
10:00am Barre Class – hosted by Blue Lotus Yoga Studio, is a combination of pilates, dance and yoga
10:30am Yoga Class - hosted by Blue Lotus, designed for those new to yoga. A slower paced
flowing practice
11:20am - 5 Steps to Eating Seasonally for a Safe Detox - Hosted by Lisa Consiglio Ryan of Whole Health Designs and RASA Juice Shop
11:40am - Effective Integrative Healthcare – Hosted by Dr. Anthony Hartnett DC, BCIM, DMBBP, DAAMLP
12:00pm - Non Surgical Options for Back Pain Hosted by Jennifer Balducci of One Physical Therapy Fitness and Wellness
12:20pm – The Power of EFT/ Tapping to Help Trauma, PTSD, Chronic Illness and Addiction Hosted by Christine Hunt of Hunt for Hope Wellness
12:40pm Easy Effective 21 Day Paleo Detox - Hosted by Jessica Quinones; MS, CNS, LDN of Living Health Integrative Medicine
1:20pm - The Cold Hard Fact about Whole Body Cryotherapy – Hosted by Brandon Yu of Thrive CryoStudio
Meet one on one with representatives from:
Effective Integrative Healthcare
Severna Park Family Chiropractic
Passanante's Home Food Services
The Spa at Chesapeake Bay Beach Club
Earth Radiance
My Henna Hands
Living Health Integrative Medicine
One Physical Therapy, Fitness and Wellness
Wellness on the Water / Juice Plus+
Eastern Shore Health Education
+many more