CAITLIN'S LOLLAPALOOZA BLOG
Check out Lollapalooza's Youtube stream when you CLICK HERE

SUNDAY - 9:55pm
Downpour number two SUCKED but Dave Grohl said, "F*** the rain!" Everlong was amazing as we ran for cover.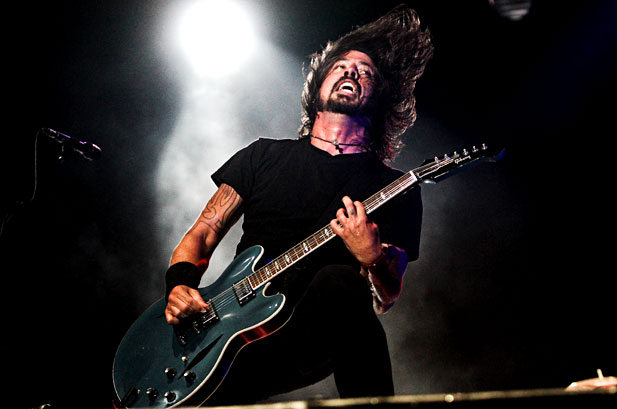 SUNDAY - 8:00-10:00pm Foo Fighters
Foo Fighters started right away with "Bridge Burning" off their new CD, "Wasting Light." The crazy drums and fast guitar strums brought up the energy and the crowd went wild. I felt doom looking up at the sky once more—it was a dark, dark purple cloud rolling fast toward us. By their third song, cold drops of rain plopped on us. Still soaked from before we thought we could make it. Then the monsoon hit. The rain was so heavy we could barely see and I was shivering to my bones. As Foo Fighters epically played "My Hero" we ran for cover feeling quite epic ourselves. Hiding under a beer tent for a while, we enjoyed 20 more minutes of their set as Dave Grohl said, "Fuck the rain! This fucking rain won't stop us, this is our Chicago show, we're here to rock" and played even harder. They played their classic hits like, "One By One," "The Best," "Everlong," "The Pretender," and "To Fly." I felt like I knew every song. It was so great to see such an iconic band rock out for so long.

SUNDAY - 8:04pm
Foo Fighters opening with their first song on their new cd!

SUNDAY - 7:30pm
Watching Explosions In the Sky now, sound sweet and the crowd is much more mellow.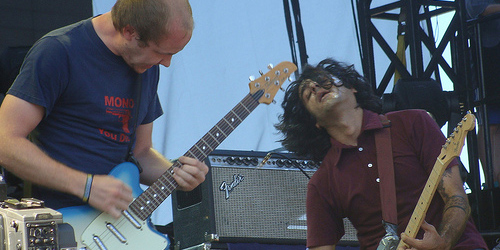 SUNDAY - 7:00-8:00pm Explosions In The Sky
We didn't see the beginning of Explosions because it took forever to get out of the mass of people at Arctic Monkeys. The smooth, ambient tones of the Texas band were welcomed after the chaos before. "Greet Death" started the show and the non-stop guitar jams held their power throughout. Their songs were long and epic with three guitars and great build-ups. Their last song, "Your Hand in Mine" was the perfect way to end their fabulous set. The second they finished, Foo Fighters started across the way and they told us to run over and watch…so we did.

SUNDAY - 6:55pm
Wow. Crazy rain. Crazy people... kind of brought it down but Arctic Monkeys still rocked

SUNDAY - 5:46pm
Arctic Monkeys about to start just as the rain does.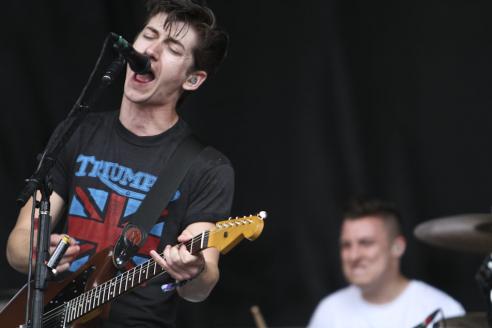 SUNDAY - 6:00-7:00pm Arctic Monkeys
We were really excited to see British rock band Arctic Monkeys so we battled through the mud pits to get close. After a few minutes we were completely surrounded by warm bodies with no escape in sight. Nervous faces looked up to the sky as it turned a dark ominous gray. At first we welcomed the idea of rain after boiling in 90-degree weather. The first few drops fell, and they were cold…really cold, but we felt solidarity with all the fans in the crowd. People began chants of "Ole Ole" and "Arctic Monkeys" as the light shower

The sound guys came on stage to cover the instruments and the large screens flushing each side were lowered. There were mixed emotions: some felt the doom of a delayed show, others were angry and then there was the naked guy. In the height of the storm one man decided to bare it all to the crowd and jump on his friend's shoulders. Luckily I couldn't get a view. The show ended up being delayed almost 25 minutes but the crowd made it worthwhile.

Finally, singer Alex Turner came out with a new haircut and an appreciation for his soaked fans. He promised to play as fast as they could because they couldn't make up for the lost time then busted out, "Bryanstorm." The rest of the set was fitting with "She's Thunderstorms" and "Crying Lightning." They really did play fast, keeping the energy up as the crowd went nuts. Everyone was jumping, pushing and even punching in a classic mosh pit. I was glad to have two huge boulder-like men in front of me to push away the crazy, jumping British boys. Drummer Matt Helders was really into the energy as Turner slid into the rain on his knees to play his guitar. It was really gross to be so close to so many warm, wet bodies but it was totally worth it all the way to the end with "When the Sun Goes Down."

SUNDAY - 5:19pm
Dark clouds ahead... oh it's gonna POUR!

SUNDAY - 4:46pm
Cars sort of messed up "Just What I Needed," but Ric joked "Iguess I need to learn that a bit," so all is forgiven.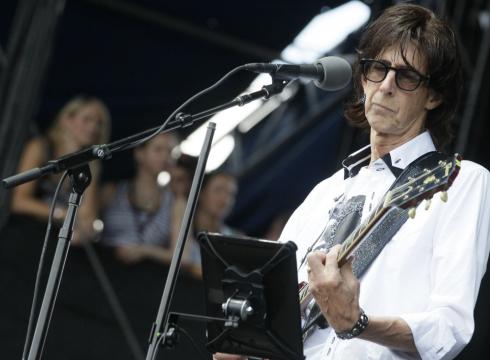 SUNDAY - 4:00-5:00pm The Cars
The Cars played most of their well known songs like, "Let the Good Times Roll," "My Best Friend's Girl" and "Just What I Needed." They seemed to really enjoy being back in the spotlight but their music wasn't quite what it once was. They still harmonized well but were slightly out of tune and "Just What I Needed" was close to a disaster with an out of whack guitar. Elliot Easton was a good sport about it and admitted his mistake. Overall the show was fun and a good walk down memory lane because they didn't take themselves too seriously.

SUNDAY - 4:18pm
Just got to Cars. Had some wierd traffic to deal with. Wow it's hot!

SATURDAY: 10:01pm
And it all ends with a guitar throw...

SATURDAY - 9:48pm
Crowd going nuts for "holding on to black metal!"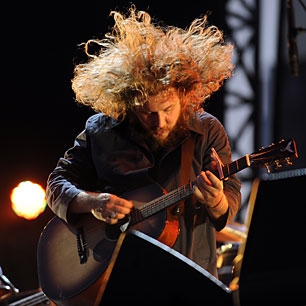 SATURDAY - 8:00-10pm
My Morning Jacket
My Morning Jacket came on and busted out "Victory Dance" as their first song. The slow building song sounded so much better live with strumming guitars and Jim James' twangy, wailing voice. I've heard that My Morning Jacket is a great live band, but damn they were amazing. Every member from drummer Patrick Hallahan to keyboardist Bo Koster sounded perfect. Nearly every song was extended with a guitar solo, which was not excessive but amazing. They had some cool lighting effects but there wasn't too much action on the stage, they relied on their music and it worked.

The pace of the show was well thought with slower songs and lively tracks like "Gideon." The energy level never dropped for the whole two hour set list. They played a lot of songs from their most recent albums, Z, Evil Urges and Circuital. Jim James came on stage wearing a long military green jacket but soon whipped that off as the jams got more intense. He told fans, "One of my first concerts was lollapalooza in 1994…I was a sophomore in high school. It's so f***ed up to be here with you guys in 2011."

Filled with head banging, My Morning Jacket proved the longer the hair, the harder they rock. The third to last song, "Don Dante" jammed out for nearly 10 minutes then was followed by the current single, "Holdin' Onto Black Metal." After the tight jeans and emo screaming bands of my high school days, it's nice to see such a talented rock band do just that: rock.

SATURDAY - 8:44pm
Items being thrown at MMJ: beach balls, condoms, glow sticks, and toilet paper.

SATURDAY - 8:16pm
My Morning Jacket just played "Circuital." Sounding just right.

SATURDAY - 7:25pm
At Lykke Li... pple are throwing shit at this girl on shoulders... leaving soon for MMJ.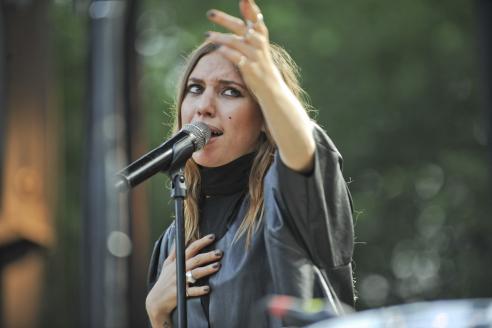 SATURDAY - 7:15-8:15 Lykke Li
Lykke Li was almost 15 minutes late, which was a real bummer because we were planning on leaving early anyways to get a good spot for My Morning Jacket. There was a surprisingly large amount of people at the Google + plus stage. She had a really long intro of strumming guitars and intense sounds coupled with smoke then she finally appeared (though I heard the crowd yell before I actually saw her). After her first song, she tried to pump up the crowd commenting, "you're so very very quiet" in her sweet Swedish accent. I think the crowd took offense because the energy level doubled as she played the rest of her set. We were sad to walk away but she sounded great from a distance too.

SATURDAY - 7:04pm
Port o potties have been okay.... until this one. Gross.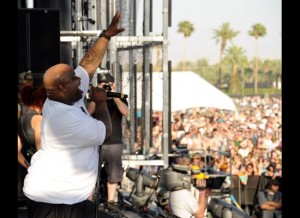 SATURDAY - Cee Lo Green
We were taking a breather near a wine bar and watched the first three songs of Cee Lo's set on a big screen—none of them were his own originals except his single with Gnarls Barkley "Gone Baby Gone" which is still a cover of the Violent Femmes. It was pretty cool that his band was made up entirely of women who looked much better in dominatrix gear than he did. He stopped a song midway to pant and make some stupid comment like "CHICAGOOOO!" Let's just say I'm glad this is all I saw of his set.

SATURDAY - 6:39pm
Passing by a screen playing Cee Lo Green... he looks like Bowser from Nintendo, but has an all woman band. pretty cool, Mr. Green.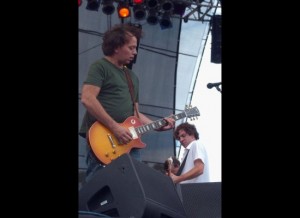 SATURDAY - 6:00 - 7:00pm Ween
Even though Ween is an older band, they had a lot of energy and won over the crowd. There was a mix of young people and older devoted fans. They sounded great. Singer, Gene Ween mixed his voice up with a wacky singing style that really gave them that Ween sound.

SATURDAY - 4:35pm
DFA covering acdc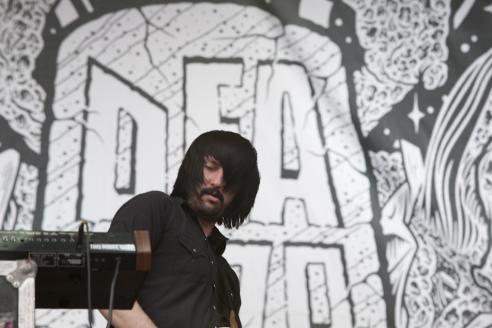 SATURDAY - 4:00-5:00pm - Death From Above 1979
We soaked up some shade while waiting for Death From Above 1979. Spotting some friends further up, we got pretty close for the loudest band at the festival so far. First Sebastian Grainger walked out dressed in all black, casually smoking a cigarette. Then drummer and singer, Jesse Keeler took his place, fashioning an all white outfit with a bleached bowl cut hairstyle. They wasted no time exploding with "Turn It Out" as their first song from You're a Woman, I'm a Machine. The audience seemed glad to hear the familiar jam after the band's five-year hiatus. The woman interpreting sign language was so into it, grooving with every scream, drum solo and bass riff. She was a joy to watch. Keeler thought so too. Half way through the show he started grinding on her head and dancing with her as Grainger continued the bass lines. After the song, Keeler made some hilarious sexual references like "I know a few signs of my own." I think she was slightly embarrassed but loved the attention and took it like a champ.

After a few songs, Keeler said, "I think we scared the rain away. Did you guys see that building fall down? Oops, sorry 'bout that." He definitely stole the show with his fantastic drumming, insane vocals and great sense of humor. Glad to see you back Death From Above.

SATURDAY - 4:02pm
Death From Above starting now. He's smoking a cig and the sign language lady is rocking out too. Super intense!

SATURDAY - 2:24pm
Friendly Fires killin' it with lovesick then jump in the pool. They prove you can never have too many drums.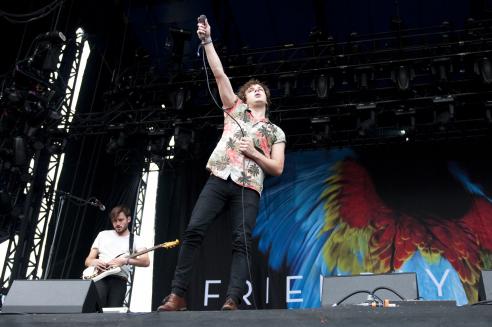 SATURDAY - 2:15-3:15 Friendly Fires
Friendly Fires started strong with dancey favorites, "Lovesick" and "Jump in the Pool." We were pretty close to the stage but the Bud Light stage is elevated more than the others making it the easiest to see. Front man and singer Ed Macfarlane was dressed in tight jeans and a jazzed up Hawaiian tee. His dance moves were something to see: adorable girly butt wiggles and motions only a woman with huge boobs could pull off. His singing was phenomenal as well, pairing with funky guitars and never-ending beats. The energy never died down as Friendly Fires mixed old favorites like "Paris" with songs from their newest album, "Pala." It was unquestionably the best way to start our Saturday.

FRIDAY - 9:47pm
Coldplay soundin' real smooth. Both headliners had fireworks and lasers. I'm surprised by how entertaining those two elements can be.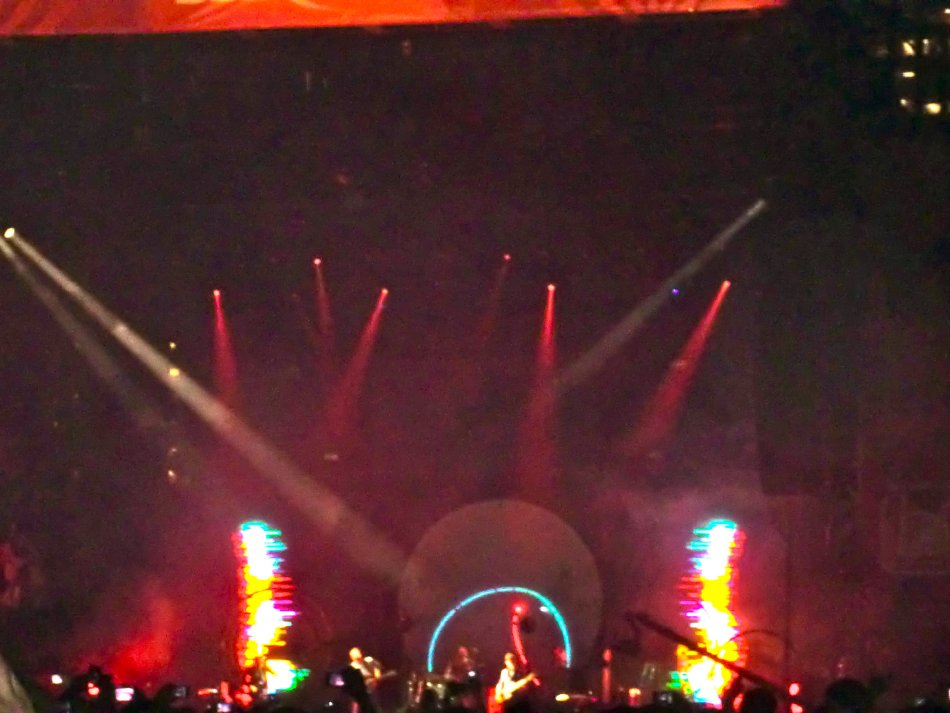 FRIDAY - 8:15 - 10:00 Coldplay and Ratatat
We were debating all day which headliner to see. One of our friends was there with his Irish cousins and they said Muse is amazing live, but Luke and I couldn't overlook the obnoxious over-singing of Matt Bellamy. In the end, we decided Coldplay was the better bang for our buck and would be more musically impressive. They didn't disappoint. Their first song was great but the crowd really got into it when they next played, "Yellow." They had fireworks, awesome lights and even lasers jutting into the audience (see picture). Everyone seemed really happy and relaxed; it was one big swaying sing-along. I was surprised by how many songs I knew every word to. Even though I'm not the biggest fan, you have to appreciate the sheer talent of the band and Chris Martin.

However, after some time Luke and I were getting a little tired so we headed over with a few others to see the rest of Ratatat's set—really glad we did. We could hear them way before we could even see the stage. We stayed toward the back which kind of smelled like dumpsters but it was fun to see the huge crowds of people dancing and going nuts. People randomly threw handfuls of glow sticks into the air which paired nicely with the bright lights and weird screen projections of rotating neon statues, disfigured faces and strange creatures dancing. Not sure if it was the alcohol, drugs or cool evening temperatures, but everyone was in the greatest mood—made me really excited to go again tomorrow.

FRIDAY - 8:41pm
Alice Glass dance party... perhap 60% of this crowd is rolling.

FRIDAY - 7:36pm
Never seen so many bras in my life.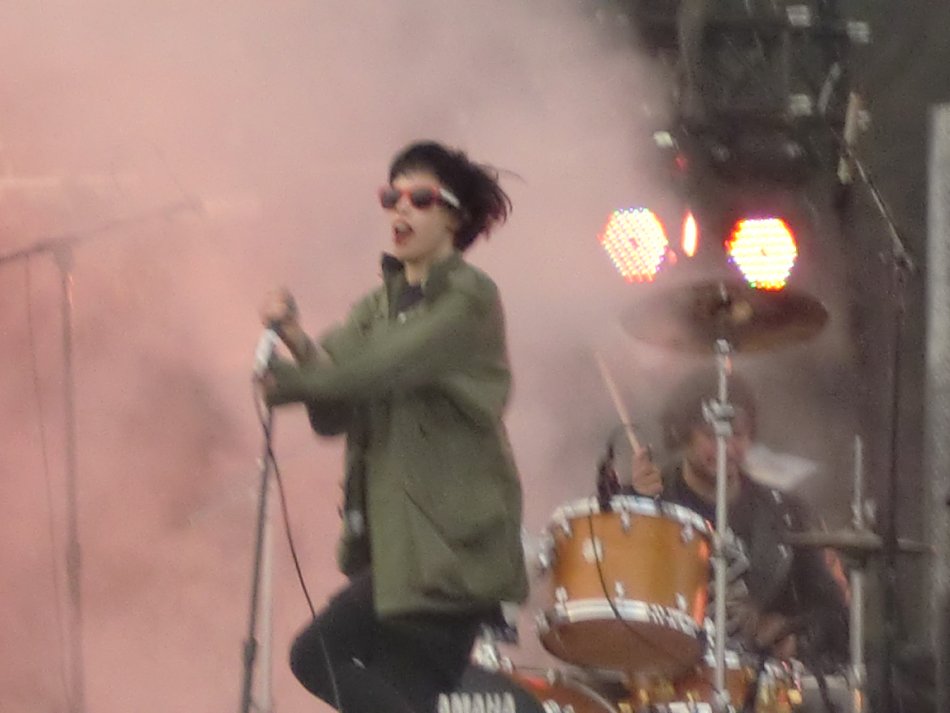 FRIDAY - 7:15-8:15 Crystal Castles
Got some soft pretzels with pink Himalayan salt (which Luke was obsessed with) then headed over 20 minutes early to rest and squat for a good seat at Crystal Castles. This was a great time to people watch—lots of hipsters and half-naked girls as well as a couple of old ladies, which I thought was odd. After a few songs I looked back and the old-timers and they were smiling from ear to ear.

Ethan Kath came out first and the crowd didn't seem to care then Alice came out looking a little out of it though she seemed really happy to be there She was almost giddy which is rare for her as she danced around like a little girl. She jumped in the crowd a few times, losing her sunglasses. The bass was so pumping so high I think it changed the rhythm of my heart. On a sadder note, Alice's mic was messed up for most of the set but crew didn't notice until the last two songs, "Celestica" and "Not In Love." With improved sound, the ending was fantastic but a little short. I wanted 15 more minutes Alice!

FRIDAY - 5:50pm
Smith Westerns dedicated their last number to Michael Jordan and the crowd loved it. Cults is rocking under the pink google + stage now! "The fans know all the words... it's almost like they're in a cult for Cults." <---assistant joke. Yikes!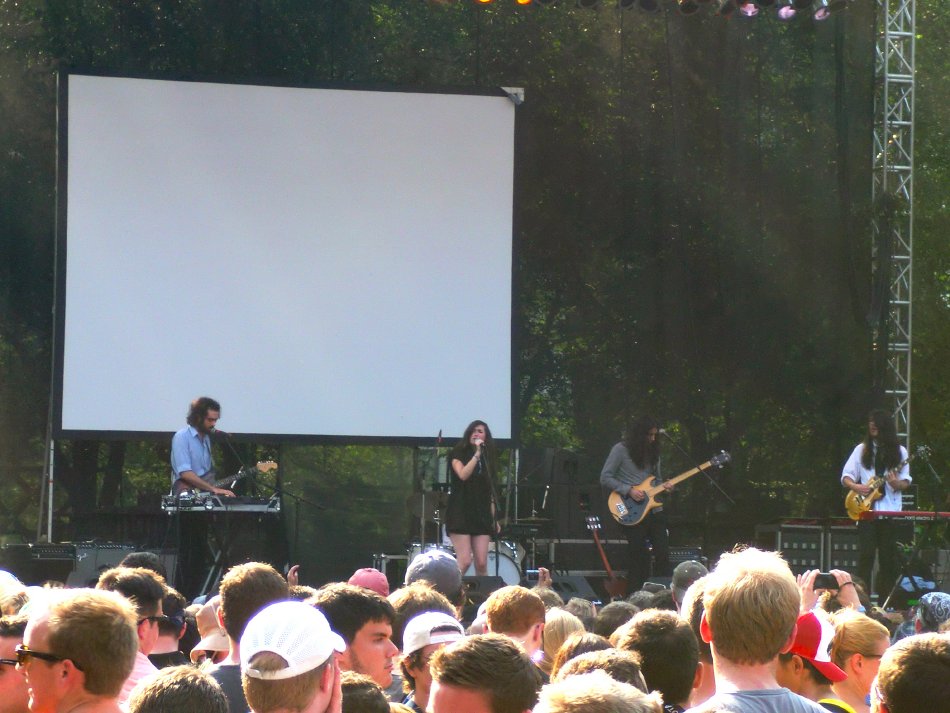 FRIDAY - 4:45-5:30 Cults
At 4:45 we moved over to the pink Google + stage. Cults sounded great but everyone in the crowd seem more pumped to sit in the shade than dance in the sun, vocals were sweet, bass lines were smooth. The band is composed of singer Gabriel Rodriguez and two dudes with super long hair—Marc Deriso (drums) and Nathan Aguilar (bass). Random girls handed us compasses with the band name on the back as they jammed out their single "Go Outside." A quick set to relax to.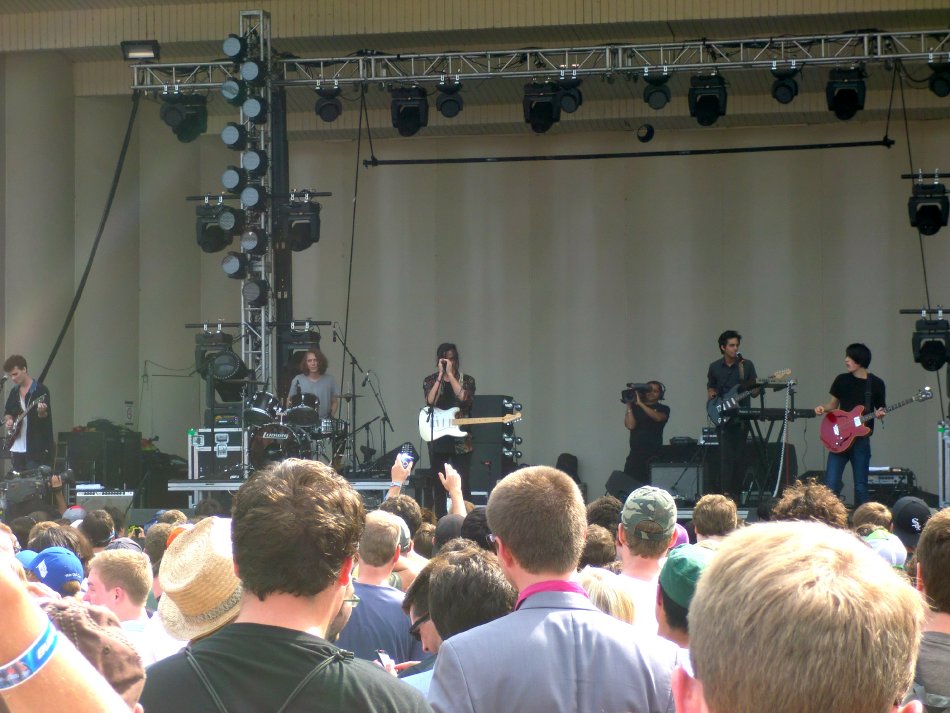 FRIDAY - 3:30-4:30 Smith Westerns
Not wanting to miss Smith Westerns we hurried to the Play Station stage and found our friends. Smith Westerns started with _________. We immediately noticed the awesome talent of guitarist Cameron Omori. His brother and lead singer, Cullen on the hand was a little bit of a bitch. He didn't seem too happy to be there and his snarky humor wasn't well received. As a throwback to Hendrix, Cullen played a left-handed guitar upside down with his right hand…nifty! He seemed a little confused, searching for his brother when he was right next to him and continuously changing guitars. Cullen spent more time flipping his long greasy hair than singing in tune but he wasn't entirely awful. Regardless of his attitude the guitarist made the show with amazing solos in every song.

Half way through the set, the Chicago band reminisced about their first time at Lollapalooza when they were 16. Cullen, referring to drummer, Max Kakacek said, "Max grabbed his first boob for the first time cause some fat girl was crowd surfing." Isn't there always some fat girl/sweaty or hairy man crowd surfing? (Side Note: it is the worst feeling to brush against a cold, moist arm.)

The local band was excited to be there and received the biggest reaction when playing "The Weekend" which has also gained popularity from a Tommy Hilfiger commercial. It wasn't that crowded but those that were there were obvious fans. Their last song, "Dye The Blonde" was close to perfection.
FRIDAY - 3:10pm

We got to Lolla at about 3:10 and panicked because of the huge mass of people outside the gates. Things were moving slower than the MVA so we smoothly maneuvered over to the VIP line then cut back in with the regulars. Inch by inch we shuffled into narrow gates like cattle waiting for the slaughter. After a purse inspection and ticket scan, my assistant Luke and I finally had our three-day wristbands.

FRIDAY - 12:42 pm
Hey it's Caitlin... Just getting in. It's packed at the gates. Hope we make it for Smith Westerns. Spotting a few drunk ppl in line. lol!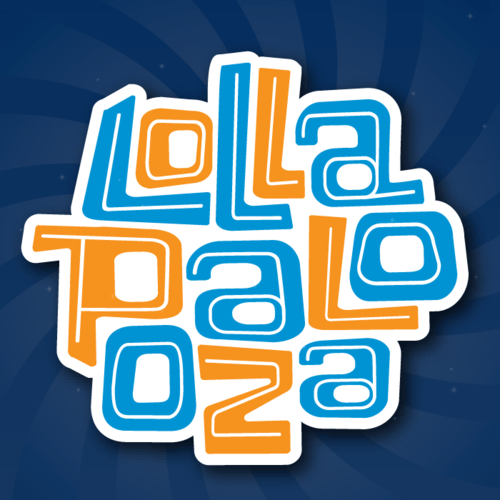 CAITLIN TUCKER:
WRNR'S 2011 OFFICIAL LOLLAPALOOZA CORRESPONDENT
Caitlin and her assistant are in Chicago to bring Lollapalooza's 20th Anniversary show home to Naptown!
Check out Caitlin's winning entry:
Dear WRNR,
Did you know I enjoy long walks in Grant Park, live music and people watching? Well I do. I am an Annapolis Native but I attend college at Loyola University in Chicago. I am studying Journalism so I know a ton about blogging and radio too. I would love to be your Lollapalooza 2011 correspondent.

And I've got something better than a few photos, I went ahead and made my own mock blog (okay you can call me a nerd). But I truly hope you enjoy the content. This entry is about an Of Montreal concert I attended in Chicago before I came home to MD for the summer. Here's the link:
http://wrnrchooseme.wordpress.com/
Thanks for your time and I hope you enjoy my work.
Here's a screen shot of part of Caitlin's blog, but we highly recommend you check the whole thing out. That address again: http://wrnrchooseme.wordpress.com/