GWEN STEFANI: Let's Make a Deal
Gwen Stefani is scrambling to save her $120 million fortune before going to divorce court with hubby Gavin Rossdale -- by offering him a buyout, rather than letting a judge split their assets.
According to Radar Online, the couple didn't bother getting a pre-nup before tying the knot 13 years ago -- which Gwen now regrets. A source close to the couple says, "Her business advisers recommended they get a pre-nup, but Gwen balked and didn't think it was necessary because this was going to be her forever. Gwen has really struggled with the idea of just handing over half of her hard-earned money to Gavin, and there is a lot of anger there. Gwen is hoping to just pay Gavin off because she doesn't want to pay him any support. Gwen's approach is that she should get to keep what is hers."
The insider says that lawyers for Gavin, who's worth "only" $20 million on his own, will fight to get half of everything.
GREGG ALLMAN: New Album and New Dates

Gregg Allman's new album, Live: Back to Macon, GA, is out -- and he's adding to his live catalog.
He's just announced more dates that take him through October, followed by another run set for next January. All the dates can be found at GreggAllman.com. Up next is the Allman Brothers' Peach Music Festival, next Thursday through Sunday in Moosic, Pennsylvania.

PEARL JAM, GUNS N' ROSES: Pay Tribute to Iggy
Mike McCready of Pearl Jam and ex-Guns n' Roses bassist Duff McKagan have teamed up to help out a Seattle public station.
Raw Power is the name of the one-off group with McCready, McKagan, Barrett Martin of Screaming Trees and Mad Season, and Mark Arm of Mudhoney. They'll play a set of Iggy Pop and the Stooges covers on the Pike Place Market rooftop on August 23rd.
The free show promotes a campaign to help public station KEXP build a new facility.
MICK JAGGER: Peels Back the Vinyl
Mick Jagger is offering up a sneak peek of his new TV series, Vinyl, a fictional account of the debauchery in the music world in the '70s as New York music executives try to navigate an industry that is controlled by the mob. The trailer is a minute long with The New York Dolls' "Personality Crisis" providing the soundtrack.
The series stars Bobby Cannavale, Ray Romano, Andrew Dice Clay and James Jagger -- Mick's son with Jerry Hall, who'll play the leader of a punk rock band. Among the real-life musicians portrayed in the series are David Johansen, Otis Redding, Elton John, Alice Cooper and Lou Reed.
Mick tells us they're shooting nine episodes through October. It will premiere on HBO next year.
NEIL YOUNG: For Sale Down by the Ocean
Want to sleep in Neil Young's bedroom? He's put his estate on the Big Island of Hawaii up for sale.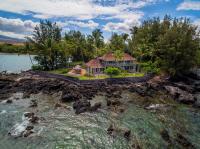 It has five bedrooms and four-and-a-half baths spread over nearly 3000 square feet, with two guest cottages and 830 feet of ocean frontage. The asking price is $24.5 million.
RYAN ADAMS: Teaming Up With Judd Apatow for Benefit
Ryan Adams is teaming up with director and stand-up comedian Judd Apatow for a benefit.
Their concert on August 26th at Largo in Los Angeles will raise money for the victims of last month's shooting in Lafayette, Louisiana. The July 23rd tragedy -- which left three dead, including the shooter, and nine others injured -- occurred in a theater where Apatow's film Trainwreck was playing.
Apatow promises that this won't be a standard benefit with just a few songs from Adams -- he says they'll both turn in "long sets."
TEARS FOR FEARS: Back on the Road Next Month
Tears for Fears will be back out on the road next month.
Roland Orzabal and Curt Smith will hit eight cities, starting September 19th in Pasa Robles, California and wrapping up September 30th in Red Bank, New Jersey.
X AMBASSADORS, ROYAL BLOOD: More Turns in Video Games
Royal Blood, X Ambassadors, James Bay and Kings of Leon are the latest acts to have their songs added to two major video games.
Up first is Madden '16, the latest edition of the popular NFL game that's due out August 25th. The game makers have gone with newer artists for this year's soundtrack, which includes cuts by James Bay, Twenty One Pilots and X Ambassadors.
The latest additions to the re-launch of the Guitar Hero series, Guitar Hero Live, includes tracks by Blink-182, Royal Blood, Rush, Echosmith, James Bay, MGMT and Kings of Leon. Guitar Hero Live is due out October 20th.