---
28th Annual Kunta Kinte Festival
From
10:00AM
to
7:00PM
Celebrating the perseverance, education, and cultural heritage of Africans, African Americans, and Caribbean people of African descent!
Learn about the 'third root' of Mexican Culture!
Don't miss the "Son jarocho" (mexican style of music with African influence) performance - celebrating the music and history of African-Mexican people including a cell phone sing along of "LaBamba" at 245pm
Visit http://www.kuntakinte.org/ for the complete lineup
6th Annual Annapolis Recovery Walk
From
12:00PM
to
n/a
Crab Feast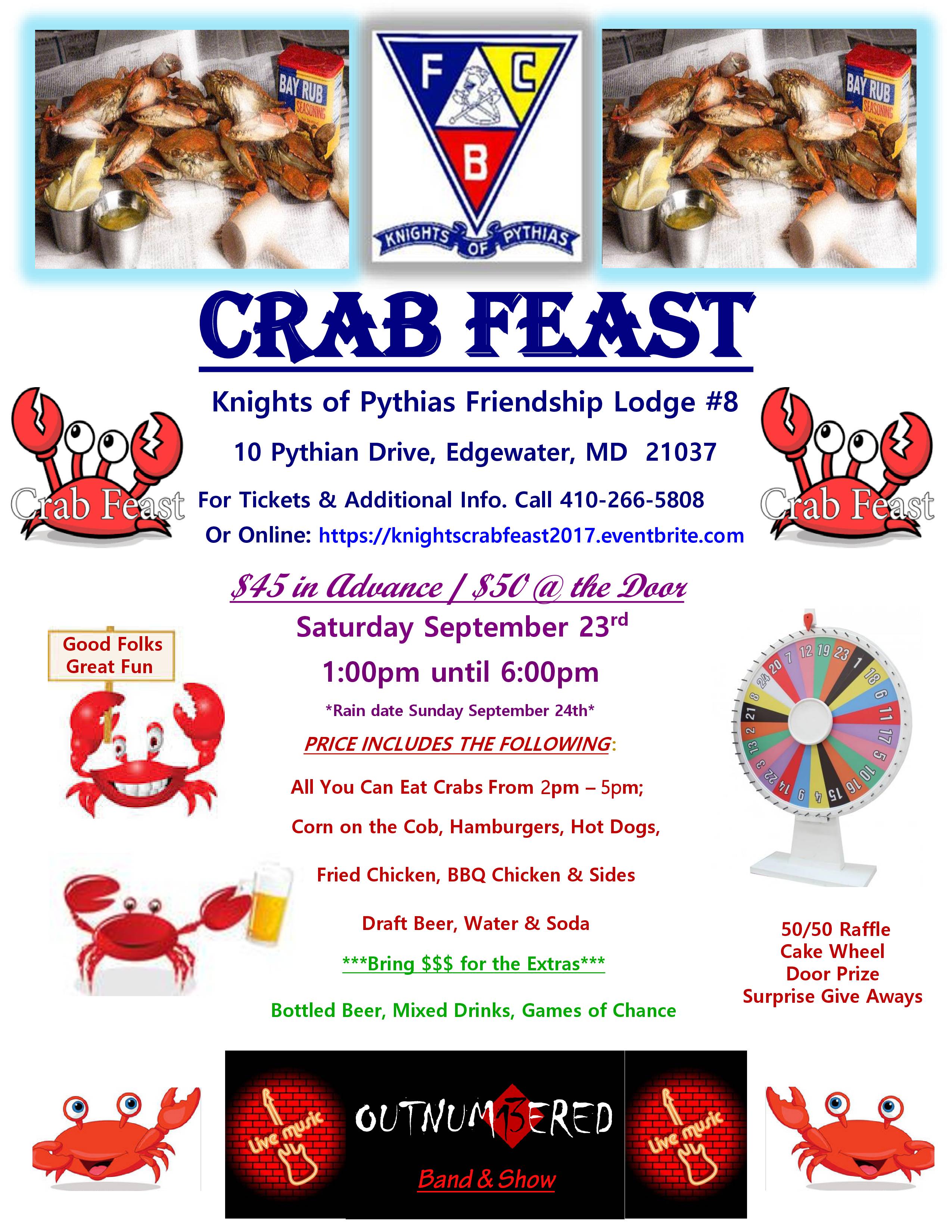 From
1:00PM
to
6:00PM
Knights of Pythias Friendship Lodge #8 10 Pythian Drive, Edgewater, MD 21037 For Tickets & Additional Info. Call 410-266-5808 Or Online: https://knightscrabfeast2017.eventbrite.com $45 in Advance / $50 @ the Door Saturday September 23rd 1:00pm until 6:00pm *Rain date Sunday September 24th* PRICE INCLUDES THE FOLLOWING: All You Can Eat Crabs From 2pm – 5pm; Corn on the Cob, Hamburgers, Hot Dogs, Fried Chicken, BBQ Chicken & Sides Draft Beer, Water & Soda ***Bring $$$ for the Extras*** Bottled Beer, Mixed Drinks, Games of Chance, 50/50, Cake Wheel, Door Prize, Surprise Giveaways
Muddy Creek Artists Guild Second Annual Studio Tou
Muddy Creek Artists Guild: Holds its Second Annual Artists Studio Tour from 11 AM – 5 PM, September 23-24, showcasing the studios and art of 17 of the Guild's artists. An online tour guide of tour locations and artists featured is available at http://www.muddycreekartistsguild.org/studio-tour-2017.html or call Bob Schuler at (240) 676-0728.
43rd Annual Smithsburg Steam Engine and Craft Show
Entertainment for the whole family Benefiting the Smithsburg High School Athletics Sept. 23rd-24th from 10am-5pm Smithsburg Firehall Fairgrounds Breakfast served daily 8am-10am Parade Sat. Sept. 23rd at 5:00 Arts and crafts, saw mill, craft demonstrations, tractors & gas engines, shingle mill, steam traction engines, black smith, straw bailing, grain thrashing, and good home cooking. Free admission. Please no pets allowed. Antique/Flea Marketers and Crafters please inquire at 301-665-2882 www.facebook.com/steamandcraftshow www.facebook.com/events/
Main Street Music Fest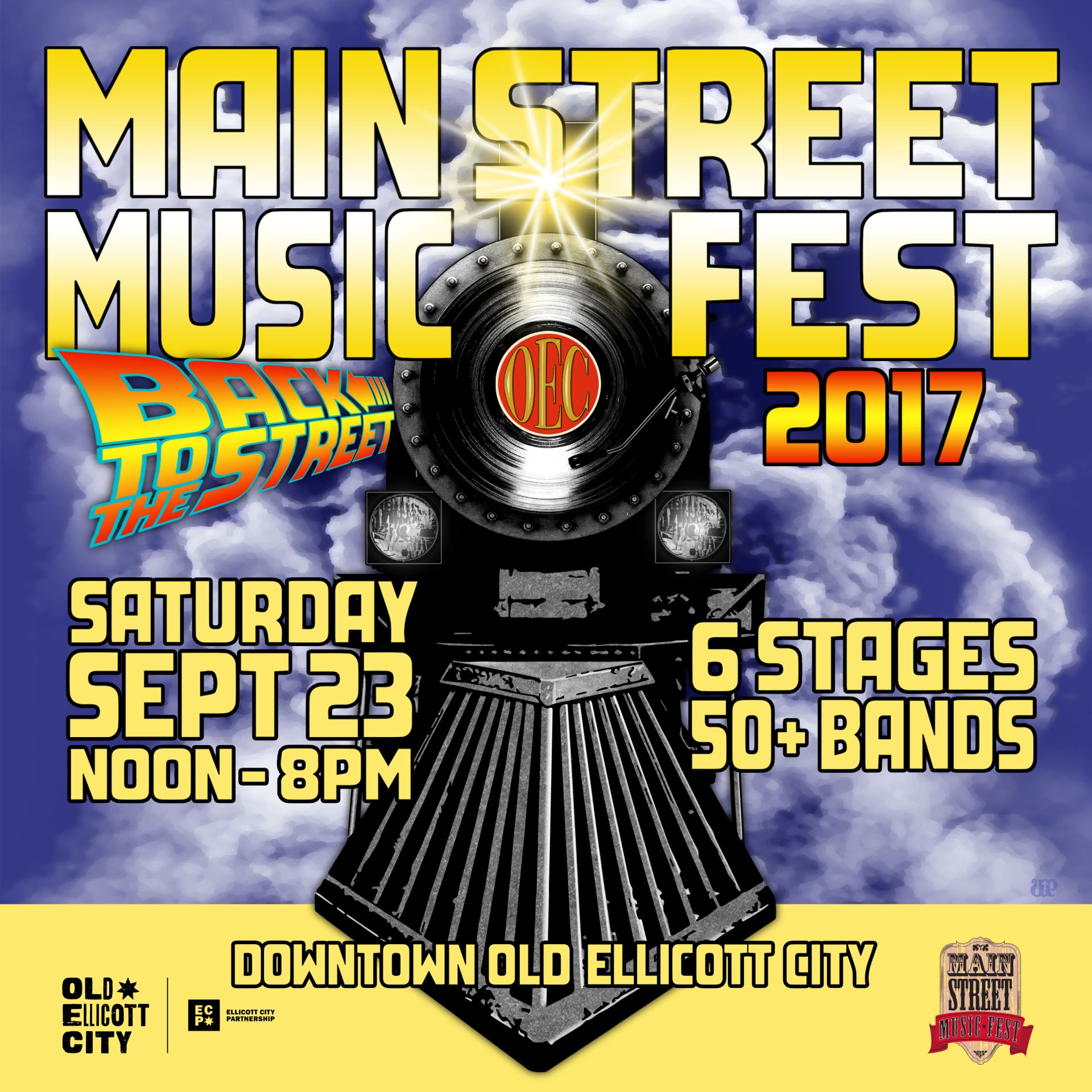 Main Street Music Fest Saturday, September 23, 2017 from 12PM­ to 8PM Old Ellicott City, MD Festival Website: www.mainstreetmusicfest.com Free Admission The 6th edition of the Main Street Music Fest will be held on Saturday, September 23rd in Old Ellicott City, MD. The festival has become known since its inception as a marquee festival for independent and unsigned bands, providing them exposure to thousands of attendees. With the festival returning to its original home after relocating due to the catastrophic flood last year, this year promises to bring emotion and joy to everyone who flocks to Old Ellicott City each September to enjoy everything the festival has to offer. Festival organizer Brandon Ruth and his wife are Ellicott City residents, and they lost most of their possessions and were forced out of their home for months by the flood. He shared that having the festival back on Main Street will be very special to many people. "Main Street Music Fest's return "home" is symbolic in a number of ways. It exhibits our strength as a community. It shows that we can come together as one to recover, rebuild, and rise above. And it demonstrates that even in the face adversity, nothing will ever keep us down as long as we have each other." This year's festival will feature over 50 bands on 6 stages, with music starting at Noon and going until 8PM. Lionize, Kelly Bell Band, The Henchmen, RÊVE and Victims of Experience are confirmed for headlining slots this year, with more lineup announcements to follow in the coming weeks. Lionize, a local rock band that has steadily climbed to prominence since they formed in 2004. They will be releasing a new album titled Nuclear Soul on September 8, and anticipation from critics at this early stage is already high. Lionize have cultivated a unique blend of funky riffs, cyborg tales and soulful rock sensibilities, aptly described by singer/guitarist as having "elements of bands like Clutch and Deep Purple, but it's not quite that – it's something all it's own. I think the beauty of the band right now is that all these elements touch on something familiar, but also sound new." Kelly Bell Band are longtime friends of Main Street Music Fest, and they will once again bring their Phat Blues to the MSMF stage. Last year they released the single "Homegrown" in conjunction with the festival, which helped raise additional funds for Ellicott City flood relief. It will be pure emotion among the crowd when Kelly Bell Band play, back on Main Street, in the festival's rightful home. The Henchmen, fronted by Baltimore music impresario Kevin Hock, describe their sound as two parts riffy booty-shakin' groove rock, one part sing-along hooks, one part light Up piano, stirred with a large dash of dapper flare. They recently played a sold out show with Highly Suspect at Baltimore Soundstage, and they also headlined a sold out show at Metro Gallery in Annapolis. In the past year alone, RÊVE has already set game-changing precedence on the music scene: performing to loyal fans and enthusiastic crowds in the US and Canada; releasing a music film "Maid of Heaven" starring Hollywood actor, Steve Agee (Sarah Silverman Program, New Girl); and is currently on track to achieve global influence and reach promoting the release of their new album "La Marionnette". Victims of Experience hail from Baltimore, and they always bring their "Powerhouse of Awesome to the stage. VOE rose from the ashes of musical projects past to meld into a captivating and unique 6 piece, featuring a sax player and the captivating vocals of frontwoman Kristin Lagana. Submissions are now being accepted for bands wishing to be considered for a playing slot at the festival. With many times more submissions expected than there are slots available, bands are urged to get their submissions in as soon as possible. Organizers have also launched the vendor applications, and the ask that those wishing to have a booth fill out the form at http://www.mainstreetmusicfest.com/ to make the process easy, as the number of vendors applying for the limited spaces is expected to be high. The festival fun goes beyond great music, with beer and wine, food from local restaurateurs on offer, vendors of all kinds featuring many unique items, the always-popular Star Wars Village.